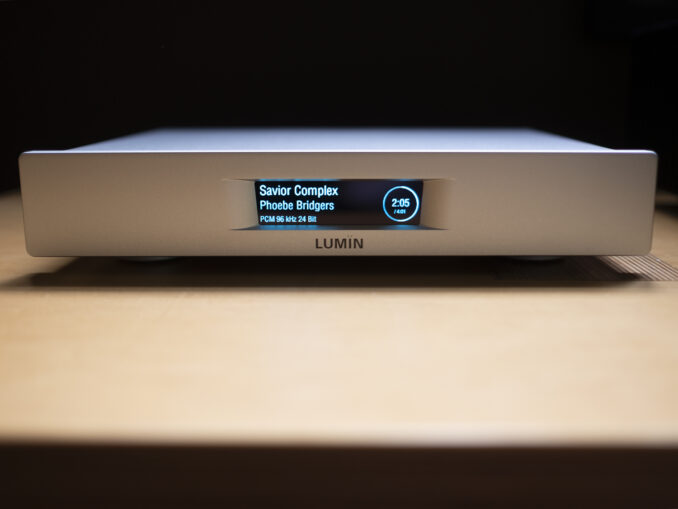 Perhaps more than any other audio component, you want a streamer to get out of the way. The less you 'hear' a streamer, the better.
In my experience, not hearing an audio component can equate to hearing more of music's finer points—finer fine-grained detail, increased image specificity, more natural timbre, and a greater sense of scale. To name a few. The thing about not hearing something is we don't know what that sounds like until we hear it. Or don't hear it as the case may be.
As you may have surmised, the Lumin U2 Mini passes a digital music signal through its input, innards, and output without imparting any discernible fingerprint. Just like an ice bullet—by the time music comes out of the speakers, there's no trace of the Lumin to be found. Poof!
For some users, like me, that's pretty much all we want from a streamer—Ethernet in, digital audio out. The other item on my Must Have List for any streamer is support for Roon, and I'm happy to report that the Lumin U2 Mini, like all Lumin streamers, is Roon Ready. What this means for me, since I already have Roon running on my network, is the U2 Mini set up process consisted of connecting it to my network (Ethernet), connecting it to my DAC (AES), plugging it in, and powering it on. The last step was to tell Roon to play through the Lumin which had already appeared, automatically, in the Roon App. Play time!
But the Lumin U2 Mini has a much more extensive feature set up its proverbial sleeve. For starters, there's a free and user friendly Lumin app for iOS that supports playback from network attached storage, Tidal, Qobuz, and Internet Radio. The U2 Mini also supports Spotify Connect and Tidal Connect so you can play music directly to the Lumin from either app, a great option for people who don't have a music library sitting on their network who also prefer simple. Speaking of simple, you can also play to the Lumin via AirPlay.
The U2 Mini's power supply has received special attention. From Lumin:
Off-board grounded housing encases and isolates the power supply from the main board to provide a lower noise floor
Separate digital and analog leads to the main board
No "wall wart" used
Power supply auto detects wall voltage from power source (110/220) and auto corrects for that voltage one time. No other "switching" takes place
Lumin has incorporated the Leedh Processing lossless digital volume control (more info) in the Mini so it can act as your digital preamp when connected to an amp. Due to its faster processor, the U2 offers a number of upsampling options as pictured here:
The U2 Mini's USB output is the go-to choice for higher high-res lovers as it supports native DSD512 and PCM resolutions from 44.1–768kHz. The other digital outputs max out at DSD64 and 192kHz (which works fine for me) and the U2 also supports MQA.
To my eyes, the little U2 Mini is a fine looking piece of kit with its raw aluminum finish that is less susceptible to finger marks (Hallelujah!) and blue-lit display. It's worth noting that Lumin is part of the commercial broadcast side of Pixel Magic Systems Ltd., a company with extensive experience in audio and video for digital set top boxes used in professional broadcast applications and related markets.
The Lumin sat in with a number of systems during its Barn stay but the attached DAC was nearly always the totaldac d1-tube, connected via a length of AudioQuest Diamond AES cable. The last few weeks of the review period found the Martin Parker Trio speakers in action (more info), powered by the ModWright KWH 225i Integrated (review), Constellation Inspiration Integrated 1.0 (review), and the AVM OVATION A 8.3 Integrated Amplifier (more info). I also partnered the Lumin with the Mytek Brooklyn Amp+ to take the Lumin's Leedh Processing lossless digital volume control for a spin.
Regardless of the system it sat in, the Lumin U2 Mini offered a super clear view of the music in play. Compared to the totaldac's internal streamer (a $1200 option), music sent through the Lumin had all the telltale signs of hearing less from it—more resolution, a more clearly defined and expansive sound image, and a riper sound to each musical element. All pluses.
Going back to a favorite album from 2020, Phoebe Bridger's Punisher was given a crisp, clean, and clear presentation with the Lumin in the mix. Phoebe, we're on a first name basis, was out front sounding finely sculpted in air with the accompanying band spread out and placed perfectly in space.
I mainly ran with Roon to control playback because its my favorite way to interact with stored and streamed music. But there are some grumblings out in the ethers that other apps sound better, like Lumin's own. With the super resolving AVM/Marten setup, I went back and forth between Roon and the Lumin app with Phoebe Bridgers providing the tunes and if there was a difference in sound quality between these two apps, I didn't hear it. That said, I no longer find extensive A/B comparisons of interest because my feeling is if I have to try that hard to hear a difference, its not as important as other things like my preference for using Roon.
As far as upsampling goes, whether or not opting in on upsampling will offer an improvement will be 100% dependent on the attached DAC. Some DACs do love to be fed a certain resolution, but I find the totaldac to be omnivorous when it comes to sample rates and DSD vs. PCM. I'm sure there are plenty of people who would value this feature as it offers a very simple upsampling solution that can make for a noticeable sound quality boost given the right DAC.
The Lumin / totaldac / Mytek Amp+ / Marten Parker Trio combo made for a very interesting system sound. Using the Lumin to control volume—which means the Leedh signal processing algorithms were in play— this system sounded superbly clear and grain-free, like cool clear water that's only visible because of the container. Lucy Railton & Kit Downes' Subaerial is a 40+ minute improvisation for cello and church organ, recorded in the Skálholt Cathedral in Iceland. We're talking about a very expansive sound, with reverb traveling to every corner of the cathedral acting as an important third element in this otherwise simple duo.
The character of the Skálholt organ and Railton's cello are beautifully captured on this lovely record that demands crystal clear sound quality in order to experience the full dramatic unfolding. This system did an absolutely superb job bringing this recording to life in the Barn, making every last bit of fine detail Railton coaxes from her cello combined with the majesty and power of Downes at the Skálholt organ fill every corner of the Barn.
The AVM OVATION A 8.3 Integrated Amplifier comes with a DAC inside and 5 digital inputs, so I connected the Lumin to it with a length of AQ Diamond USB cable. While my review of the AVM is still in process, I can say that it also offers superbly clean sounding reproduction and with the Lumin in front, the combination playing through the Marten Parker Trio was purity plus.
Protomartyr's Relatives in Descent is all muscular badassness with a driving beat, crushing guitar, and lyrics painting a grim picture. This system delivered all of the pent up tension and wiry denseness of Protomartyr's 4th studio album with stunning clarity, sounding as if there was nothing but air between the recording and my ears. The depiction of scale and dynamics were reproduced in seismic proportion, making for a harrowing listen, which is exactly what you want from Relatives in Descent.
I spent more than a month with the Lumin U2 Mini in charge of the music stream in a number of different system and use contexts and the one consistent quality throughout was how impressively absent it remained. Most of my time was spent using Roon to control playback, but the Lumin app is better than fine and I really love using Tidal Direct when I want to pretend my hifi life is simple.
Tallying up the Lumin's features, build quality, and damn near transparent impact on sound quality, I have one very long Plus column and no Cons worth a mention. With a host of digital outputs, optional internal volume control, and the ability to upsample with a tap in the free Lumin app, the U2 Mini Digital Transport/Streamer merits my highest recommendation. If you're in search of a full featured streamer that does music proud by getting out of the way, this Lumin is one for the short list.
---
LUMIN U2 Mini Network Player
Price: $2400
Company Website: Lumin
US Distributor Website: Source Systems Ltd.
Specification for current-gen Lumin streamers
Streaming Protocol:
UPnP AV protocol with audio streaming extension (OpenHome)
Roon Ready
TIDAL Connect
Spotify Connect
Flac lossless Radio stations
AirPlay-compatible
Gapless Playback
On-Device Playlist
App Features:
Native support for TIDAL, MQA, Qobuz and TuneIn Radio.
Tidal MQA icons to identify high-res music
Qobuz high-res icons to identify high-res music
Volume control
High-resolution artwork
Artwork caching
Search
Multiple tag handling
Composer tag support
Album-grouping in playlist
Automatic internet links to artists/album/songs
Saving and restoring of playlists (including Tidal and Qobuz)
Supported Audio File Formats:
DSD Lossless: DSF (DSD), DIFF (DSD), DoP (DSD)
PCM Lossless: FLAC, Apple Lossless (ALAC), WAV, AIFF
Compressed (lossy) Audio: MP3
MQA
Input:
Ethernet RJ45 network 1000Base-T
Shared USB ports can also be used for storage, flash drive, USB hard disk (Single-partition FAT32, exFAT and NTFS only)
Supported Control Devices:
All models of Apple iPad (v2 or later). iOS 8.0 or later required. Full Retina Display support.
Android devices. Android 4.0 (Ice Cream Sandwich) or later required.
Apple Mac with Apple Silicone
Other:
Leedh Processing lossless digital volume control
Compatible with LUMIN Infrared Control Package
Programme of Continuous Development – Firmware-upgradable for further features and enhancements
U2 Mini Specifications
Network playback:
Up to DSD512
Up to 768kHz, 16–32-bit, Stereo
MQA Decoding
Upsampling rates & bit depths:
DSD256 upsampling option for all files
PCM 384kHz upsampling option for all files
Digital Output Stage:
USB: Native DSD512 support, PCM 44.1–768kHz, 16–32-bit, Stereo
Optical, Coaxial RCA, Coaxial BNC & AES/EBU: DSD64 (DoP64, DSD over PCM), PCM 44.1kHz–192kHz, 16–24-bit
Power Supply: Internal shielded 100–240V AC auto-ranging
Physical
Finish: Raw aluminum or black anodized aluminum
Size and Weight: 300mm (W), 244mm (D), 60mm (H), 2.5kg
Packaging: 470mm (W), 340mm (D), 170mm (H), 4.5kg