Twittering Machines originally launched in 2007 as a place for friends to share music and was re-christened in 2018 with its current focus on HiFi, Music, Art & Culture. Michael Lavorgna is Twittering Machines' founder and Editor. Michael has been writing about hifi since 2005 for various publications including 6moons, Men's Health, and Stereophile, and he acted as Editor of Stereophile's AudioStream from its inception in 2011 until 2018. In addition to Michael's work, TM also publishes reviews from Germany's FIDELITY International through a reciprocal arrangement giving us a broader range of voices covering a wide range of gear.
Michael is life-long visual artist who also spent nearly two decades working in Information Technology as a consultant and owner/CFO/COO of an IT Staffing and Integration firm. Our name is a tip of the hat (and a wink) to Paul Klee's painting Twittering Machine.
Policies & Procedures
My work at Twittering Machines is supported in two ways: through the ads you see on the site and through Patreon. I also make a few nickels selling Merch (really good, really cool Merch!).
The reviews on Twittering Machines are self-explanatory. Review gear is chosen based on interest, ours and yours. If there's something you'd like to see covered on TM, please send me an email.
The Barn
The overall dimensions of the interior of the barn are 35′ x 40′ 12′. The listening area is 18′ wide x 35′ deep x 12′ high.
My HiFi [as of June 2021]
Speakers: DeVore Fidelity O/96, Golden Ear BRX Bookshelf Speakers (on Sanus Steel Series Bookshelf Speaker Stands), ELAC Debut 2.0 B5.2 Bookshelf Speakers
Amplifier: Parasound HALO JC 5 Power Amplifier
Preamplifier: Rogue Audio RP-1
Integrated Amplifier: Ayre EX-8 (w/Digital Base + Network Modules), Hegel Music Systems H95, SAC Thailand Minute Single-Ended EL-84 Integrated Amplifier (c. 2007), Sansui AU-555A (c. early '70s)
Streamer/DAC: totaldac d1-tube DAC/Streamer, Denafrips ARES II DAC, Schiit Bifrost (multibit), Primare NP5 Prisma Network Player, Bluesound Node 2i, Raspberry Pi 4, Helm BOLT DAC, THX Onyx Portable DAC, AudioQuest Dragonfly Red
Playback Software: Roon
Streaming Services: Tidal, Qobuz
Analog: Rega P3 (2000), Nagaoka MP-110 MM cartridge, Parasound Zphono Phono Preamplifier
Headphones: AudioQuest NightOwl
Cables: AudioQuest: Earth Interconnects (XLR and RCA), Robin Hood Speaker Cables, Diamond AES/EBU, Diamond USB, Coffee Coax, Vodka, Diamond, and Cinnamon Ethernet cables, Thunder High-Current AC power cable, NRG-Z3 Low-Distortion 3-Pole power cables, Tellurium Q: Black RCA interconnects, Black II speaker cable
Power: AudioQuest Niagara 1200
Equipment Rack: "Fallen A" Co-Designed with and built by Box Furniture, Box Furniture MS4M [4 shelf MAPLE] Rack
The Red Chair: Eames LCW
Network Stuff
Netgear Nighthawk AC1900 Router
Small Green Computer sonicTransporter i5 (running Roon Server)
Synology DS412+ NAS (music library)
LaCie Blade Runner 4 TB External HDD ‑ USB 3.0 (music library backup)
DJM Electronics GigaFOILv4 – INLINE Ethernet filter
Furman Power Station Series PST‑8 Line Conditioner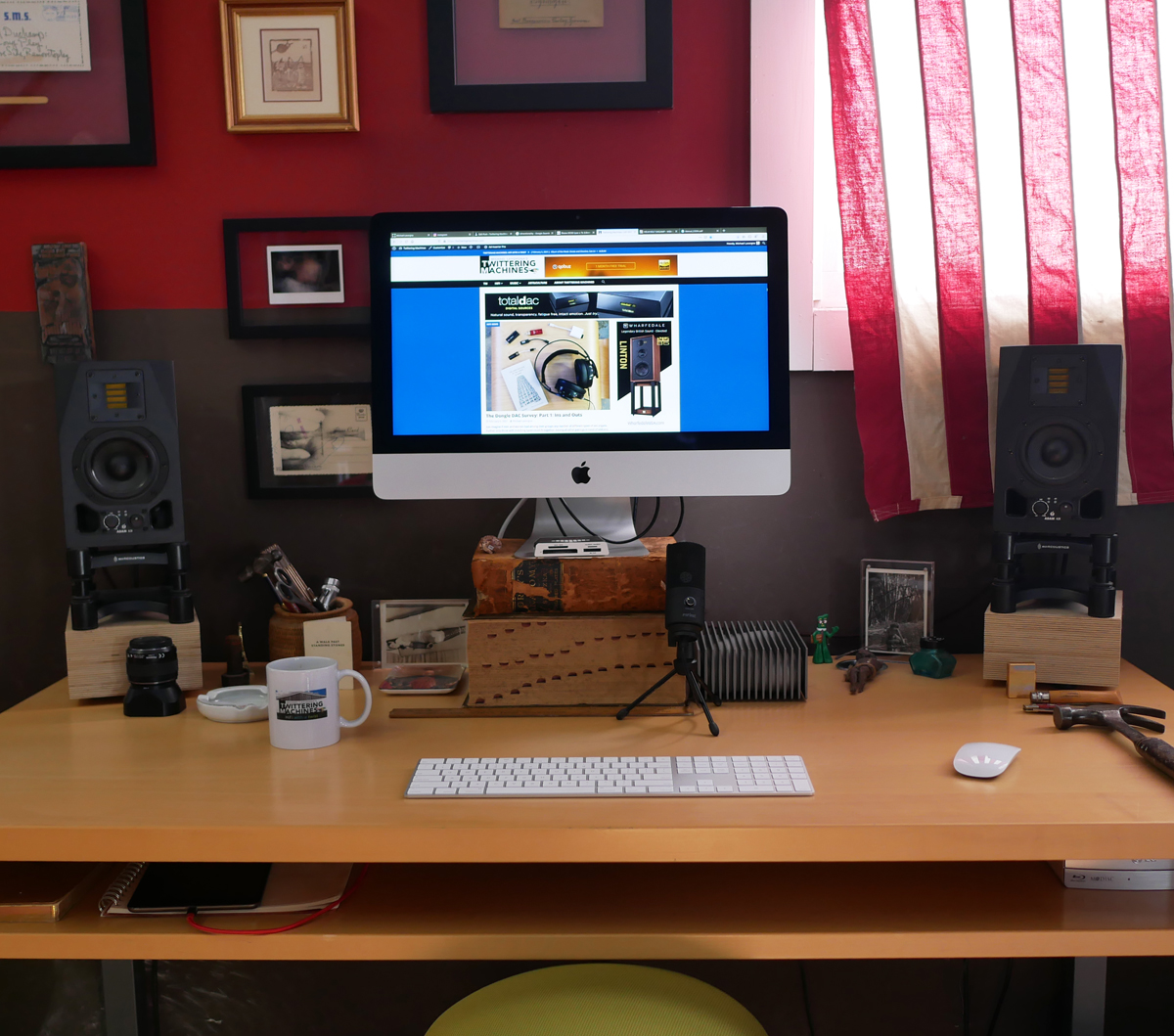 On My Desktop:
ADAM A3X Active Studio Monitors
AudioQuest DragonFly Cobalt DAC
AudioQuest Red River interconnects
---
My Old HiFi (used for TM reviews from its inception to its 'pause ' in September 2019)

Speakers: DeVore Fidelity gibbon X
Integrated Amplifier: Leben CS600
DAC: totaldac d1-direct
Streamer: dCS Network Bridge
Analog: Well-Tempered Amadeus, Denon 103, Auditorium 23 Step-Up Transformer, Sugden A21SE Stage Two Phono Amp
Headphones: AudioQuest NightOwl
Cables: Tellurium Q Black: RCA interconnections, Black II speaker cable, AudioQuest: Diamond AES, Diamond USB, Vodka and Diamond Ethernet cables, Thunder / High-Current AC power cable, NRG-Z3 Low-Distortion 3-Pole Power Cable, Tellurium Q Black: XLR, AudioQuest: Yukon RCA interconnects, Type-4 speaker cable, Rocket 33 Biwire speaker cable, Thunder / High-Current AC power cable, NRG-Z3 Low-Distortion 3-Pole Power Cable
Power: AudioQuest Niagara 1000
The Network Stuff
ASUS RT-AT68U Router
Small Green Computer sonicTransporter i5 (running Roon Server)
Synology DS412+ NAS (music library)
LaCie Blade Runner 4 TB External HDD ‑ USB 3.0 (music library backup)
DJM Electronics GigaFOILv4 – INLINE Ethernet filter
Furman Power Station Series PST‑8 Line Conditioner