Welcome to the Barn
Twittering Machines calls the Barn home. Nestled on over 4 acres in the woods of Hunterdon County, NJ down a private dirt road, this home was chosen because the house suited our family's needs, the Barn suited the requirements of my job as a reviewer of hifi, while the peace and quiet serves both.
The interior of the Barn is 1,400 sq. ft. overall, with a listening area measuring a comfortable 18' x 35' with 12' ceilings. Plenty of space, peace and quiet, and plenty of room to review even the largest systems.
Michael Lavorgna is Twittering Machines' Founder and Editor. MIchael been writing about hifi for 18+ years for various publications and acted as Editor of Stereophile's AudioStream, a site focused on digital/computer audio, from its inception in 2011 until 2018. AudioStream saw significant growth, becoming one of the leading voices in computer audio.
Twittering Machines launched in 2018. Twittering Machines offers near-daily fresh content, with new product reviews published 3 to 4 times per month along with Industry news, Editorials, and show reports. Twittering Machines covers a range of products including loudspeakers, amplification, and digital audio. Our focus within these categories runs from the affordable to the state-of-the-art.
Our review philosophy is centered around the belief that the voice of the gear we review is more important than the preferences of the reviewer. Toward that end, we spend real time with review products, typically listening in a number of system contexts, in an effort to better understand and communicate each product's specific strengths, while offering relevant comparisons to put things in a broader and more meaningful context.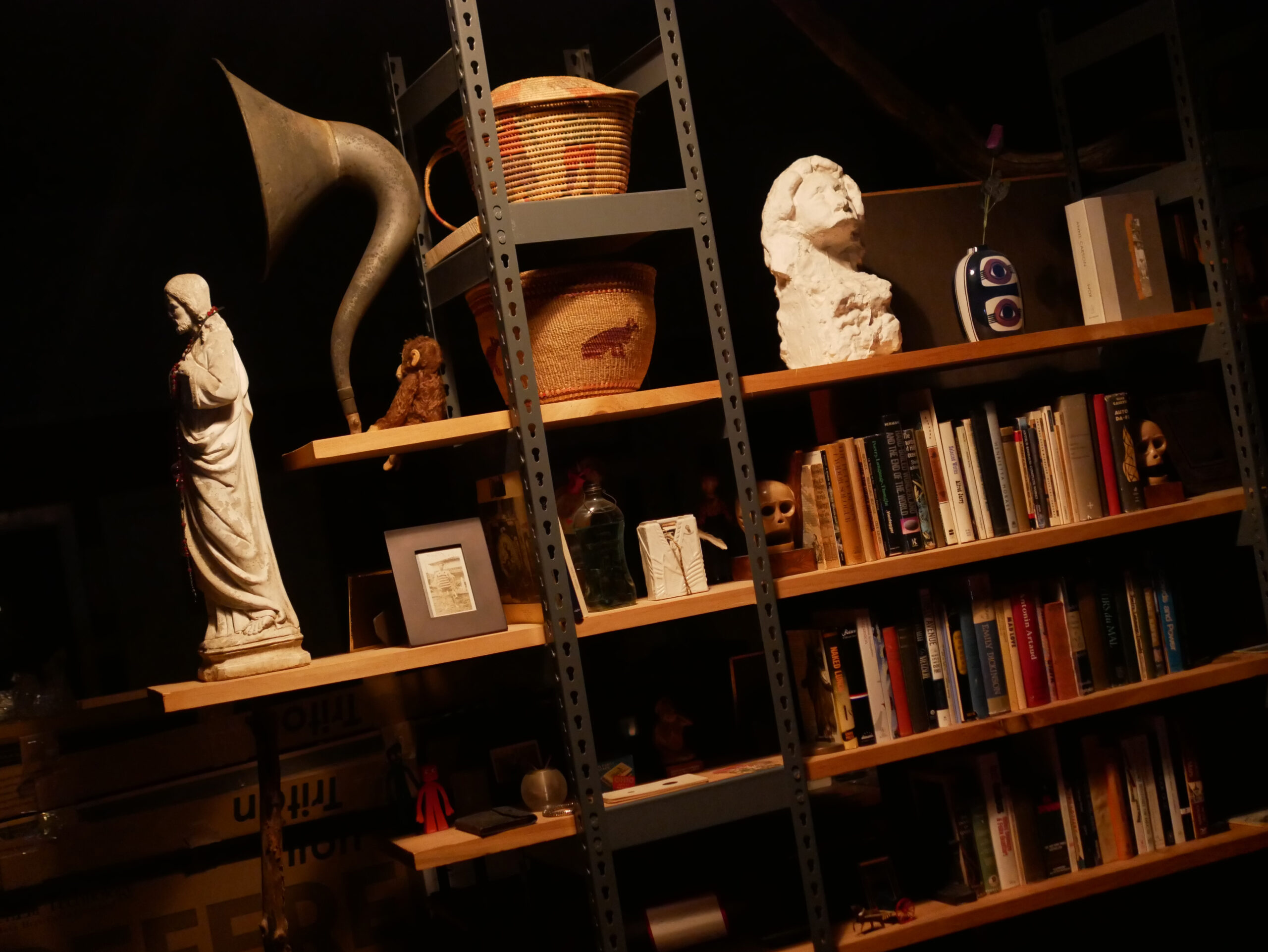 The Barn is also a place where things outside hifi—including art, books, and industrial design—help make the listening environment a culture-rich place to go about the seriously fun business of evaluating the experience of listening to music on the hifi. These other areas of interest are visually evident in images from around the Barn, as well as in our articles on Art & Culture, which appear under one of three main menu choices on the site along with HiFi and Music.
Last but in no way least, we publish two Music columns every Friday — one penned by the Editor that typically highlights a new release in any number of genres, and one from a Stephen Mejias, AudioQuest's Director of Communications and former Stereophile and Audiostream columnist, who selects 15 new releases each week worthy of closer attention. But that's not all we have to say about music, because music is the heart of the hifi hobby. Every review includes references to some of the music used during the review period—we only list some music because the full list would overwhelm the review proper in length. These music choices are not sterile test tracks selected for sound quality above music quality, but music that inspires passion and demands complete attention.
This notion—listening to music on the hifi as an act unto itself—goes a long way in explaining why the quality of this essential experience matters.
Why "Twittering Machines"? The inspiration for our name comes from Paul Klee's drawing "Twittering Machine".
Policies & Procedures
My work at Twittering Machines is supported in two ways: through the ads you see on the site and through Patreon.
As you can plainly see by looking at our reviews and advertisers, there is no connection between what I choose to review and whether or not a company is an advertiser. This practice, commonly referred to as "pay-to-play" or "pay-for-play," has never, and will never, be part of our gear selection process.
Contact
Comments, suggestions, and recommendations can be sent to the Editor.
The Barn
The overall dimensions of the interior of the barn are 35′ x 40′ x 12′.
My HiFi [as of April 2023]
The Main System
Speakers: DeVore Fidelity O/96
Integrated Amplifier: Leben CS600
Digital: totaldac d1-unity DAC, Mola Mola Tambaqui DAC (on loan), Auralic ARIES G1.1 Wireless Streaming Transporter (on loan)
Playback Software: Roon
Streaming Services: Tidal, Qobuz
Analog: Michell Gyro SE Turntable/Michell T8 Tonearm/Cusis E MC Cartridge, Denon DL-103 MC Cartridge, Ortofon 2M Black Cartridge
Phono Stage: Manley Labs Chinook Special Edition MkII Phono Preamplifier
Headphones: AudioQuest NightOwl
Cables: AudioQuest: ThunderBird and FireBird Interconnects (XLR and RCA), Robin Hood Speaker Cables, Diamond AES/EBU, Diamond USB, Coffee Coax, Diamond and Cinnamon Ethernet cables, Thunder High-Current AC power cable, NRG-Z3 Low-Distortion 3-Pole power cables, Blue Jeans Cable Cat. 6 Ethernet cables
Power: AudioQuest Niagara 3000
Equipment Rack: "Fallen A" Co-Designed with and built by Box Furniture, sitting on Ligno Lab Low Frequency Damper D172 Footers
The Red Chair: Eames LCW
Additional Gear
Speakers: Golden Ear BRX Bookshelf Speakers (on Sanus Steel Series Bookshelf Speaker Stands), ELAC Debut 2.0 B5.2 Bookshelf Speakers
Integrated Amplifier: Ayre EX-8 (w/Digital Base + Network Modules), Hegel Music Systems H95, SAC Thailand Minute Single-Ended EL-84 Integrated Amplifier (c. 2007), Sansui AU-555A (c. early '70s)
Digital: Denafrips ARES II DAC, Denafrips IRIS USB DDC, Schiit Bifrost (multibit), Primare NP5 Prisma Network Player, Bluesound Node 2i, Raspberry Pi 4, Helm BOLT DAC, THX Onyx Portable DAC, AudioQuest Dragonfly Red & Cobalt
Analog: Rega P3, Nagaoka MP-110 MM Cartridge
Cables: AudioQuest: Type 5 Speaker Cables, Earth Interconnects, Blue Jeans Cable Cat. 6 Ethernet cables
Power: AudioQuest PowerQuest PQ3
Equipment Rack: Box Furniture MS4M [4 shelf MAPLE] Rack
Network Stuff
Netgear Nighthawk AC1900 Router
TRENDnet 8-Port Gigabit GREENnet Switch
Small Green Computer sonicTransporter i5 (running Roon Server)
Synology DS412+ NAS (music library)
LaCie Blade Runner 4 TB External HDD ‑ USB 3.0 (music library backup)
DJM Electronics GigaFOILv4 – INLINE Ethernet filter
AudioQuest PowerQuest PQ3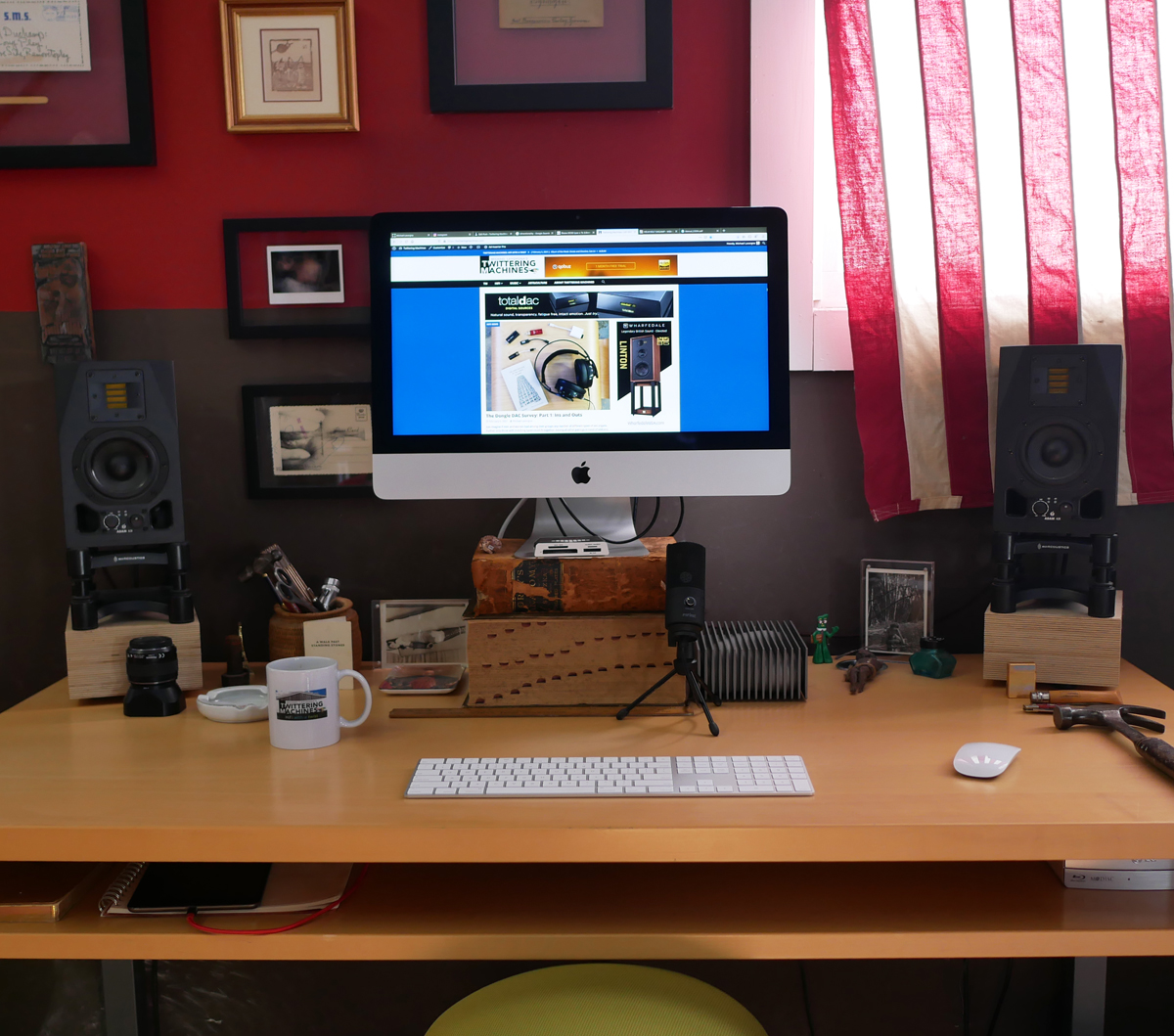 On My Desktop:
ADAM A3X Active Studio Monitors
AudioQuest DragonFly Cobalt DAC
AudioQuest Red River interconnects
---
My Old HiFi (used for TM reviews from its inception to September 2019)

Speakers: DeVore Fidelity gibbon X
Integrated Amplifier: Leben CS600
DAC: totaldac d1-direct
Streamer: dCS Network Bridge
Analog: Well-Tempered Amadeus, Denon 103, Auditorium 23 Step-Up Transformer, Sugden A21SE Stage Two Phono Amp
Headphones: AudioQuest NightOwl
Cables: Tellurium Q Black: RCA interconnections, Black II speaker cable, AudioQuest: Diamond AES, Diamond USB, Vodka and Diamond Ethernet cables, Thunder / High-Current AC power cable, NRG-Z3 Low-Distortion 3-Pole Power Cable, Tellurium Q Black: XLR, AudioQuest: Yukon RCA interconnects, Type-4 speaker cable, Rocket 33 Biwire speaker cable, Thunder / High-Current AC power cable, NRG-Z3 Low-Distortion 3-Pole Power Cable
Power: AudioQuest Niagara 1000
The Network Stuff
ASUS RT-AT68U Router
Small Green Computer sonicTransporter i5 (running Roon Server)
Synology DS412+ NAS (music library)
LaCie Blade Runner 4 TB External HDD ‑ USB 3.0 (music library backup)
DJM Electronics GigaFOILv4 – INLINE Ethernet filter
Furman Power Station Series PST‑8 Line Conditioner