The Schiit Ragnarok Nexus Integrated Amplifier can come with a MM phono stage and DAC built in. That's how the review sample is outfitted because that's how I like to roll.
We can spend endless hours worrying about all manner of "What if's" like what if I want to get a more expensive DAC or what if I want to spend more on a phono stage. And I get the appeal of never being done with building a hifi, always thinking about the next upgrade that might just do it. The thing is, once you fall down that hole, the only way out is to change your mind.
The Schiit Audio Ragnarok 2 features a number of changes, otherwise known as upgrades, from the original version. These include the company's Nexus gain stage which provides one discrete gain stage for all I/O—balanced and single-ended, headphones and speakers. One practical benefit of this approach is there is no gain difference between the single-ended and balanced inputs. Additional upgrades include a modular design for adding a MM Phono and Multi-Bit DAC, a remote, a 128-step relay-switched stepped attenuator (volume control) that allows for finer-tuned adjustment as compared to the old 64-bit number, external heatsinks to keep the Ragnarok 2 running cool, and finally Schiit has added LEDs with little icons to let your eyes know if you're using the speaker or headphone output (your ears don't really need these). I will not up front that the stepped attenuator makes a mechanical noise when you use it. It's a feature, not a bug.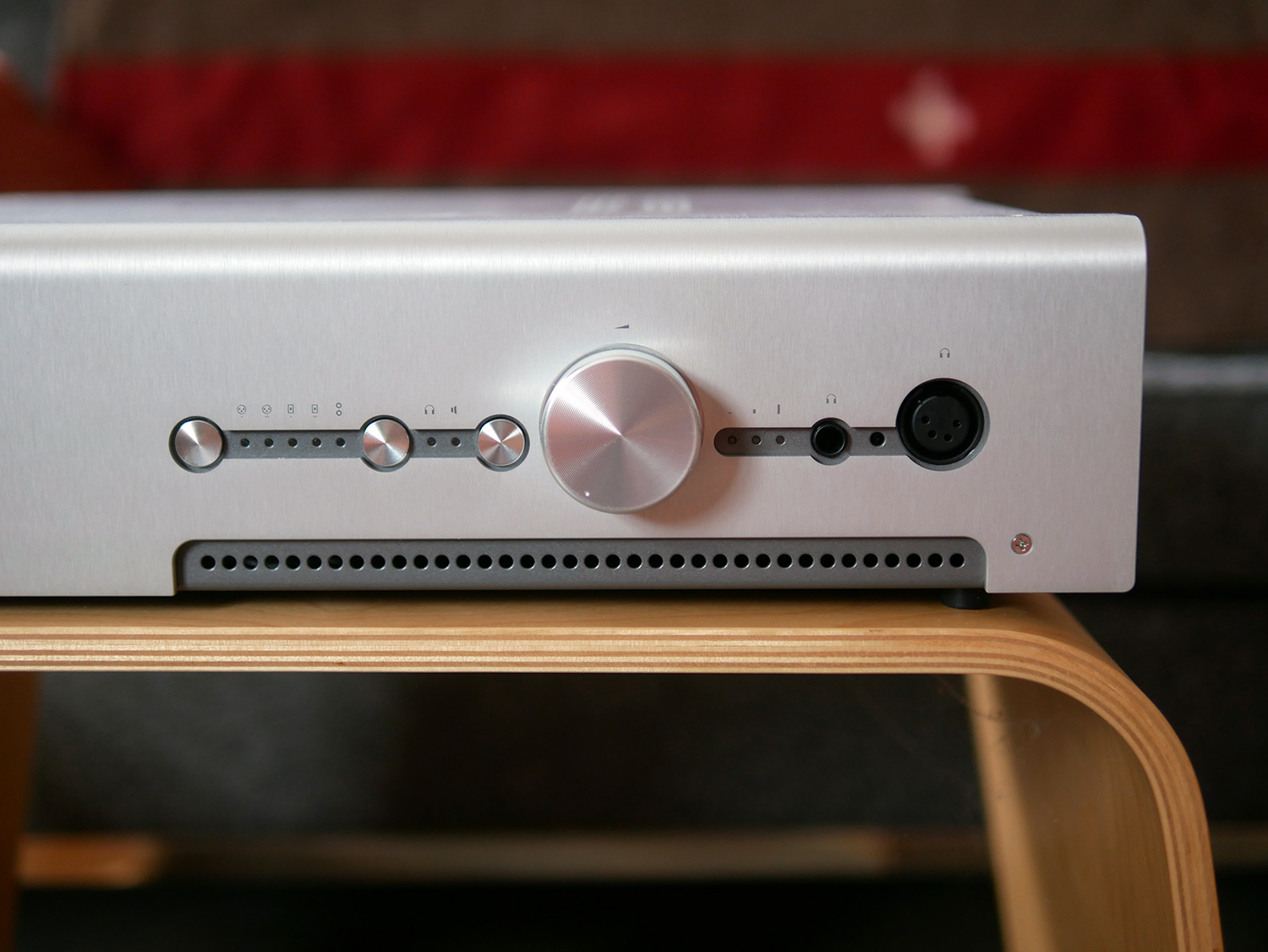 Ragnarok outputs 60 Watts into 8 Ohms and 100 Watts into 4 Ohms but let's emphasize up front that this amp also pumps out full power into its single-ended (6W into 32 ohms) and balanced (24W into 32 ohms) headphone outputs. According to Schiit, this translates into Class A/B output for speakers and Class A for 'phones. There are also 3 gain settings, 2x (6dB), 8× (18dB), and 25× (28dB) to better match the Ragnarok's output to whatever you're driving. A microprocessor-controlled monitoring and management system keeps an eye on everything to ensure smooth operation and protect against any faults.
The Fully Loaded version offers two balanced inputs and one single-ended input in addition to the MM phono and USB Multi-Bit DAC modules. The Amp Only swaps those modules for a pair of single-ended inputs. The USB DAC supports PCM resolutions up to 24-bit/192kHz, so if you have a large library of DSD, MQA, and 24-bit/1536kHz recordings, you're Schiit outta luck. A single pair of speaker binding posts, power switch, ground lug for the phono input, single-ended and balanced Preamp-Outputs, and an IEC inlet finish out the rear panel.
The Ragnarok's front panel offers a source selection button with visual aids in the form of LEDs with icons, the aforementioned speaker/headphone output selector button (and visual aids), a third button for gain selection (with visual aids), a nice big volume control knob, and 1/4" single-ended and balanced headphone jacks. The whole shebang weighs in at a stout 32 lbs and the curved aluminum chassis, which comes raw or black, with black heat sinked sides has a very nice, chunky appeal. The remote is my favorite kind — small, nicely made from aluminum, and offering only useful functions (Input, Volume Up/Down, Gain, Speaker/Headphone Selector, and Mute).
During its Barn stay, the Ragnarok 2 was partnered with a number of speakers including the GoldenEar BRX standmounts, Vienna Acoustics Beethoven Baby Grand Reference Floor Standing Speakers, GoldenEar Triton Reference Towers, DeVore Fidelity O/93, and DeVore Fidelity O/96. The majority of my listening impressions are based on using the Ragnarok's DAC fed by a Raspberry Pi 4 with an AudioQuest JitterBug FMJ in between it and an AQ Diamond USB cable. Roon acted as music server and interface to my stored and streamed music from Qobuz and Titdal. The analog front end consisted of a Rega P3 mounted with a Nagaoka MP-110 MM Cartridge, bargains all.
Schiit Rings True
After all of that is said and done, the most important job of every amplifier is translation — signal to power. I'm not talking about ye olde straight wire with gain of Geek mythology, I'm talking about making music sound believable. The last thing I want to think about when I queue up Angel Olsen is hifi.
"Alive and Dying (Waving, Smiling)" as sung by Angel Olsen adds strings under and over her sweet, sweet voice. It's a relatively simple song, construct wise, yet it can be as moving as a feature film, all delicate, fragile, and liltingly lovely. Paired up with the GoldenEar BRX, the Ragnarok presented Angel in sweet relief, away and apart from the mix, way out in front of the supporting cast. Her voice sounding crystal clear and precise, and starkly human which is how I imagine Angel Olsen wanted it to sound. Nice.
L'Rain's Fatigue is a wonderfully wet sounding record, and the Ragnarok / BRX combo got things moving along in Barn with a very nice sense of the cut-up, choppily spliced rhythms of "Find It". The Ragnarok, here as well as paired with other speakers like the larger and bolder GoldenEar Triton Reference Towers, offered an unobstructed view into music's finer workings, with a finely detailed presentation yet one that also conveyed a a nice sense of body and weight. While it goes without saying, but I'll say it anyway, the Triton Towers' self-powered subs that reach down to a reported 12Hz certainly fill things out on their own, but the Ragnarok's voice highlighted the Triton's ability to reveal gobs of inner detail without bleaching out tone and texture.
Moving to the title track from Max Richter's stunning homage to Beethoven Opus 2020 on the occasion of the composer's 250th anniversary, brings pianist Elisabeth Brauß and the Beethoven Orchester Bonn as conducted by Dirk Kaftan into the Barn. This is rich, opulent fare and the Ragnarok paired with the little BRX did a stunning job of conveying the power and beauty of this music. The orchestra was spread out well beyond the bounds of the speakers, with nice depth and a clearly defined sound image. This deceptively simple work involved integrating and overlapping fragments of different lengths and tempos and transforming the orchestra, usually governed by hierarchies of instruments, into what Richter calls a "democratic community" of ensembles. The movement is slow and Brauß's piano moves to the fore near the end of the 18-minute work where the Ragnarok presented each note and the slightest shift in touch and tone with great precision.
I spent the majority of of my Ragnarok listening time with these GoldenEar pairings because they were my favorite partners for the Schiit's voice and there was always plenty of reserves left in the Schiit's tank regardless of the music's demands. As I mentioned in my review of the Beethoven Baby Grand Reference, this combo sounded a bit dry and thinner than I'd like. These speakers were happiest, at least that's the way I heard it, when driven by the powerhouse Parasound JC 5 amplifier. My best guess is the Baby Grand Reference like power.
The DeVore O/93 and O/96 are very revealing speakers, and I found the Ragnarok to be a good not great partner for them. These Orangutans can sound about as rich as music can sound, but the Schiit came up a bit short in the tone and texture department as compared to other partners. I've heard these speakers with any number of integrated amps, from tube to hybrid to solid state, and I have favorites from each persuasion that include the Jadis DA50S (review), Riviera Audio Laboratories Levante (review), and the Bryston B135 Cubed Integrated Amplifier (review). If you are familiar with these amps, we're talking about much more expensive contenders as compared to the Schiit, with the Bryston at $6695 being the least costly of the bunch.
SQÜRL, which is Jim Jarmusch, Carter Logan, and Shane Stoneback featuring Zola Jesus, Yasmin Hamdan, and Madeline Follin, are joined by Josef van Wissem for the soundtrack to Jarmusch's vampire film Only Lovers Left Alive and the vinyl version is one nice package, especially in red splatter vinyl (a delight for the eyes and ears). I'm a fan of both moods, the drone, fuzz, and drums of SQÜRL with a great cast of guest vocalists as well as Wissem's period lute, a lovely contrast in sounds and time echoing the film's undead theme. So we're talking about a lovely mixture of sounds and textures and the Ragnarok's MM phono stage paired with the Rega/Nagaoka did a lovely job of sorting everything out. There was plenty of grunge and drive (SQÜRL), as well detail and delicacy (van Wissem) and I could easily live with the Ragnarok's very reasonably priced phono stage.
While we're on reasonably priced and living happily, I also found the optional DAC module to be a winner all around. I did some comparisons to the overachieving Denafrips ARES II DAC (review) running balanced into the Ragnarok and sure, the ARES II sorted things out with more body, tone, and texture but the degree of difference was not earth shattering. To my mind, the fully loaded Ragnarok is more than capable of delivering the musical goods and I'd put my extra budget into the accompanying speakers before spending more on a spendier DAC or phono stage.
Here's where I have to admit that I don't do much headphone listening, which is a shame because the Ragnarok is one engaging headphone amp. Using my sole pair of 'phones, the AudioQuest NightOwl, I spent time listening to all manner of music, from Skip James to Tizrah to Chet Baker and it was presented with ease and authority, even in the lowest gain setting. Here, with the room taken out of the listening picture, the Ragnarok's stunning ability to highlight the singer and present them in relief in reach out and touch fashion became even more pronounced. I actually said "Wow" out loud when I heard Tizrah's voice in my head(phones) for the first time. Just wow. By the way, you can listen to both the headphones and speakers simultaneously if you have a spat with your significant other or roommate.
In terms of a head to head comparison, I enlisted the $2,000 Hegel H95 Integrated Amplifier (review), which offers a streaming DAC with multiple inputs — Ethernet (UPnP), AirPlay, 1x coaxial (RCA), 3x optical, and 1x USB — in addition to two single ended inputs and 60 Watts of Class A/B power into 8 Ohms and a headphone amp. While there's no phono option, we are talking about as close to an apples to apples comparison as they come.
Switching to the Hegel H95 using its internal DAC paired fed by the same Raspberry Pi with the GoldenEar BRX and "Exile" featuring Bon Iver from Taylor Swift's folklore sounded as if someone turned down the "Vividness" setting, if there was such a thing. The vocalists moved back into the mix, the overall sound softened, and everything took on a more burnished glow. To my ears and tastes, this translated into a richer sound, with tone colors feeling a bit more saturated. What the Hegel didn't do was offer the Schiit's uncanny clarity, focus, and incisive drive.
I let this comparison take more time, listening to more music through the Hegel, then switching back to the Schiit, and I have to say that my first impressions held fast, even over time. For Schiit's and giggles, I let the totaldac d1-tube DAC/Streamer take over digital duties to zero in on the just the amps, and these sonic characteristics remained — the Schiit being the more resolute with striking clarity, and the Hegel offering a more relaxed, more colorful depiction of the recorded event.
What If I Was Happy And Didn't Know It
The fully loaded Schiit Ragnarok 2 does everything really well and some things exceptionally well. All things considered — price, looks, build quality, and performance — not to mention Company appeal, the Ragnarok 2 has all of the ingredients needed to make for a long and fruitful relationship.
---
Schiit Audio Ragnarok 2 Nexus Integrated Amplifier
Price: $1499 Amp Only | $1799 Fully Loaded
Specifications
Power Output, Speaker Outputs:
8 Ohms: 60W RMS per channel
4 Ohms: 100W RMS per channel
Power Output, Balanced Headphone Output:
32 Ohms: 24W RMS per channel
50 Ohms: 15W RMS per channel
300 Ohms: 3W RMS per channel
600 Ohms: 1.5W RMS per channel
Power Output, Single-Ended Headphone Output
32 Ohms: 6W RMS per channel
50 Ohms: 3.75W RMS per channel
300 Ohms: 750mW RMS per channel
600 Ohms: 375mW RMS per channel
Frequency Response: 20Hz-20Khz, -0.1db, 3Hz-350KHz, -3dB
THD: <0.01%, 20Hz-20KHz, at 100W RMS into 8 ohms
IMD: <0.01%, CCIR, at 100W RMS into 8 ohms
SNR: >115db, A-weighted, referenced to full output
Damping Factor: >80 into 8 ohms, 20-20kHz
Gain: 2, 8, or 25 (balanced, half those gains through headphone SE output)
Input Impedance: 10k ohms
Crosstalk: >95dB, 20-20kHz
Inputs:
(2) pairs XLR balanced inputs
(1) RCA single-ended input
(2) Module slots, one small and one large
Topology: Nexus™ differential current feedback with nested differential stages
Oversight: microprocessor-controlled monitoring and management of critical operational points, with relay shut-down for DC, overcurrent, thermal, and other faults
Power Supply: 600VA transformer with dual mono main rails, plus boosted, regulated supply to input, voltage gain and driver stages, plus separate, isolated and regulated rails for microprocessor management.
Power Consumption: 500W maximum
Size: 16" x 13" x 3.875"
Weight: 32 lbs
Company Website: Schiit Audio