There are times when the review writing process gets short-circuited by enjoyment. Where I very nearly just want to say — this thing is great, get one.
My time listening to, and enjoying, the Bryston integrated amplifier was one such case.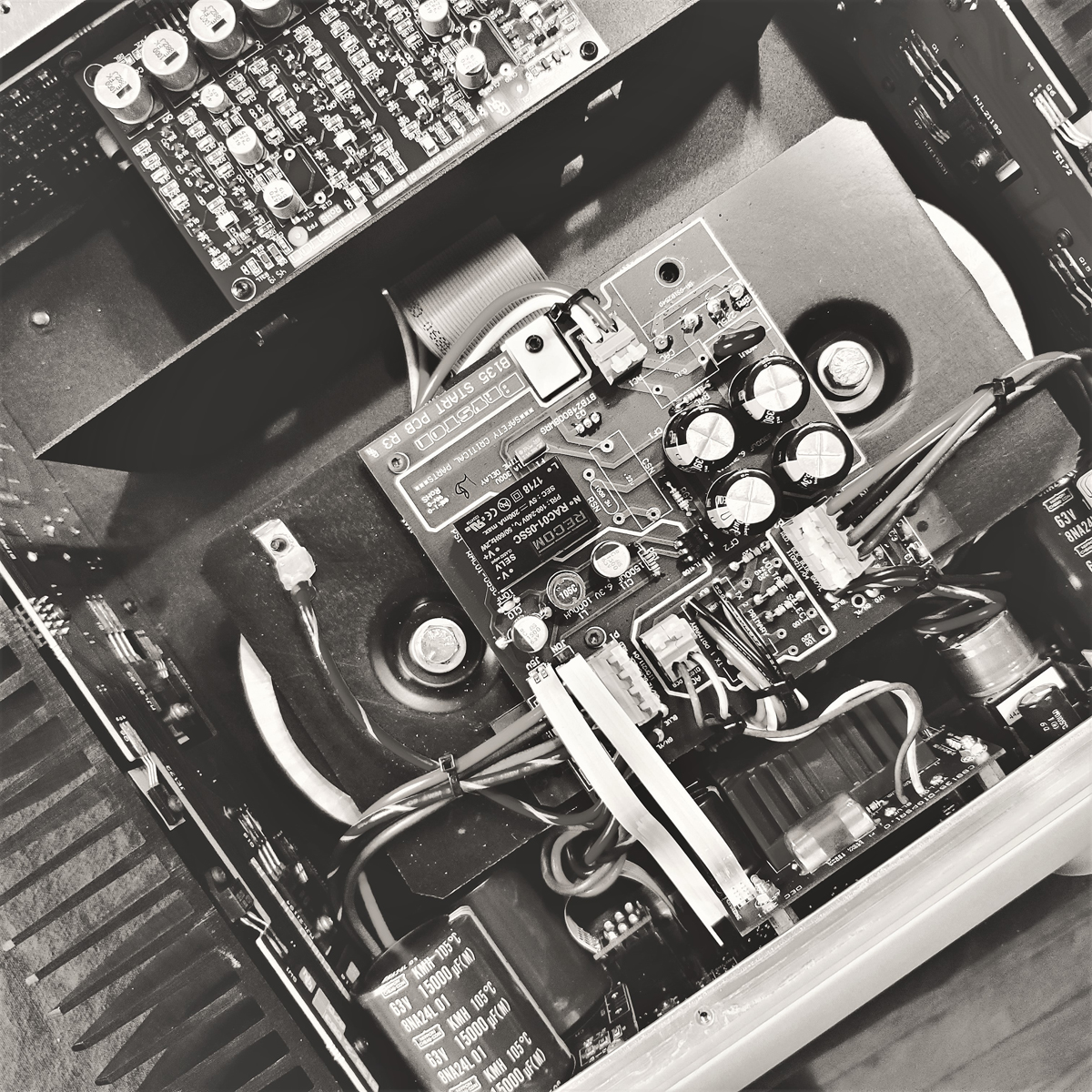 The Bryston B135 Cubed integrated amplifier combines two of the company's products, the BP-17 preamplifier and 2.5B Cubed amplifier, in one chassis. The B135's amplifier section is a Class A/B design but that's like saying a Caravaggio is made from paint. From the company:
Newly designed circuitry in the Cubed Series amplifiers is virtually impervious to noise such as RFI and others induced by external and environmental causes. Our patented Salomie Circuit features a unique method of trapping distortion components in the main signal path that pass through other amplifiers only to be amplified and played by your loudspeakers.

Quad-Complementary topology improves linearity to a new standard of accuracy while virtually eliminating aggressive higher harmonic distortion byproducts. Quad Complementary eliminates crossover distortion by improving transistor matching and reduces capacitance in the output stage by a factor of four which improves transient response and bandwidth. The overall harmonic distribution of Bryston's Quad-Complementary output mimics the characteristics of a class-A design but with dramatically lower distortion. Each amplifier channel includes its own fully independent power supply with separate transformer — a feature uncommon even in amplifiers far more expensive.
Output power is rated at 135 watts per channel into 8 ohms and 180 watts per channel into 4 ohms. The B135 Cubed premplifier section, again it's essentially a BP-17 preamplifier , features fully discrete Class A analog circuitry and uses the same patented Salomie circuit as found in the amplifier section of the B135.
The B135 offers six line-level RCA inputs plus a tape-loop input and a pair of 5-way binding posts. The company offers two optional modules ($750/ea.) — a MM phono input (replaces one of the line level inputs) and a 24bit/192kHz-capable DAC module (2x Coax S/PDIF and 2x Toslink). A pair of switches on either side of the back panel allow you to bypass the B135's preamplifier or amplifier sections for use with an outboard amplifier or preamplifier. The review sample came fully loaded.
The aluminum faceplate comes in silver or black and 17″ and 19″ versions (non-rack mountable). Front mounted features includes buttons for input selection, balance control, mute, and power which are joined by a volume control knob and a 1/4″ headphone jack for the independently buffered headphone output. The machined and anodized aluminum enclosure sports some hefty heat sink fins on either side of the chassis allowing for heat dissipation (i.e. no noisy fan). The Bryston B135 Cubed Integrated Amplifier weighs in at a hefty 27lbs and comes with Bryston's industry-leading 20 Year Warranty. Think tank-like built quality with a bullet-proof warranty. Nice. Very nice.
I mated the Bryton B135 Cubed with the DeVore Fidelity O/96 speakers and the overachieving Golden Ear BRX standmount speakers.  A Bluesound Node 2i handled the streaming, handing off its bits to the Bryston with a length of AudioQuest Coffee Coax cable, while a Rega P3 (2000) fitted with a Nagaoka MP-110 MM Cartridge handled my records.
If I was buying the B135 Cubed, I'd opt for the inbuilt DAC because you'd be hard-pressed to find a better sounding outboard DAC for $750. End of story. On the phono side, I'd be a bit less likely to go for the Bryston MM phono option because I dream about MC cartridges. Of course you could opt for the Bryston MM option and add your own outboard stepup transformer for your MC cartridge, which some record spinners might feel is a more targeted approach. All that being said, if I was content in MM cartridge world, I'd let the Bryston handle everything and skip the extra boxes and cables.
For comparison purposes, I used the budget-priced but not budget quality Parasound Zphono Phono Preamplifier and felt the Parasound better fleshed things out with a bit more apparent weight and texture but I'd still stick with the Bryston's phono input because it sounds just lovely. I spun all manner of music from Martha Argerich's beautiful Bach interpretations, to Adrienne Lenker's forlorn and lovely Songs, to Sonny Rollins intoxicating Freedom Suite and the Bryston handled them all with delicacy, detail, timbral richness and rightness, and a super firm grip on the speakers that makes music all that much more moving. There's an effortless feel to music through the Bryston as if power just isn't an issue.
Streaming music from Tidal HiFi and Qobuz as well as my NAS-based library using the Bluesound Node 2i offered a similar sense of unrestrained drive coupled with a very convincing sense of body, tone, and timbre making digital music sound pleasantly un-digital. What I mean by un-digital is there's no added artificial emphasis tilting up the top end towards sharp brittleness, nor does the sound image feel like a cardboard cutout representation of what was once a 3D image. The Bryston's DAC, as a $750 option, is a real bargain as its performance belies that price. I did spend some time using the totaldac d1-tube DAC/Streamer just for the heck of it and sure, the totaldac moves digital music replay into another realm of realness but that comes at a cost greater than the B135 Cubed Integrated Amplifier. Again, for people considering the Bryston, I'd stick with its optional DAC, call it a day, and enjoy its smooth and engaging way with digital replay.
With every integrated amplifier I've enjoyed, its particular topology quickly disappears into irrelevance once music takes over and the Bryston B135 Cubed is exactly this kind of magician. Listening down memory lane with Bruce Springsteen's The Wild, The Innocent & The E Street Shuffle, where that tuba surprise on "Wild Billy's Circus Story" comes in big, bold, and brassy with great weight and heft through the B135, as it should, to romp us into swirling circus memories tinged with that bitter sweet unease under the big top.
It was also the case that the Bryston did not lead me down any particular type of music playlist, rather it was more a question of what to enjoy next. Soft, subtle, and lovely, big, bold and badass, pumping bass driven funk, heady electronica, carnal industrial, and freaky Argentinian folk, me and the Bryston and DeVore's spent many a day into night in party mode, letting Roon and streaming carry the tune and turn the tides into timeless fun. Flat out time defying fun. Bravo!
As is my wont, I leashed the AudioQuest NightOwl headphones to the Bryston's phono jack and took this pairing for a test drive and I was greeted with a very compelling, sweet, rich, and lush sound event. The Bryston's phono amp is dead quiet so that music emerges from a blank canvas, blossoming into its full technical world. While my lifestyle, setup, and preferences don't have me covering my ears with ear speakers very often outside of these review test drives, I will add that this pairing of B135 Cubed and NightOwl made for an especially enticing treat.
I could easily go on singing the Bryston's praises for its smooth and even keeled way with music, coupled with that great sense of control and unrestrained drive that had me lost in music-land, which is located far, far away from reviewer-ville. But comparisons beckon. The Ayre EX-8 Integrated Hub (see review), when fully loaded with its digital streaming options, comes in at 7,850 or pretty much on par with the B135 sans phono (the Ayre does not offer a phono option) so we're looking at a fairly fair comparison. Just to clarify, the Ayre's streaming package means there's no need for an external streamer as there is with the Bryston.
But to start on equal footing and keep initial variables at a minimum, I kept the Bluesound Node 2i in the system feeding the Ayre. The most perceptible shift in sonic qualities had the Ayre offering up a bit more sparkle and a sense of greater perceived resolution. Coupled with what I'd call a more lit up sound was a highlighting of Phoebe Bridgers' vocals on "Halloween" from her supremely enjoyable album Punisher. To my ears this was not a step in the right direction as it tilted the vocal balance too forward from the rest of the mix. While enjoyable, by comparison the Bryston offered more weight and balance to the overall sonic picture.
I've been listening to the Ayre for many months, on and off, and the sonic description I just offered is not what the Ayre EX-8 sounds like when using its internal streamer. Removing the Bluesound Node tamed that presence region emphasis down and put it back in harmony with the mix. Bridgers' breathy vocals returned to their softer, warmer self and I breathed a more relaxed breath. Now the Ayre's greater sense of resolution allowed for a closer listen into the micro-workings of the music coupled with an airier, more ethereal sound image. By comparison, the B135 Cubed presented a more muscular and solid sound image which shifted my attention, ever so slightly but nonetheless apparently, to music's drive, beat and body.
Based on these comparisons, it seemed rather obvious that the Bluesound Node 2i has a sound of its own which was contributing to the sound of the attached integrated amplifier. To test this theory, I replaced the Node with the Primare NP5 Prisma Network Player ($600) using the same AQ Coax cable to connect it to the Bryston. While the perceived change was not huge, things certainly sounded more refined with greater resolution. To my ears and mind, this brought the Bryston closer to the Ayre EX-8's level of apparent resolution. I often harp on misattribution as a common occurrence in hifi and the difference between the sound of the Bryston with the Bluesound Node and Primare NP5 tidily illustrates this point — we listen to systems, not components.
This Thing Is Great
The Bryston B135 Cubed did better than impress, it let music leave the lasting impression. If we add in the rest of the Bryston package, the company's 35+ history and 20 Year Warranty, I'd say you'd be hard-pressed to find a more compelling case for a purchase.
---
Bryston B135 Cubed Integrated Amplifier
Price: $6695.00 | +$750 for the Optional 4 input 192kHz DAC module | +$750 for the Optional low distortion MM Phono module
Company Website: Bryston Ltd.