When listening to music on the hifi, I want to feel as if I'm in a void with just me and my music. No distractions, no thoughts of social media, likes, visits, or comments. Just me and my music.
The Denafrips ARES II turns bits into analog waves using a series of ultra-precise (0.01%) resistors in an R-2R configuration, a longer way of saying the Ares II is a resistor ladder DAC. All of the incoming bits are first sent to a high-speed RAM buffer, using adaptive FIFO technology, and re-clocked by the internal Femto Crystal clock before being passed on to the 24-bit R-2R DAC. You can think of this process as being very much like a very busy car wash with a traffic cop.
Inputs consist of 2x Coax S/PDIF, 2x Toslink, and a lone USB. The USB input is a proprietary Denafrips solution, while the data from the S/PDIF inputs is sent directly to the FPGA for processing. The ARES II can operate in NOS (nonoversampling) or OS (oversampling) mode with two filter choices for OS mode, Sharp or Slow. The Ares II supports PCM sample rates up to a whopping 24-bit/1536kHz (!) and native DSD1024 over USB, while the S/PDIF inputs max out at 24-bit/192kHz. Both single-ended RCA and balanced XLR outputs carry the converted signal to your amplification device of choice.
The Ares II's metal case comes in black with a black faceplate, while measuring a svelt 8.4″ x 9″ x 1.7″. The front panel houses a total of nine buttons for power/standby, input selection, phase, and mute. These buttons are also used to select operating mode and, for OS mode, the filters. Under all but the Standby button reside teeny tiny red LEDs showing selection status and input sampling rate.
I like the rather plain looks of the ARES II which follows the why call undue attention to myself approach. I paired the ARES II, via its RCA outputs, with a few different integrated amplifiers including the Ayre EX-8 (review), Jadis DA50S (review), and the Cambridge Edge A all paired with the DeVore Fidelity O/93 speakers. The Primare NP5 Prisma network player (review) fed the ARES II the bits over a length of AudioQuest Coax cable.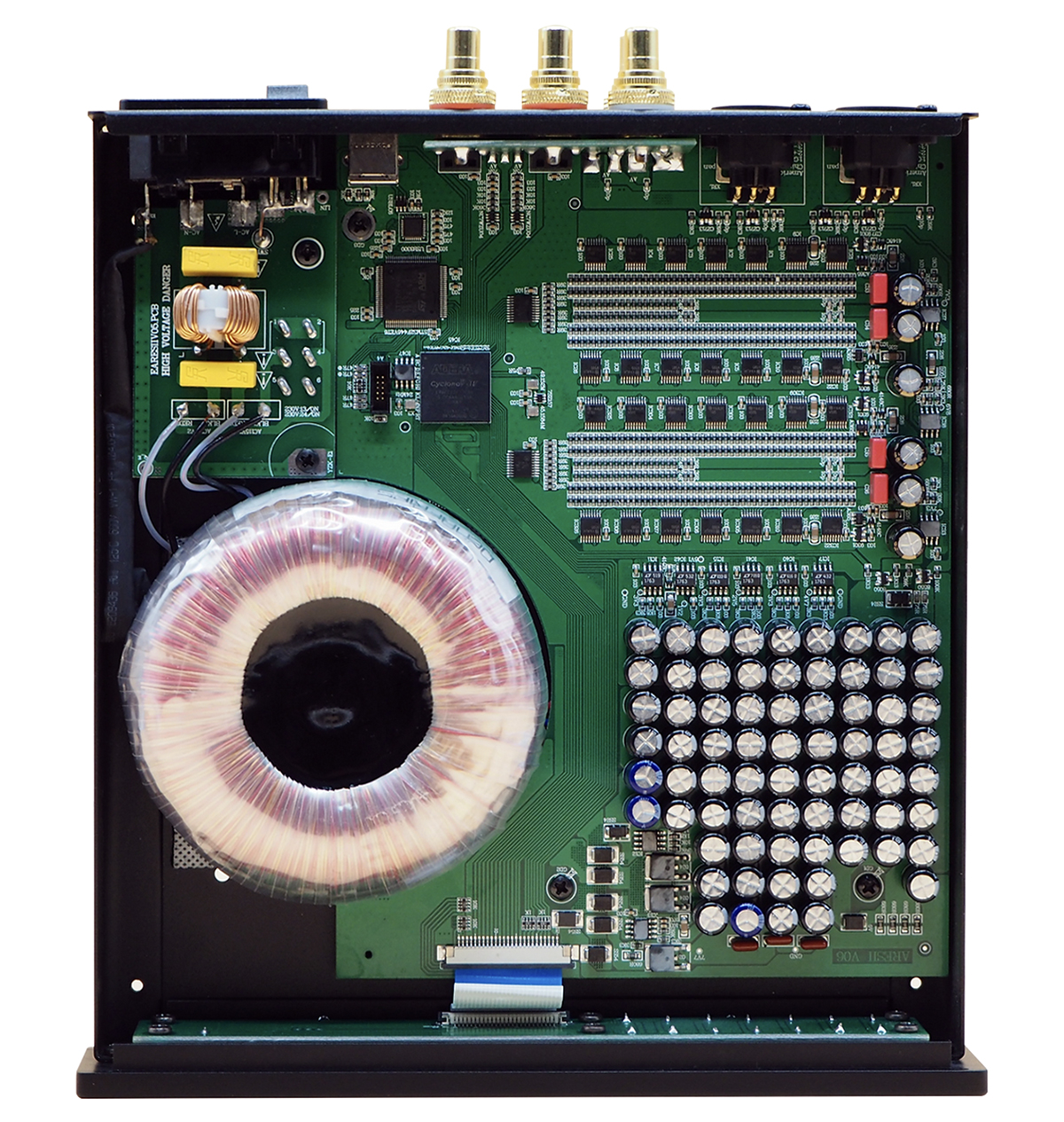 Filters And Modes
I don't see the point in describing, in painful detail, the differences between a piece of gear's options. Why? Because they're options available to everyone and, you know, people are people so why should it be that you like NOS and I OS?
For 99% of the duration of the review period, I listened to the ARES II in OS mode, using the Slow rolloff filter. Why? I very much preferred what I was hearing using this configuration. In short, music sounded bigger, richer, and fuller.
Out Standing
Why beat around the proverbial bush? The Denafrips ARES II is my favorite DAC anywhere near its price. I could live with the ARES II as my only DAC. Easily. Happily.
The ARES II is one of a few DACs that adds a bit of musical magic into the mix, turning bits into living breathing waves of analog richness. I am loving, loving, Dry Cleaning's new record New Long Leg for all of Florence Shaw's slow spoken attitude backed by crunchy guitars, bass, and drums. The little ARES II presented this relatively simple music with dimensional purity, tonal ripeness, and bold force. The musical event was laid out in a nice sound field, sounding solid and as punchy as Dry Cleaning. And they are punchy.
Another new record that's getting a lot of Barn time of late is Ex:Re with 12 Ensemble, a lovely string reimagining of Ex:Re's debut album. The ARES II does a lovely job rendering the 12 Ensemble's various string voices with a sense of purity and body that belies this music's digital origins. The music on Ex:Re with 12 Ensemble swings and swoons, with Elena Tonra's vocals also sounding embodied in full voice, with everyone inhabiting an airy, easy to visualize space. I experienced many a magic moment listening through the ARES II, where music and me became the only things that didn't fade away. I love, and live for, this kind of thing.
The logical comparison for the ARES II, even though its not very logical, was to see how it stacked up against its cousin, the totaldac d1-tube DAC/Streamer (roughly US$8600 review). I fed the latter with the same streaming source, Primare NP5 via Coax, to stay on an apples to apples playing field.
In a word, more. With the totaldac, music expanded, became more saturated, more nuanced, delicate, and lived in bigger, airier places as compared to the ARES II. My friend, mentor, and colleague Herb Reichert described the difference between Denafrip's pricier DAC, the Terminator, and the ARES II by saying the ARES sounded like a Terminator that shrunk in the laundry. Yea, what Herb said.
That being said, I bought a wool overshirt a few years ago, I love overshirts, that was too big because the next smaller size was too small. While I like my shirts big, this wool number was even too big for my (over)size preference. So I stuck it in the wash. Yea, all wool, right in the wash. Dryer too. What can I say, I live on the edge. When it came out of all the spin cycles, all warm and toasty, it was denser than pre-wash, a welcome change, and it now fit perfectly big.
The ARES II essentially gives you everything the totaldac has to offer, only less of it. It sounds smaller and denser and less technicolored. Which didn't really bother me during the weeks of listening time I devoted to the ARES II, playing all manner of music with nary a care in the world. As a matter of fact, I could easily live with the ARES II, something you may have heard before.
Raves and Giant Killers
If you want excitement from your digital music, the ARES II does that. If you want natural beauty, the ARES II does that too. If you want to stop chasing bits and fretting over sampling rates, file formats, and DAC topologies, the ARES II offers a cure. Finally, if you want to sit down with your music and let the world slip away for an albums- or days- or weeks-worth of time, the Denafrips ARES II is your little red pill.
That the Denafrips ARES II delivers all of this goodness for $780, seven hundred and eighty smackers!, is cause for celebration. Bravo!
---
Denafrips ARES II DAC
Price: $780 (seven hundred and eighty smackers!)
Company Website: Denafrips
Distributor's Website: Vinshine Audio