How? That was the word and question that nagged at me all the while the LSA VT-70 amp was lighting up the Barn. How can you get so much for so little?
The answer is at least three-fold—Living Sounds Audio (LSA) is a sub-brand of Underwood HiFi and LSA products are made in China and sold direct. These factors, coupled with what I assume to be narrower than normal margins, add up to an asking price of $1399, with a special introductory price of $1299 (the first run at $1199 is sold out).
But who is behind the LSA VT-70's design? An email inquiry to my contact at Underwood, the ever affable and endlessly helpful Bill Leebens, responded with the following (unedited) quote from John Huang:
"The [VT-70] was designed by Huang Jia Nuo who is former Chief Engineer at Line Magnetic and Cayin. Since 2000, Huang worked in Cayin as assistant Engineer and then went on to establish Line Magnetic with the Zheng Brothers. In 2019 Huang left Line Magnetic and started our own factory in Zhuhai, Guangdong, China. Now we mainly work on ODM projects. LSA is one of the brands we are developing and manufacturing now."
ODM stands for Original Design Manufacturer and the main difference between an ODM and an OEM (Original Equipment Manufacturer) is ODM's are responsible for design and manufacturing whereas an OEM manufactures products according to someone else's design. I've read any number of guesses as to the origins of the LSA VT-70 online and the majority hold about as much water as a jug made of Swiss cheese. I will note that according to the Line Magnetic website, the company was formed by the Zheng brothers in 2005. The elder brother Zheng Cai also worked at Cayin, whose factory is also in Zhuhai, and younger brother Zheng Xi founded the Zhuhai Line Magnetic Audio Co., Ltd where Line Magnetic Audio products are manufactured along with OEM products like integrated tube amplifiers. There is no mention of Huang Jia Nuo in the Line Magnetic company history.
Now that the origin of the LSA VT-70 is as clear as murk, let's get on with the business at hand.
The Ultralinear LSA VT-70 is a classic tube amp design, featuring a quad of EL34s run in Class A/B mode generating 35 Watts of output power into 8 Ohms. A single 12AX7 and pair of 12AU7s run the input and driver stages, and all of the included tubes bear the LSA brand badge. The VT-70 can also accommodate 6550 and VT-88 output tubes. Biasing for the power tubes is done manually and takes all of a minute or so using the top plate mounted switches to select the tube to be biased and the front VU meters. Who doesn't love VU meters?
There are 3 line-level RCA inputs and a Pre Out for use with a subwoofer or external amplifier. Binding posts for 4 and 8 Ohm taps are provided. Typically when we talk about tube amplifiers and sound quality, some reference is made to the output transformer's origin story but with the LSA VT-70, we are left to assume that they come from the same place as the rest of the amp—that unnamed factory in Zhuhai. Then there's the weight thing. The LSA VT-70 tips the scales at 46 lbs. and moving this amp around makes it clear that the bulk of that heft resides in the transformers. I suppose if you equate weight with sound quality, those are good numbers. I prefer to listen.
The VT-70 comes with a tube cage, I preferred it off, and a nice aluminum remote for volume control. There's also a headphone jack mounted up front, something I never use but I know lots of people who do.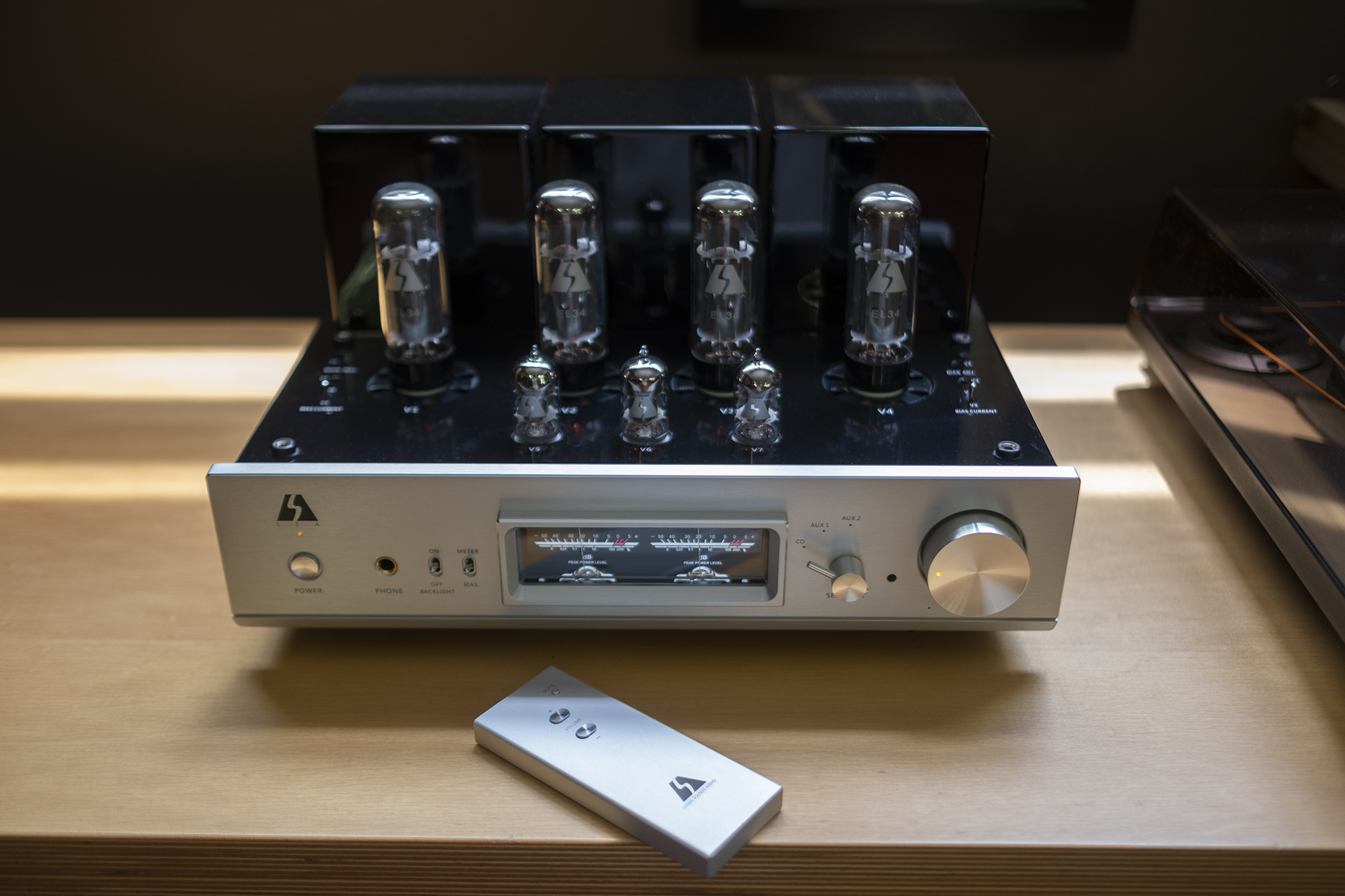 I paired the LSA VT-70 with a number of partners including the wonderful Qln Prestige Five Floor Standing Speakers (review), the DeVore Fidelity O/96, Klipsch Cornwall IV (more info), and the GoldenEar BRX Stand Mounts. I know, some unlikely partners if we consider price parity but my thoughts were, why the hell not. The totaldac d1-tube DAC/Streamer (review) acted as source while cables from AudioQuest made everything work together.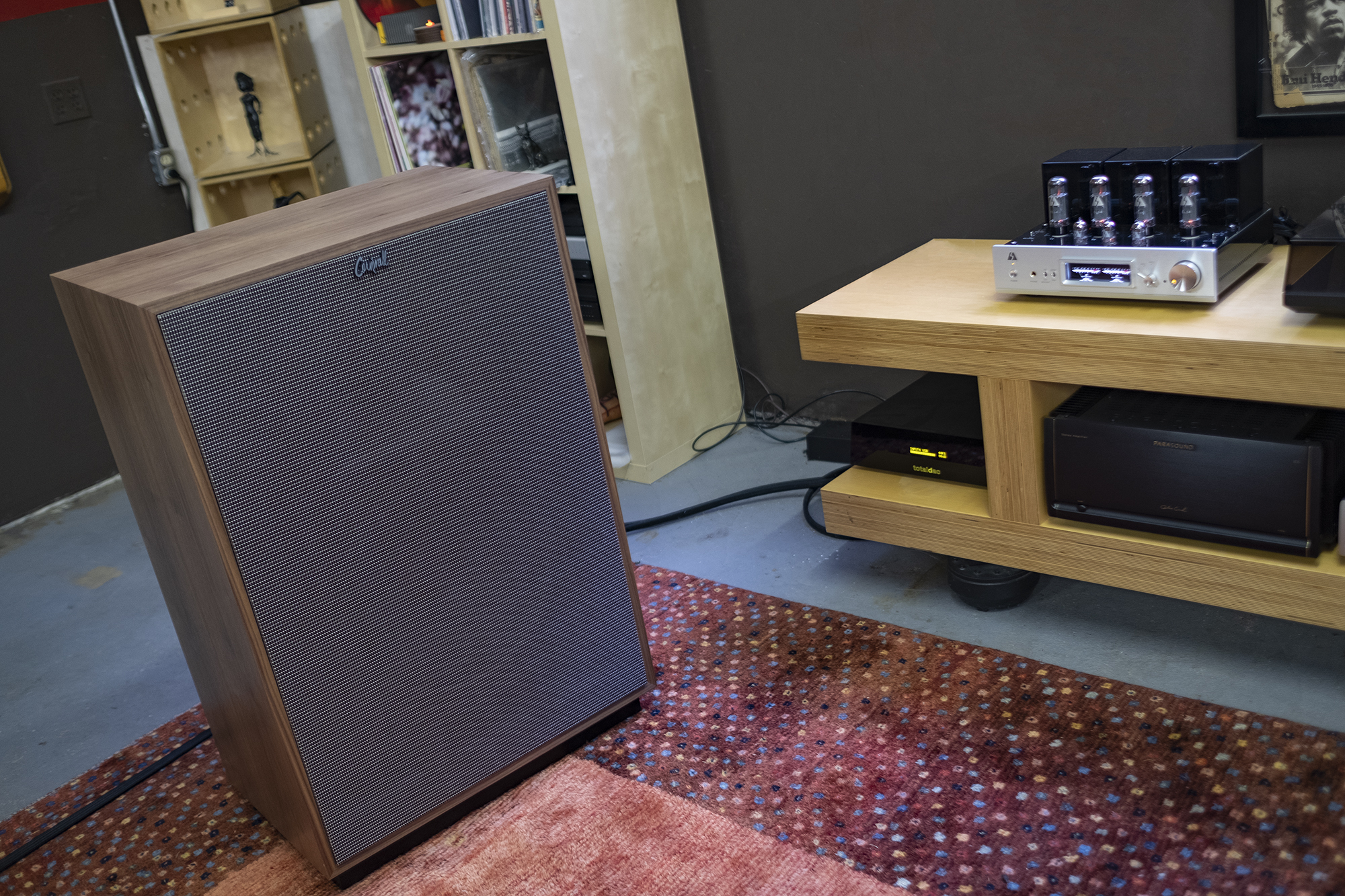 How? I'm back to that question but it's unavoidable in this case. How does LSA/Underwood deliver this much goodness for $1299? As the old saying goes, Ours not to reason why, ours but to listen and smile. Which is exactly what I did throughout my listening time with the LSA VT-70 Tube Integrated Amp—smile. A Cheshire cat's meow of a smile.
Regardless of the speaker in play, the VT-70 provided a solid foundation with plenty of muscular drive. Music sounded forceful and bold where called for, with a healthy amount of detail and color giving the sounds of music that lit up quality that only tubes can muster. At least in my experience. It's as if the V T-70 takes in an analog signal and outputs an ignited pulse of energy that the speaker in play converts into sparkling living sound.
After Axpona, I found myself craving heavy—music with bark and bite. One such selection was Refrain from Z.O.A. and Boris, a 33-minute revenge movie played out in song. I had the pleasure (and pain) of seeing Boris live some years ago and they have a very distinct sound, live or on record. Wata, Boris' guitar wizard, has a number of branded effects pedals on the market and I've been tempted to buy every one. Big, fat, rich and menacing could be the names of these pedals (but they're not) and the VT-70 did a magnificent job of pumping out all of that power through the DeVore O/96 to Barn-filling levels. There are plenty of tones, overtones, cymbal smash, bass grind and boogie buried in the Boris wall of sound, and the VT-70 did a fine job at excavating enough to make things feel convincing. I've certainly heard other integrated amps do a better job with resolving more micro detail with greater nuance and refinement, but not a one of them comes anywhere near a $1299 asking price.
Can you buy a better 35W integrated tube amp than the LSA VT-70? Of course! Will you be spending more money? Of course!
Caroline's self titled debut album is a wonderful feast for the ears and imagination, sounding unlike the popular genres that seem to dominate the world of hifi. It's not classical, large-scale or small, nor is it female vocals or jazz or easy listening covers of classic rock. What it is is lovely and the 8-piece band that makes up Caroline offer a rich variety of sounds, moods, and movements that feed my hunger for the unexpected. Through the DeVore O/96, the VT-70 once again proved to be capable of delivering a kaleidoscopic wonder of sounds in rich and engaging fashion.
Balance is all-important in amplification where nothing stands out in an unnatural way—no sharper than real life edges, no larger than life bloat in the bottom end, and the midrange doesn't overwhelm and saturate everything else into oblivion. The LSA VT-70 proved to be very nicely balanced, even when driving the forthright and bodacious Klipsch Cornwall IV, a speaker that makes me smile every time I play music through it. The VT-70 remained in control to a musically satisfying degree even when pushed into producing earth-shaking sub Hz pulses.
Whether dancing along with the funk bass lines of !!!'s "A Little Bit (More)" from Let It Be Blue or Kali Malone's church-filling The Sacrificial Code, the VT-70 proved to be largely in control and unflappable, even when paired with the Qln Prestige Five and their sub-30Hz reach. I have to admit, pairing the $1299 VT-70 with the $20k Qln's is a bit of a stretch, but I was more than pleased with the result. Sure, other more expensive integrated amps brought out more of what's contained in every recording to the fore with greater finesse, refinement, and even more control, but budget hifi system shoppers can be very well served by putting the bulk of their spend into speakers and pairing them with an overachieving integrated amplifier like the LSA VT-70. You may just find yourself not wanting more.
Moving to a more price-comparative pairing, the VT-70 / GoldenEar BRX system made sweet, sweet music as if they were designed with one another in mind. This combo comes in under $3k and the sum of its qualities left me wondering. . .how? Even in the Barn's expansive space, this modest couple—in size and price—offered musical enticements well beyond what accounting might suggest. Smile.
Another delightful record that's been tickling my itch for the unexpected comes from the Tara Clerkin Trio's EP In Spring. This Bristol-based three piece blends and bends a number of genres into fresh-sounding set pieces with Clerkin's vocals and clarinet backed by brothers Patrick Benjamin and Sunny-Joe Paradiso on double bass, drums, and piano. The BRX/VT-70 combo sounded perfectly suited to render these lovely acoustic sounds plus effects, giving full voice to each player, each instrument, while always delivering the beat and drive in perfect time. This is music reproduction that did not leave me wanting because what this system delivered captures a very large amount of what makes music so enthralling. What it leaves out can easily be ignored.
All things considered, the LSA VT-70 is one helluva hifi bargain, offering a price / performance one-two punch that makes it among the easiest recommendations I've had the pleasure of making. If your speakers can live on a stout 35 Watts and your tastes run toward tubes, I doubt you will find a more affordable and enjoyable contender.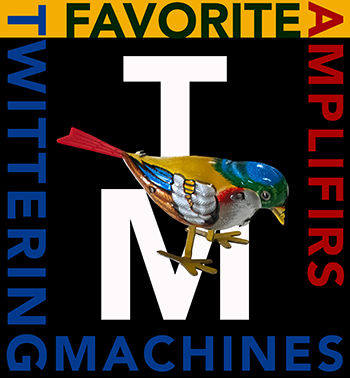 ---
LSA VT-70 Integrated Tube Amplifier
Price: $1399.00 | Intro priced at $1299.00
Company Website: Underwood HiFi
Call Wally at 770-667-5633 or email [email protected] to order

Specifications
Power Output: 35W + 35W (RMS 8 ohm)
Ultralinear design, Class A/B
THD: 1% (1kHZ)
Frequency Response: 20Hz-40kHz
Input Sensitivity: 200mV
Input Impedance: 100k Ohm
Output Impedance: 4 ohm, 8 ohm
S/N Ratio: 88dB
G.W shipped: 48 pounds
Amp weight 46 pounds
Power Consumption: 230W
Tubes used: 12AX7*1, 12AU7*2, EL34*4
Size: 14.75″w x 8.85″h x 11.5″d
2 year warranty and 6 months on tubes