Loudspeakers convert an electrical signal into acoustic energy, i.e. sound waves. Sounds simple. With such a simple sounding job, I find it more than fascinating that the world of available loudspeakers diverge more than they converge when it comes to the mechanics of approaching this task and the resultant sound.
If you've ever attended a hifi show, going from room to room listening to different systems, this divergent world of speakers mimics the divergence found in the people who design them, who exhibit them, and who attend hifi shows to hear what's what. This reality should come as no surprise for obvious reasons—namely, people design loudspeakers and people are different so expecting similar results from difference is a fool's errand.
Sweden's Qln Acoustics was founded in 1977 by Nils Liljeroth and Lars Quicklund, while Mats Andersen joined the company in 1982. The current Qln lineup of loudspeakers consists of seven models—three in the Prestige line which includes the model under review, the One which premiered at CES in 1981 and represents the company's first foray into its truncated pyramid cabinet design, the Qubic 10 a more traditionally shaped stand mount, the high efficiency floorstanding Sonora, and the Qln Signature Stand Mount Speakers which saw their debut at the Axpona 2022 show.
The Qln Prestige Five is a 2.5-way design with a 25mm soft dome tweeter from Scan-Speak that employs their AirCirc magnet, a 184mm Kevlar cone mid-woofer custom developed by Qln together with Scan Speak, and a 184mm hard cone woofer. Frequency response is rated as reaching down to 26Hz (-3dB) with a 89dB (1 Watt/1m) sensitivity. As you can see, the Prestige Five has a slanted baffle, that provides perfect time alignment between woofer and tweeter. The cabinet utilizes Qln's Qboard® technology which is designed to minimize internal vibrations while the internal wiring is Qln's design. A pair of trumpet shaped bass reflex ports can be found on the back of the speaker, along with single wire WBT Nextgen binding posts.
The review pair is finished in a non-standard eye-catching Piano Burl Walnut, while standard finishes include Walnut Piano, Walnut matte, and White satin. The Prestige Five stand about 39" high with a slender 8" width and 23" depth. The cabinets sit on X-shaped metal stands that employ footers at each corner.
To quote Qln:
Every part of the speaker has one thing in common – non-resonant behavior. From connectors, cables, crossover components, speaker drivers, the cabinet, and even the damping feet are all characterized by non-resonant behavior. This suppresses disruptive noise, vastly improving dynamics and preserving silence between tones as a result of the low noise floor.
I prefer the look of the Prestige Five sans magnetic grill covers but to each her own. I also find their overall look to be rather elegant, and that rear-leaning rake gives the Five's a ready-for-action stance. One thing about gloss finishes is they show fingerprints and dust like forensic detectives, and I find myself gravitating toward matte finishes even though I've got a nice collection of feather and microfiber dusters at the ready.
As timing would have it, I had a bevy of fine integrated amplifiers on hand during the Qln's Barn residence including the Constellation Inspiration Integrated 1.0 (review), Kinki Studio EX-M1 (details), AVM OVATION A 8.3 (details), and the LSA VT-70 Integrated Tube Amplifier (details). On the front end side, the totaldac d1-tube DAC/Streamer (review) passed on the converted bits to each integrated amp. All cabling came from AudioQuest and included their new and very impressive Thunderbird interconnects.
The review pair of Qln Prestige Five came with time on them, so they were pretty much ready to play within a few hours of their arrival. And I was impressed with the music I heard coming out of them in short order as well. While I tend to avoid first impressions, the Qln seduced me into enjoyment-mode faster than you can say double-blind. But I'm getting ahead of myself.
Part of the magic of listening to music lies in its ephemeral nature—just as you're becoming attached, it's gone. Poof! So we relish as many hooks as we can get into this passing beauty, and the more physically involving, the more emotionally engaging the reproduction the better because this makes music stick well past the fleeting has fled. The Qln Prestige Five hang music in the air in a wonderfully fulfilling way, in a manner that allows the thoughts of the day to evaporate replaced by a living, breathing cloud of sound floating in space as if it was being created by a holographic projector, all life-like rich and dimensional.
The Prestige Five also offer up a full bodied and richly textured music image, walking that fine line between resolution and tone like an old pro who knows that too much in one direction or the other can shatter the allure and illusion. Music through the Prestige Five's is captivatingly physical and leans toward the rich, ripe and full side on the sonic spectrum which is exactly where my preferences reside.
I often wonder at praise for hifi systems that are described as being ruthlessly revealing, as if this is a good thing. As if music was made at the bequest of, and in service to, some bland abstract notion of machine-measured accuracy. As if the ideal in music reproduction is best determined by a null test between input and output, humans need not apply.
The Qln Prestige Five are highly detailed yet never fall over the edge into unwanted, unwarranted, and unnatural surgical precision. Playing through a long list of test tracks, my test track playlist count currently runs at over 13 hours, I heard into all too familiar tracks as deeply as I ever have, while the bigger sonic picture was portrayed as convincingly and as seductively as I've heard in Barn. While I enjoyed each amplification partner that saw playtime with the Prestige Fives, my favorites sat at near opposite ends of price and sound qualities—the stunningly smooth and refined Constellation Integrated 1.0 and the how the hell can they sell it for $1299 LSA VT-70.
One thing about reviewing loudspeakers is you can shift their sonic character to some extent with the associated amplification. With the Constellation Integrated in control, the Prestige Five were super supple and smooth, with as much refined charm as I've heard in Barn. While the Qln are not as wildly lit up and energized as the very impressive and similarly-priced Perlisten S7t Loudspeakers (review), they proved to be just as engaging albeit in a slightly different way—namely by offered up as believable a disappearing act as the S7t while also making that apparition of sound image feel more fleshy.
Sharon Van Etten's new album We've Been Going About This All Wrong puts her voice up front which is exactly where it belongs. Her ability to change shape, character, and emotive energy is at its most potent here, and the Prestige Five/Constellation 1.0 combination made for an intimate and powerfully moving experience with the mechanics of reproduction fading away, replaced by music as vital and compelling as my attention allowed. And that's as important a part of this equation as any—our ability to get lost in music is under constant connected attack, so these moments of one-on-one time with music is becoming all the more precious. When I'm sitting in the Red chair ready to do nothing other than listen, I get greedy and want nothing more or less than complete communion with music and the Prestige Five satisfied this hunger.
Calamita's album Nemesis is a power trio lover's dream come true, if part of that dream yearns for an angular and challenging onslaught of pure adrenaline rush. Bass, drums, and guitar are the only items on this menu, the recording is big, bold, and bass rich and the Prestige Five ate this music up as if they were designed for each other, designed to turn the Barn into a hothouse of high octane fire, flash, and energy. The Qln struck me as hitting that delicate balance between micro and macro on the slightly fleshier side, which in my experience and according to my tastes means—fasten your seat belt, this is going to be one helluva fun ride.
This combination of Constellation and Qln also excelled at delicate detailed harmonic richness as is on full display in Maurizio Pollini's way with Chopin's late piano works. While Pollini's mastery nearly overwhelms with impossible mechanical wonder, the Qln did a better than fine job of communicating delicacy, power, force, touch, and speed welling up from silence to ring, sing and mingle in air, only to fade back into silence over time and in a convincingly real space. How piano sounds exist in space, from origin to end, can pull the listener along for the entire ride, shattering time along the way and this system in Barn proved more than capable of leading the way. From sound, to energy, to emotion, to wonder, to silence.
This same music through the Perlisten S7t had more shimmer, more sparkle and perhaps even a bit more micro snap, while the Five's offered more flesh and body. Which presentation is better can only be determined by a prospective owner.
Replacing the Constellation with the LSA VT-70 integrated tube amplifier moved music's character even deeper into fleshy fun. Nilüfer Yanya's PAINLESS is infectious get-up-and-move-your-ass music and with the LSA/Prestige Five shaking things up in Barn, there was a heavy helping of rich fat tone, gut-hitting bass, and a cinematic soundscape big enough to run around in without ever hitting a side. Compared to the Constellation, the LSA skims over some delicacy and detail while loosening things up a bit down low, but the result is still infectious.
Now is as good a time as any to also point out that the Qln Prestige Five sound as seamless as a single driver speaker, transforming drivers, crossover, wires, and cabinet construction into single-minded musical machines.
My getting acquainted period took all of a few minutes with the Qln Prestige Five. Regardless of the accompanying amplification, they remained as resolving as music demanded, as seamless and transparent as I've heard from a multi-driver speaker, with that extra pound of flesh on music's bones to communicate the all to human nature of whatever music you choose to send their way. Bravo!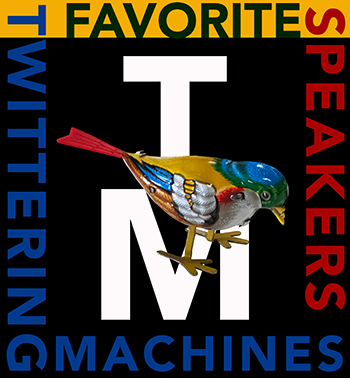 ---
Qln Prestige Five Loudspeakers
Price: $17,500 (in standard finishes, $20,000 in Piano Burl Walnut as pictured in Barn)
Company Website: Qln
US Distributor Website: Well Pleased A|V
Specifications
Impedance: 4 ohms
Tweeter: 25mm wide surround, Air-Circ magnet, soft dome
Mid-Woofer: 184mm Kevlar® cone, under-hung magnet system
Woofer: 184mm hard cone, under-hung magnet system
Sensitivity: 89dB SPL 1 Watt 1m
Low frequency performance: -3dB 26Hz
Cabinet: Qboard® Technology
Terminal: Single wire, WBT Nextgen®
Dimensions: (HxWxD): 1000x210x600mm (cabinet), 1054x315x650mm (with feet)
Weight: 41,0 kg each
Finish: Walnut Piano, Walnut matte, White satin