Vinnie Rossi revealed his new BRAMA collection of audio components back in October, and the buzz has persisted and steadily grown in anticipation of the first live performance at Axpona 2022. The wait, is over.
I'm going to send you to the Vinnie Rossi website for the BRAMA details, because there's too much of them to report here. On active display was the BRAMA Integrated Amplifier ($38,995) which combines a 300B triode-based linestage with a high-current, class A/B lateral MOSFET output stage that delivers 200 Watts into 8 Ohms and 350 Watts into 4.
As you can see, the BRAMA Integrated is a thing of beauty inside and out, at least to my eyes, and every detail, down to the custom parts for the custom multi-function meters was carefully considered for form and function. Every unit hand assembled and tested in Massachusetts and comes with a 10-year warranty.
The BRAMA Integrated drove the new Qln Signature 5 Stand Mount Speakers ($18,000/pair) [footnote 1], while the Swiss-made Merason DAC1 ($6000) handled D to A conversion. The attractive Innuos Statement Music Server ($15,100 w/1TB of storage) housed the bits, an Innuos PhoenixNET Network Switch ($3500) moved the bits, and a Gigawatt PC-4 EVO+ Power Conditioner ($14,500) took care of cleaning up power. Everything sat on an SGR Audio Model V Statement Hi-Fi Equipment Rack ($12,000), while cabling was provided by Swisscables.
I hit the Vinnie Rossi room, which he shared with Distributor Well Pleased A|V, near the end of the day on Friday, so I was able to spend some real time sharing music selections with Vinnie, who I've known for more than a decade, so I know our tastes overlap in many a genre. While I've been reluctant to speak to sound quality at shows in the past, because its nearly impossible to known what one needs to know to speak to sound quality—the influence of the room, setup, associated gear, etc.—what I can tell you about this system is it reproduced "One Dove" from Antony & The Johnsons' The Crying Light with more detail revealed and as much sheer beauty as I've heard from any system, anywhere. Later, when I hit play on Tom Waits' "I'm Still Here" from Alice, a flood of emotions poured over me, washing away thoughts of hifi, tired feet, and too much talking. Bravo!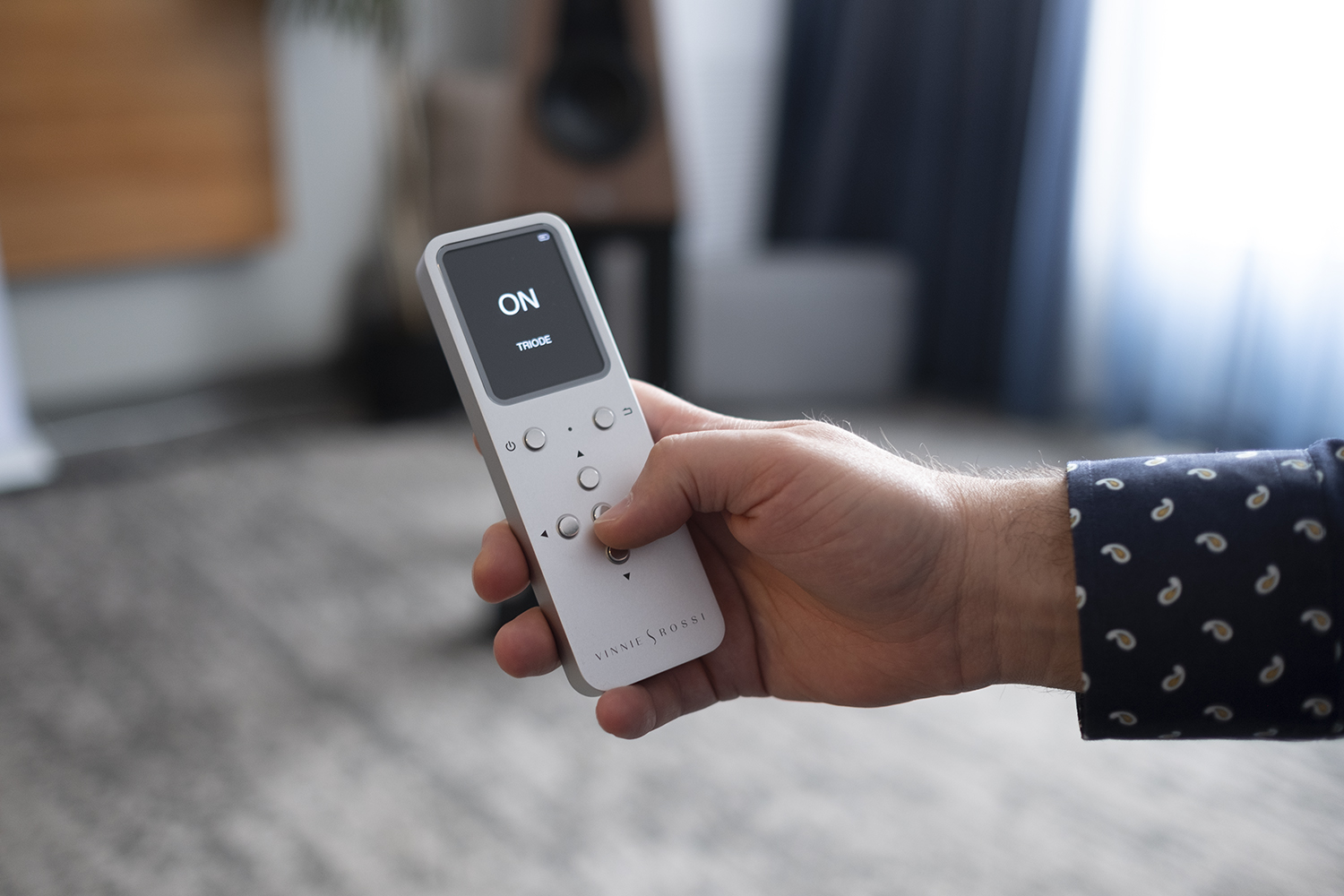 The BRAMA Bluetooth remote, which is machined from a solid block of aluminum and sports a 2.4" high-resolution sapphire glass LCD, does much more than remote control including real-time diagnostics, while the built-in ambient light sensor and accelerometer react to your every move.
To answer your question, yes. I will be reviewing the BRAMA Integrated. Date: TBD.
---
1. I have the Qln Prestige Five Floorstanding Speakers in Barn for review