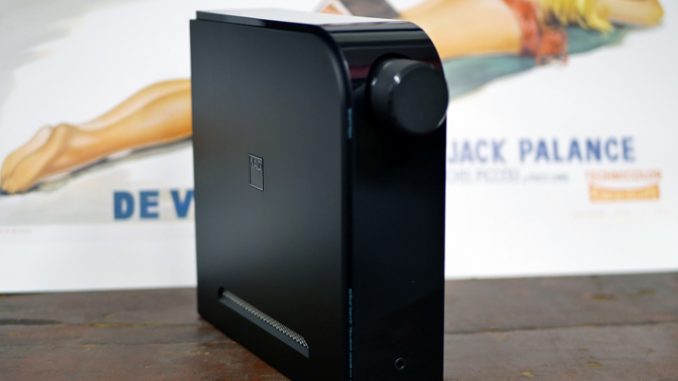 I owned an original NAD 3020 back in 1980 and I loved, loved, loved it. Everything about it including its $135 price tag. The new NAD D 3020 V2 clocks in at $399 which, when adjusted for inflation, costs the same as the original (give or take some cents).  The "D" in the new one's name stands for "Digital", something the original knew nothing about.
The NAD D 3020 V2 is a Class D amp based on the popular (because they sound good) Hypex digital amps. Output power is rated at 2x 30 Watts into 8 ohms but don't let that fool ya'—I let the D 3020 drive my big, bad (as in good) DeVore Fidelity gibbon Xs for a quick run in and it did a commendable job.
The built-in DAC accepts Toslink or Coax inputs and handles PCM resolutions up to 24/192 (more than most people need). There's a MM phono input, RCA AUX input, and aptX Bluetooth for friends and family play. For bass fans, the D 3020 offers a Sub Out and power cord hungry buyers can roll their own thanks to the IEC inlet. There's also a front mounted 3.5mm headphone jack to round out your playback needs.
The D 3020's guts were designed by the original designer of the 3020, NAD's Director of Advanced Technology, Bjorn Erik Edvardsen. To my way of thinking, there's something lovely about that fact, especially in the world of hifi where history has a way of disappearing. The small book-sized amplifier can sit horizontally or vertically and its unadorned exterior, which only lights up when you need to change something, does a nice job of blending in.
Using the D 3020 is pretty simple stuff—connect your sources, connect your speakers, plug it in and play. The included remote allows for source selection, volume control, Mute, power on/off, DIM (the display), and BASS which boosts bass response "by at least 6 dB" according to the manual, and basic playback controls when using Bluetooth. The unit's black plastic body has touch-sensitive controls up top for Standby and Source selection and the front panel alights with Source and Volume Level indicators when in use. Finishing off the spartan looks is a big (relatively) volume control knob.
For this review, I fed the D 3020s Coax input from my dCS Network Bridge and its MM phono input from my Auditorium 23 Step Up transformer / Denon 103 / Well Tempered Amadeus 'table. Speakers in use included the Alta Audio Io ($3495/pair) and the ELAC Debut 2.0 B5.2 speakers ($249.98 /pair). The PS Audio Sprout acted as comparator.
If you're wondering how good a $400 stereo integrated amplifier with built-in DAC and Bluetooth can sound, I'm here to tell you it can can sound damn good.
From the manual:
NAD rewrote the rules for amplifiers when designing the original 3020. Instead of letting laboratory test equipment have the last word, we made sure that we could properly drive real loudspeakers with real music for the real world. The D 3020 lives up to this promise through a unique implementation of NAD PowerDrive™ developed by Edvardsen, that allows low impedance drive (current) and high dynamic power (voltage) at vanishingly low distortion levels. This refinement of PowerDrive combined with a precision soft clipping circuit, lets the D 3020 sound even more powerful than it already is. An innovative Bass EQ circuit helps small speakers sound big without overdriving or damaging ported woofers.
I don't typically quote from user manuals but in this case it makes sense because I agree with the outcome. When paired to the Alta Audio Io, the little NAD could play louder than loud, even with the Barn's challenging dimensions (35′ x 40′ x 12′ h.).
The NAD / Io pairing was also very easy on the ears. The Altas are smooth operators and weighted toward the meatier side of the sonic spectrum. I would put the NAD D 3020 in a similar category with a de-emphasis on bright which in this case did not make for an ideal pairing. I found the NAD / Alta combo a bit too soft, a bit too not bright. Tom Waits' right hand piano playing on "Martha" from his debut album Closing Time did not have the sparkle I'm used to hearing from this 24/96 remaster.
This softness colored the music to the point where there was sonic sameness  to a wide variety of music that should not sound so similar. With the PS Audio Sprout powering the Alta's, that missing sparkle and liveliness was back in the picture, giving Tom Waits' piano, and Tom Waits' voice for that matter, a more engaging sound. In terms of system building, this combination is a pairing I would not recommend.
While we're talking about the Sprout, my design sense prefers the Sprout's aluminum and wood to the 3020's black plastic. While I appreciate the 3020's orientation flexibility, I am simply not a fan of plastic cases and I accidentally hit the touch-sensitive controls more than once (curse). It's also worth pointing out that the D 3020 weighs in at a mere 3.1 lbs which means you can easily pick it up when turning the volume control, if the feeling moves you. You'll also want to use lightweight flexible cables otherwise your cables will determine where and how the D 3020 sits and/or slides. [footnote 1]
Out with Alta's, in with the ELACs. I began the ELAC pairing with the PS Audio Sprout which, if you remember, is a TM Recommended System: "Based on my experience, if you decide to buy the PS Audio Sprout100 and the ELAC Debut 2.0 speakers, I can safely extrapolate from that experience and say with confidence you are getting one helluva Adrenalin-inducing hifi. Unless you are A) dead, or B) a jaded audiophile." This recommendation still holds as music through this setup has a lovely sense of life and liveliness and offers a lot of music's goodness for the money.
As you might expect by now, the NAD D 3020 fattened up the ELACs like a Thanksgiving turkey. Based on how the NAD handled the three speakers I paired it with, DeVore gibbon X, Alta Io, and the ELACs, I would say the little NAD is a mid-range friendly amplifier. If you like your music rich in the mid-section with a sonic fullness that translates into friendliness when it comes to lessor recordings, the NAD D 3020 may be your ticket to ride.
I spent most of my reviewing time listening to this NAD / ELAC pairing because I enjoyed it the most. Music had a nice open expansive presentation and warm richness that made album after album an enjoyable big old V8 sedan cruise down a freshly paved highway. Don't tell anyone but I also preferred this pairing with the NAD's BASS boost activated which was like adding a big-dog sloppy kiss to the mix.
Do you listen to records? Vinyl? LPs? If you're thinking yes, yes, and yes, then I have good news—the NAD D 3020s MM phono input rocks hard. With my vinyl rig, it kinda crushed the digital input because it adds more color and more life to recordings. Whether that be the reissue of The Birthday Party's Hee-Haw (on red vinyl no less), Kalela's Take Me Apart (yum), Grouper's Grid of Points, Schammasch's The Maldoror Chants: Hermaphrodite, Ciccolini playing Satie, and on and on. Rockin'.
While I didn't spend too much time listening to Bluetooth, it sounded just fine for friends & family party mode and I'd much rather have it than not. The same goes for the headphone jack, time-wise, but the little NAD drove my AudioQuest NightOwls with the same fat authority they displayed with speakers. I don't have a TV in Barn, but I'm sure the Toslink input will provide the same kind of body image for your movies.
Overall sound? Think fun.
Summing up, I like the NAD D 3020 V2 Stereo integrated amplifier. To my mind and ears, the 3020's MM phono input really shines while its digital side shines as well, albeit less brightly. The last point I'll make is we're talking about $400. For everything.
---
1. NAD supplies self-adhesive rubber feet that should make the amp less likely to slide. I did not apply them because I used the amp in both orientations.
---
NAD D 3020 V2 Stereo integrated amplifier with built-in DAC and Bluetooth

Price: $399.00
Specifications
Company Info
NAD
633 Granite Court
Pickering Ontario
L1W 3K1 CANADA