The LTA Z40+ incorporates David Berning's patented ZOTL amplification for 51 Watts of transformer-less output power generated by four pentode tubes that peak out from the unit's top plate.
You can read all about ZOTL on the LTA website including the original patent from 1997. I mention this because it's not every day that I review an amplifier with a patented method of amplification and also because David Berning's ZOTL amps have been the talk of the town since his microZOTL hit the streets in 2000.
The LTA Z40+ marries the company's ZOTL40+ Reference power amplifier with a Berning-designed preamplifier and they went to Richmond, VA-based Fern & Roby for the chassis design. Based on living with and using the Z40+, I'd say they made a wise bunch of choices—the LTA Z40+ not only looks the part of a finely made piece of audio, it also walks the walk.
The Z40+'s full tube compliment consists of 2x 12AU7s in the preamp, 2x 12AX7, 2x 12AU7, and a quad of either Gold Lion KT77s or NOS EL34s. The review unit came with NOS RCA/Mullard 6CA7/EL34s. You may be wondering why its not easy to access all these tubes and the short is answer is LTA estimates tube life in the 10,000 hour range (that's a long time).
The review sample includes the optional op-amp-based MM/MC Phono Preamp w/SUT, fitted with Lundahl amorphous core step-up transformers, that join four single-ended RCA inputs and a balanced XLR input. There's also a Tape In/Out and a single set of Cardas speaker binding posts for a single pair of speakers. The new "+" version of the Z40 adds 100,000µF of additional capacitor storage, Audio Note resistors, Subwoofer Output, and an updated volume control w/ adjustable gain & "Hi-Res" settings. These settings, along with the gain and loading options for the MM/MC Phono Preamp, are accessible via the front-panel digital menu system or the included Apple remote.
The Phono Preamp is worth some attention as it is brand new and improved from the older model. From LTA:
Our integrated phono preamplifier can be used with moving magnet or moving coil cartridges. It consists of two active stages and an optional step-up transformer.

The design started with a section of David Berning's TF-12 preamplifier, which was translated into a more compact form factor. We kept the original equalization filter circuit and selected ultra-low noise integrated circuits for the active gain stages.

The first stage is fixed gain and handles the RIAA curve, while the second stage has three selectable gain settings available. For best performance with moving coil cartridges, we offer Lundahl amorphous core step-up transformers. These can be configured to give 20dB or 26dB of gain.

In the latest version of the circuit, gain settings, resistive loading and capacitive loading can all be adjusted via the menu on the front panel or by remote.
The previous Phono Preamp's gain and load settings were set using DIP switches that were accessed only after removing the unit's side panel so this new menu-based system is a big improvement in the user friendly department.
If you choose not to read the manual before diving into the Z40+ (guilty as charged), you may be surprised to find (I was) that those brass buttons aren't push buttons at all but rather touch-sensitive controls. Nice. A pair of headphone jacks (Hi and Lo) also reside up front along with an accompanying toggle switch to choose between the two and a volume control knob that provides 128dB of total attenuation via 100 individual steps or, by activating the "Hi-Res" option in the menu settings, 199 steps for more precise control. A side benefit of the ZOTL approach, at least according to my back, is you get a 51 W integrated amp that weighs 18 lbs.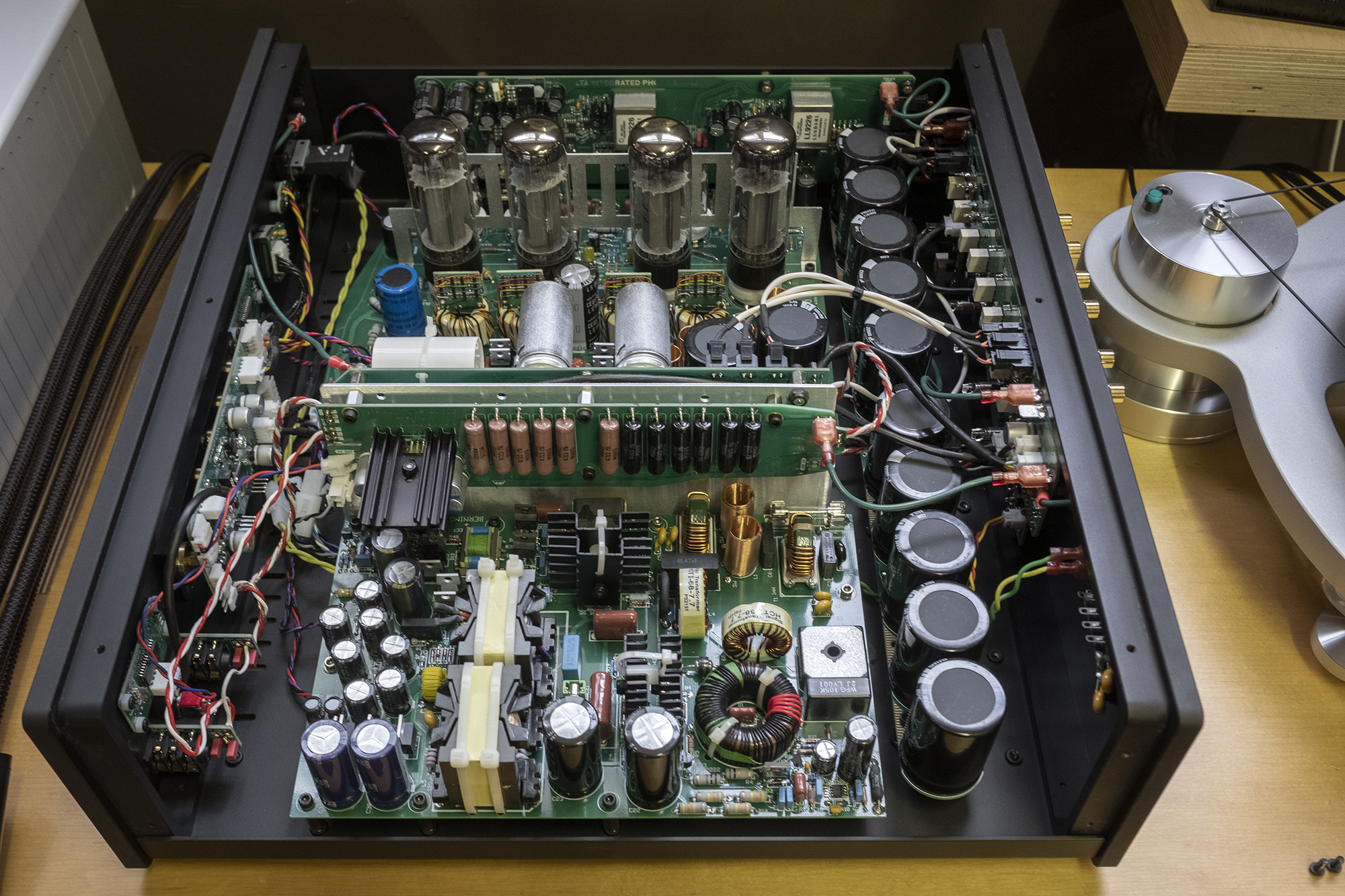 I paired the Z40+ with four pair of speakers—DeVore Fidelity O/96, Credo EV. 1202 Ref. (more info), Q Acoustics Concept 50 (more info), and the GoldenEar Triton One.R (more info). If you know these speakers, you know they represent a variety in terms of design, load (impedance & sensitivity), and price ($2999 – $19,995), giving the Z40+ a nice workout.
I used the Michell Gyro SE Turntable fitted with the company's TecnoArm 2 and CUSIS E MC Cartridge to play with the Z40+'s Phono Preamp. The digital front end(s) included the totaldac d1-tube DAC/Streamer and EMM Labs NS1 Streamer/DA2 V2 Reference Stereo DAC combo, while I tied everything together using AudioQuest's stunning (yes, I said stunning) ThunderBird and FireBird interconnects (RCA and XLR) and Robin Hood speaker cables. All components were powered through an AudioQuest Niagara 3000 power conditioner.
I am not easily wowed these days but the Q Acoustics Concept 50 ($2999/pair) are wow-inducing indeed (review forthcoming) and together with the Z40+ made for some very (very) captivating listening. While this combination is a price mismatch in terms of the general approach to system building that says spend more on speakers, the music coming out suggested there are always exceptions to every rule. Bass was fit and very full, tone colors were rich without being over-ripe, and the sound image was big, airy and inviting. In a word, the Z40+/Concept 50 combination made listening to music, any kind, involving, exciting, and super fun. Win, win, win.
At the risk of contradicting myself, the GoldenEar Triton One.R Towers ($7498/pair) are, like their bigger brothers the Reference (review), a lot of speaker for the money. When paired with LTA Z40+, music was big approaching huge, with a sound image that defied space extending so far beyond the speakers it was nearly laughable. The Triton One.R house self-powered subs so the accompanying amp is left to deal with a lighter load and the Z40+ proved to be more than up to this task offering a wonderfully rich and nuanced way with the heart of music on up. Once again we're kinda breaking the spend more on speakers rule but if you could hear what I heard in the Barn coming out of this combo, I'm damn near certain you'd join me in throwing that rule book in the dust bin. Think big, rich, fit full and fun. Bravo!
I was looking forward to this combination, O/96 and Z40+, because I know the DeVore's better than I know most people. But just a few minutes in told me this was a combination that did not get close to the best from either. The main issue is bass response, or lack thereof, with music sounding loose, unfit, and rather flabby, characteristics uncommon to either when paired with other gear.
I did have an opportunity to hear the LTA ZOTL Ultralinear+ Power Amplifier paired with DeVore Super Nine Speakers at Axpona 2022 and this combination sang and rang out true making my show Favorites list. My best guess is the O/96's specific load is not a good mate for the ZOTL amp.
The Credo EV 1202 Ref. (starting at $16,995/pair) are super slim towers that perform beyond their looks and once again the Z40+ brought out their oh-so-musically-engaging side. As was the case with the Q Acoustics and GoldenEar speakers, music was rich, ripe, and full and in each case the speaker seemed to be able to strut its particular stuff with the Z40+ sounding large and in charge. The Credo have an uncanny ability to disappear while sounding much larger than their size might suggest making for a musical experience that allows for time to fade, replaced by the movements and moments contained in the recording.
I hope this short jaunt through the various speaker pairings helped paint an outline of the Z40+. To put some finishing touches on the edges, the LTA amp offered superb control coupled with a timbrally rich sound and expansive sound image that was wonderfully nuanced and inviting. The DeVore exception aside.
I've been infatuated with Boy Harsher's Careful from 2019 for its attitude and angular empty sound, feeling like a young relative of Joy Division. Driving drum machine beats, thumping bass, crunchy guitar, spacey synths, and Jae Matthews' vocals riding laconically around the rhythm, the Z40+ proved to be a rich sonic excavator even with this rather simple morose atmospheric fare.
Wax Chattels Clot from 2020 also offer a throw-back sound, theirs dipping into post punk. I deemed Clot to be vinyl-worthy, a grading system I relish, especially so on baby blue vinyl. Edgy, noise-infused, and attitude rich, Clot is a hair-raising ride and the Michell/Z40+ combo was pure sonic pleasure. Since I first came across Wax Chattels in their digital streaming form, I have had the pleasure of listening to Clot in both formats, digital and analog, and I can confidently report they are both pure pleasure. I don't understand, for the life of me, arguments over digital vs. analog since they are clearly different while sharing the same goal—the enjoyment of music. I'm all in in the more is more crowd when it comes to musical enjoyment so I embrace digital and analog with open arms.
Back to this record on this turntable through the LTA, I was fully engaged from Side A to the end of Side B with Wax Chattels' beefy, muscular, angry sound that was nothing short of badass.
I broke the seal on an original pressing of Bruce Springsteen's masterful carnival ride of a record The Wild, The Innocent & The E-Street Shuffle for this review. Seeing as I can play this record in my head without having to hear it, from Side A to the end of Side B, it made for a great test. The Michell/Z40+ dug deep into the grooves and moves of "Wild Billy's Circus Story" and its elephant tuba sounding big fat and funny and sad. This record is rich in sounds from a cornucopia of instruments all in service to the song, and there was nothing missing, nothing interfering with its wild ride here in the Barn after so many years of living without the option of cuing it up on a 'table. While that's a story for another day, I can tell you that listening to records, the entire experience, is one of life's great riches and I am thankful to have the opportunity to experience it at such a fine level of reproductive quality.
The MM/MC Phono w/SUT option for the Z40+ adds $1500 to its price and while there's a world of stand alone options out there, I could easily live with the sound quality I got to hear in Barn with this all-in-one option. There's something to be said for simplicity. Seeing as I don't have a stand alone Phono Preamp in Barn anywhere near $1500, I cannot offer any relevant comparisons. I also do not have, at present, a bevy of cartridges on hand so my impressions are limited to the Michell Gyro SE and Michell CUSIS E MC cartridge so my impressions are necessarily limited in this regard.
Weather Alive is Beth Orton's new record, released on Partisan Records in September of this year, and it's a quiet, solitary sounding stunner. Streaming this gem of a record, which I have deemed vinyl-worthy but haven't committed to yet, from Qobuz through the LTA/Credo setup proved to be as rich, full, and engrossing as I could hope for. The Z40+ is capable of real delicacy and nuance while also sounding rich and full, qualities that serve any music you send its way. Here, with Orton's heart-wrenching vocals over washes of pianos and ethereal sonic stuff, the LTA's strengths made every breath, pause, and exhale edge of the red Eames chair worthy.
The recently reviewed and similarly priced Soul Note A-2 Integrated Amp (review) made for an interesting comparison as it is more concerned with resolution and clarity where the Z40+ leans to a richer and more fluid sound. They are, very clearly, the result of different designers and different approaches to reproduction and I find each convincing and captivating. A choice between the two can only be made through direct experience with whatever speakers will be their long term dancing partner. Preferably in the space where they'll live. Making hifi buying decisions based solely on reviews, spec sheets, or design topologies are a fool's errand. The proof of any approach lies in the listening.
Regular readers know I'm not a headphone listener—I can play music as loud and for as long as I want, any time of day or night, seeing as there's no other humans anywhere near the Barn so headphones are kinda superfluous in this environment. That said, the Z40+ headphone amp driving my trusty AudioQuest NightOwl headphones proved to be captivating in its own right and very much in-line with the Z40+ sound with speakers which is to say rich, finely-detailed and deeply engaging.
When the weather begins its turn to muted colors, I reach for Schubert. And when I reach for Schubert, one direction I head is Maurizio Pollini-ville as his way with Schubert's piano works rings my melancholy bell. With the Z40+ driving the GoldenEar Triton One.R Towers, this music was stately, magisterial, and delightful with Pollini's grace and charm shining through. Subtlety, nuance, and control from left hand to right were conveyed with convincing power, fluidity and—perhaps most important of all—delicacy that turns listening to music into a soul-searching excursion outside of time.
The LTA Z40+ is a wonderfully appealing package in every way a piece of audio gear should be. It is beautifully designed, a pleasure to use, built around truly original thinking with a decades-long history of David Berning delivering the sonic goods, while offering musical performance that is seamless, rich, and endlessly rewarding.
---
LTA Z40+ Integrated Amplifier
Price: from $7650
Company Website: Linear Tube Audio
Specifications
Inputs: 4 single-ended Cardas RCA stereo, 1 balanced input using two 3-pin XLRs
Speaker Output: 4 Cardas speaker binding posts
Headphone Outputs: Low: 220mW per channel @ 32 ohms, High: 2.6W per channel @ 32 ohms
Tape Monitor: 1 stereo tape monitor out, 1 stereo tape monitor in
Subwoofer Output: Stereo subwoofer output (Mono option available upon request)
Front Panel Controls: 7 brass touch switches (power, input, tape monitor, up, down, menu/select, back), volume control, and headphone speaker switch
Remote Control: All front panel functions using paired Apple TV Remote
Volume Control: 100 stepped attenuator (smallest step 1/1000th of total value) using Vishay Dale 1% precision resistors
Output impedance: 1.2 ohms
Input impedance: 47k
100V / 120V / 240V operation: Auto-switching
Hum and noise: 94dB below full output (measured at 20Hz-20kHz)
Power output with 4-ohm load: 51W, 0.5% THD
Power output with 8-ohm load: 46W, 0.5% THD
Frequency response (8-ohm load): 6Hz to 60kHz, +0, -.5dB
Amplifier class: Push-pull Class AB
Size: 17 inches wide, 5 1/8 inches tall, 18 inches deep (including connectors)
Net weight: Amplifier: 18 lbs./8.2 kg
Finish: Aluminum case
Tube complement: 2x 12AU7 preamp, 2x 12AX7, 2x 12AU7, 4x KT77
Home Theater Function can select any input for fixed volume
Display: 16 Levels of brightness and programmable 7-second time out
MM/MC Phono Stage: All settings configurable via front-panel digital menu system (see manual for more details)
Inputs: MM or MC
Preamp Gain (MM/MC): 34dB, 42dB, 54dB
SUT gain (MC only): 20dB, 26dB
Resistive Loading (MC only):
20dB loading options (ohms): 20, 50, 75, 150, 200, 270, 300, 400, 470
26dB loading options (ohms): 20, 40, 50, 75, 90, 100, 120
MM loading: 47K ohms
Capacitive Loading: 100pF, 220pF, 320pF
Custom loading options are available. Please contact us prior to ordering if this is required.