Who doesn't want full-range performance from a loudspeaker?
The Triton One.R dig down to 13Hz, according to the company [footnote 1], and they reportedly reach that low in a slender tower that's barely there, visually. A pair of 5-1/4″ high-definition cast-basket mid/bass drivers and three 5″ x 9″ long-throw quadratic subwoofers with the latter driven by a built-in 1,600-watt DSP-controlled subwoofer amplifier per side make that deep bass happen. And you can dial-in the amount of bass from the rear mounted subwoofer level controls. Sound good?
But the GoldenEar Triton One.R Towers aren't just subwoofers, they're full range, 3-way speakers with a High-Gauss Reference HVFR™ (High-Velocity Folded Ribbon) tweeter joining those mid/bass drivers and subwoofers that extends their upper reach to 35kHz. Full range.
I mention these things up front because this kind of performance from a pair of loudspeakers priced at less than $8k a pair is not something you come across every day. I reviewed the Triton One.R's bigger brother, the Triton Reference Towers, and the baby of the family BRX bookshelf speakers, a genuine HiFi Bargain, which serve as my reference stand mounts so I'm fairly familiar with the GoldenEar house sound. As I said in my intro to the Reference review—they are a lot of speaker for the money. The same can be said for the Triton One.R.
But all that performance on paper doesn't tell us anything else, and what it leaves out is the heart of music reproduction. Namely, what do the Triton One.R sound like and of much greater importance, how do they make us feel when listening to music through them. These kinds of questions are what we, hifi reviewers, are supposed to answer with words. While "singing about architecture" comes to mind, this combination—how things sound and how they make us feel—can provide useful information for readers, or viewers in the ever-expanding world of video reviewing, who are in search of their next, or first, hi-fi product. Ideally, reviews are also entertaining.
Way back in my early 20s, I spent a few winters in Tortola, a tiny island in the British Virgin Islands, where I resided in a camp on Brewer's Bay (that was the name of the campground, too). $7 a day bought you a 'prepared site' complete with a large tent and a queen-sized bed inside and all of the stuff you needed to make a temporary life in it (two-burner stove, fuel, pot and pan, utensils, water, etc). Living on a beach in the Caribbean doesn't really require a heck of a lot more. The campground was the only thing on Brewer's Bay making it the perfect getaway.
The next town over (a mountain), Cane Garden Bay, had a few small hotels and of greater significance to our story, a club/lounge where live bands played Reggae through the house sound system. I don't recall the name, but a quick search suggests it may have been the Paradise Club Lounge, Bar, & Restaurant and even if it wasn't, I'm going to say it was. Paradise.
The first time we went to Paradise, I remember being surprised by the way the locals danced. This was the late 1980s so most of the club dancing I was used to back in NJ was cocaine fueled syncopated disco twitching which had nothing in common with the slow, barely perceptible groove of hazy twisting happening at Club Paradise in Tortola. The sound system seemed oversized for such a tiny place and it put out a heavy dose of earth shaking low frequency energy that traveled through the floors and into the feet, legs, bodies, and minds of the Club Paradise dancers, making them one with everything (in Paradise). I imagine if you removed that bass energy, the people would all disappear in a puff of blue smoke. Poof!
The GoldenEar Triton One.R Towers are, as previously mentioned, full range speakers so they can deliver some real whomp. While imaging is all well and good, and sound images fascinate me to no end, listening to music without real bass response can feel like taking a bath without water. I've lived with speakers that offered very little bass response, let alone deep bass, so I know from whence I speak and I found I moved to listening to music that didn't rely on bass. If you've ever visited a hifi show, you know the kind of music I'm talking about and it's the kind of music some exhibitors play when they weren't able to tame the bass response in their temporary rooms. I call it 'lute and feather' music.
I paired the GoldenEar with a host of amplification devices during their 4-month+ Barn stay including the Leben CS600 Integrated amp, Bel Canto e.One C6i DAC Integrated Amplifier (review), and the Linear Tube Audio Z40+ Integrated Amplifier (review). While every amp worked very well paired with the Triton Towers, I stuck with the Leben CS600 for the longer haul as its mix of sweetness and punchy power proved the prefect partner for my tastes.
Dylan Carlson's Earth are the opposite of 'lute and feather' music, building structures in sound like earth movers. 2007's EP Hibernaculum is a lovely slice of post-Hex Earth that re-imagines a number of early tunes slowed down and stretched out to a lava flow pace. There's nothing showy about Hibernaculum. Rather its an EP to be taken in by every sense, loud and for its complete 36-minute duration. You want to feel this music as much as hear this music. With the Triton One.R Towers, I got Earth's full force coupled with the subtler stuff that makes this music so. . .deep. Listening in the dark with the Leben CS600 in control fed by the very impressive Sonnet Pasithea DAC, the sound image of Hibernaculum rattled the Barn and me with an avalanche of guitar-driven energy. Rattled and rolled.
While we're living among towers of power (guitar), Sun O))) add a host of guests including composer Eyvind Kang, Oren Ambarchi, vocalist Attila Csihar, Dylan Carlson from Earth!, trombonists Julian Priester and Stuart Dempster, an upright bass trio, French and English horns, a harp and flute duo, piano, brass, reeds, string ensembles, and a Viennese woman's choir led by composer and vocalist Jessika Kenney for their crushingly heavy Monoliths & Dimensions from 2009. As you can probably imagine, this is big, unusual stuff and the Triton One.R Towers deliver its extremes.
Sun O))) co-founder and guitarist Stephen O'Malley; "I think the main topic of this album is elaboration, expansion and prismatic detail. The source of that detail is inherent in the sounds of the guitars and the notes of those arrangements." Many of those arrangements turning the supporting cast into sonic extensions of O'Malley and Greg Anderson's guitars, joining the feedback fray, turning distortion into flaming angels of sound that can, given the level of reproduction, circle around you forming a vast cathedral of sound to vibrate within. The Triton Towers proved to be excellent cathedral builders in air, from micro to macro to maniacal.
Jessica Pratt's sophomore album On Your Own Love Again from 2015 is a magical mystery treat, a timeless voice singing about timeless temporal things with harmonies straight from central angelic casting. We all bring along our histories (and baggage) to experiencing and when listening to Jessica Pratt, mine inevitably bring me back to the late 1960's riding in the backseat of our bigass sedan bumping over train tracks on our way to the Paterson market in the heat of summer days. On one such occasion, Petulla Clark's "Downtown" was playing on the radio and it made me feel like forlorn, perhaps for the first time in my then young life. Jessica Pratt's voice and music contains a similar whiff of forlornness, for me, but there's also a sweetness that Petulla Clark passed by on her way to downtown's bright lights and bossa nova.
The Triton One.R don't dig into the recording as deeply as the DeVore O/96 but to be fair I don't know many speakers that do, regardless of price. The O/96 reproduce intimacy and subtlety as if they've lived a few hard lives. By comparison, the Triton One.R sound comparatively younger and in a greater hurry, breezing by nuance and ultimate voice as if the bigger picture is more important. And for some music lovers the bigger picture is more important and having a speaker that can bully with power way down low is worth the tradeoff. Intimacy and power can be a difficult duo to pull off, even in the movies. I bring up this price-unfair comparison to highlight what the Triton One.R don't do in ultimate terms, not to say that they left me wanting.
If we get back to the way hifi makes us feel, memory suggests I connected to my music to a greater degree through the One.R than through the Triton Reference Towers, as the latter may have sounded even bigger and in an even bigger hurry sonically, delivering more drama at the frequency extremes, making the sounds in the middle a bit overwhelmed. The Triton One.R strike me, in these terms, as the better balanced speaker. Less drama.
Joanna Newsom's debut LP The Milk-Eyed Mender is a fairly tale in song. A classically trained harpist, Newsom also has one of the more distinct voices of the alt folk movement, soaring and squeaking with equal delight. Released in 2004, our daughter's loved the line "I killed my dinner with karate" from "The Book Of Right-On" and I loved all of Newsom's twisty-turny lyrics. Her harp, as played through the GoldenEar Triton One.Rs, sounded perfectly plucky, with that glint of light sound pinging off her fingers/strings. It's worth noting that a harp's lowest notes reach down to about 30Hz and the Triton Towers delivered the full body of Newsom's Lyon & Healy Style 15 pedal harp.
Palm's Nicks and Grazes is high energy studio-made mayhem. The Philly-based quartet of Eve Alpert, Kasra Kurt, Gerasimos Livitsanos, and Hugo Stanley explore the sounds of synths, guitar, and drums along with a heavily processed dose of samples and pads to heady heights. This record has live-in-studio feel, even though the band make full use of studio effects with sounds pinging from speaker to speaker and exploding into space. Raucously fun, this music was made for a full range speaker very much like the Triton One.R with its deep reach, physical punchy sound, and sparkly highs.
These music samples represent the tip of a very large iceberg of records I played through the Triton Towers during their many month Barn residency. From Nimrod Workman's a cappella story telling, to The Unknown Mortal Orchestra's psychedelically jazzy HC-01, to Ethel Cain's kinda creepy Catholic guilt infused Preacher's Daughter, to Coltrane's giant Giant Steps, and a full dive into Bohm's Magic Flute from 1988, the Triton Towers way with music imposed no limits on my wanderings, inspiring a seamless flow from record to record across time and genre.
Listening to music on the hifi should be an event. A special event as captivating as going to a club or a concert, something that turns time into pure exploration. The GoldenEar Triton One.R Tower Speakers proved up to this important work, turning the Barn into my private Paradise Club fit for full range fun, dancing, and music-led introspection.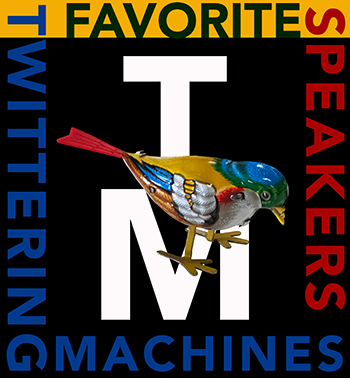 ---
1. I spoke to my contact at GoldenEar and they are in the process of revising these 'legacy' specifications to better reflect real-world performance. These new specifications are expected early next year.
---
GoldenEar Triton One.R Tower Speakers
Price:$7990.00/pair
Company Website: GoldenEar
Specifications
3-way design
High-Gauss Reference HVFR™ (High-Velocity Folded Ribbon) tweeter
two 5-1/4″ high-definition cast-basket mid/bass drivers
D'Appolito array — tweeter is placed between mid/bass drivers
three 5″ x 9″ long-throw quadratic subwoofers
built-in 1,600-watt DSP-controlled subwoofer amplifier
rear-panel subwoofer level control
rear-panel LFE input
four 7″ x 10″ quadratic planar infrasonic bass radiators
slim, curved and tapered cabinet design
frequency response: 13-35,000 Hz
nominal impedance: 8 ohms
sensitivity: 92 dB
recommended power: 20-650 watts/channel
five-way binding posts
detachable power cord
Dimensions and Warranty
12-3/8″W x 54-1/8″H x 20-5/16″D with integrated base (cabinet is 8″W x 16-5/8″D)
weight: 80 pounds/each
warranty: 5 years drivers and cabinet/3 years amp