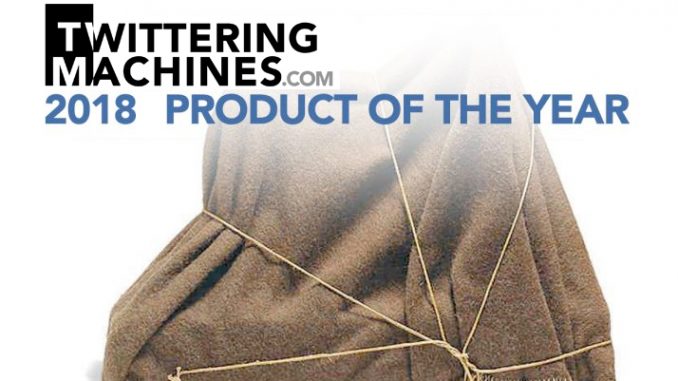 Bucking trends in and of itself can produce nonsensical results. On the other hand, there are times when it's the perfect time to buck. With that being said, I am very pleased to announce the Twittering Machines 2018 Product of the Year:
I've owned a lot of amplifiers. My amplifier ownership list includes the Nelson Pass-designed Threshold SA3, SimAudio Celeste 4150se, Sun Audio SV-300BE, Fi X, Fi 421A, Fi 45, Magnum Dynalab MD208 receiver, Leben CS-300 XS, Shindo Laboratory Cortese F2a, Pass INT-30, Ayre AX-5 Twenty, and many others (I've been at this for 35+ years). If you also count the systems I've heard at other people's homes and at hifi shows (I don't count that last category but sometimes it adds to your count to be trendy), I've heard countless amplifiers.
While I would highlight the Threshold, Sun Audio, Fi's, Shindo and Ayre from my ownership group as favorites, my current integrated amplifier, the Leben CS600, is to my way of thinking an estimable piece ofhifi gear that sits well above and beyond reproach in every way, shape, and form.
In production since 2005, the Leben CS600 ($6500) is a living lovable classic that transcends topology and time. It can drive a wide array of rationally-designed speakers to musical heights like no other amplifier I've had or heard. In the land of hifi, and I mean deep into the weeds and woods, a $6500 integrated amplifier is not even close to being in the expensive category. Of course in the real world, $6500 is a lot of money but hobbyists do not operate in the real world when hobbying. A hobby is a place where we can freely explore our passions because price and value become relative—relative to other stuff, i.e. "I was going to pay $35k so $6500 is a bargain!",  and relative to how much money we have to spend.
The Leben CS600 may get overlooked in the grand scheme of hifi these days precisely because it has been in production since 2005. Which is odd because this is a good thing. But hifi thinking asks—how in the world (of hifi) can something old be good? Isn't new better? Isn't that why we have Products of the Year? To feed the notion that amnesia makes perfect sense when shopping for a hifi?
I prefer to buck that trend and offer up the Leben CS600 as our Product of the Year. Owning, using, and enjoying one to play music will provide years of joy and if you are thinking what I'm thinking, I'm also saying that the Leben CS600 has been a Product of the Year for more than a decade.
Bravo!
---
Leben CS600
Device Type: Integrated Amplifier
Input: 5 line inputs (RCA unbalanced) plus Tape Monitor
Output: single-ended RCA pair
Output power: 32W x 2 (6L6GC) at 1KHz, 28W x 2 (EL34) at 1KHz
Dimensions: 450 (W) X 360 (D) X 142 (H) mm
Weight: 22.5 Kgs.
Availability: Authorized Dealers
Price: $6500.00
US Distributor's Website: www.toneimports.com