If you have your ear to the ground, you'll already have heard that the Q Acoustics Concept 50 Floorstanding Speakers are a Barn-storming bargain, offering fit & finish plus performance that'll leave you wondering—how can they do this for that?
That being a dollar shy of a cool $3k/pair. This being music-making of a very high order. How indeed!
Q Acoustics was founded in 2006 in the UK and while their website doesn't name names, we are told that the company was formed by experts in the audio industry…recruiting world class acoustics engineers and industrial designers. And if you read the Technology page, you will learn that Q Acoustics has spent real time and engineering on cabinet design and construction to minimize the negative effects of unwanted sound energy in the form of resonance and vibrations.
The Concept Series, which is comprised of six models, employs the company's Gelcore cabinet that sandwiches a layer of specially developed, resonance absorbing, non-setting adhesive gel between layers of MDF, the number of layers depends on the model, to turn high-frequency vibrations, that are generated by the drivers, into heat. P2P™ (Point-to-Point) bracing is applied to minimize the effects of low end vibration, while HPE™ (Helmholtz Pressure Equalizer) tube technology converts the internal pressure caused by standing waves into velocity, acting like a pressure valve which eliminates unwanted vibrations according to the company.
Perhaps counterintuitively, the Concept 50 sit on a "sprung baseplate" so the speakers sway when gently pushed. The crossovers are mounted to this baseplate keeping them away from all the (driver) action, while the 5-inch plastic cone mid/bass and 0.9-inch fabric-dome tweeter drivers are mounted to an aluminum sub-baffle in a D'Appolito MTM array. It's worth noting that the tweeter is hermetically sealed and mechanically isolated (floating) from the baffle, which means lower distortion and a lower crossover point for seamless integration through the crossover region.
The Concept 50's curved edge cabinets, that stand a bit over 40" tall and 16" wide, come in black, silver and white lacquer with a contrasting silver plate surrounding the drivers. Both spikes and ball-end feet are supplied that screw into the base plate and the gently curved shiny metal stabilizer that screws into the back side of the base plate. To my eyes, the Concept 50 look the part of a more expensive speaker and considering all of the work that went into those cabinets, I have to ask—how can they do this for that? Part of the answer, as you might expect, is the UK-designed Q Acoustics speakers are manufactured in China (but they could certainly charge more if they wanted to).
Of course digging into the weeds of cabinet construction and acronyms is all well and good but in the end a speaker's way with music does the real talking. I paired the Q Acoustic Concept 50 with a number of amplifiers including the Soulnote A-2 Integrated Amplifier (review), LTA Z40+ Integrated Amplifier (review), PrimaLuna EVO 300 Hybrid Tube Integrated Amplifier (more info), Bel Canto e.One C6i DAC Integrated Amplifier, and the budget-beast Bluesound POWERNODE (more info). A nice and varied herd.
Before I dig into some music you should know up front that the Q Acoustics Concept 50 are among the most exciting hifi products to have graced the Barn with music with nearly every amp on that list. Which leads me to the conclusion that Concept 50 owners can mate them with their favorite amplification device of choice, the better sounding the better, as long as its not flea power.
The only exception being the Bluesound POWERNODE. While a bargain in its own right, the POWERNODE's performance leaves too much of the Concept 50's performance on the table. Not recommended.
That aside, the Concept 50's price to performance ratio is shockingly smile-worthy. Shockingly.
Senyawa's Alkisah, released last year on labels around the globe, is a fury of sound with heavy Eastern and Far out Eastern influences. Wukir Suryadi plays homemade instruments while vocalist Rully Shabara mines the human voice for its most primal forces. This is high energy, high octane music that offers listeners a rich variety of spices and this recording exploded into the Barn through the Concept 50 speakers. The sound image was vast, solid, and in this case kinda scary with a fully locked and loaded feel filling the Barn with Alkisah's manic energy. Wow!
I bet you didn't see that coming. I am a softie for Ella and, when the mood is right, The Great American Songbook. The art of interpretation, in song, is a rich field and Ella digs as deep as anyone ever has dug and "Bewitched, Bothered and Bewildered" is a personal favorite for its playful adult wordplay:
When he talks, he is seeking
Words to get off his chest.
Horizontally speaking,
He's at his very best.
Vertically speaking, the Concept 50 embraced Ella from Ella Fitzgerald Sings the Rodgers and Hart Song Book with superb sweet control while sounding smooth as silk. There is nothing harsh about the Concept 50's unless you push harsh sounding music through 'em and they play very nicely with integrated amps at or above their price point.
The 20th Anniversary Edition of Tom Waits' quiet classic Alice contains a bunch of extra tracks, live stripped down versions of some of Alice's songs. I'm not normally a fan of extra stuff, bonus tracks and outtakes, but in Waits' case I'll make an exception. "I'm Still Here" is a favorite track from Alice in its original form and I've been using it for 'testing' gear for decades as it contains some lovely subtle stuff in the form of Colin Stetson on bass clarinet and Dawn Harms on violin who appear and disappear like ghosts of the song's lost love. The Concept 50 reproduced these subtleties like a pro, well off in the distance, i.e. forlorn, lending "I'm Still Here" its full emotive impact.
"Alice," said Waits, "is adult songs for children, or children's songs for adults. It's a maelstrom or fever-dream, a tone poem, with torch songs and waltzes…an odyssey in dream logic and nonsense."
I put test in single quotes because listening to music for enjoyment and enrichment is about as far away from a test as Cincinnati is from Sienna.
Pelt's Reticence / Resistance was recorded live at London's Café Oto over two nights in February of 2017—but you'd never know it. The lineup here is comprised of Patrick Best on Grand Piano and harmonium, Mike Gangloff on fiddle, Nathan Bowles on percussion and banjo, and Mikel Dimmick on harmonium, bowls, and bells and they play as one old worldly soul. Pelt has been making music for over 30 years (!) and the sounds they coax from their acoustic instruments is remarkably varied, sounding at times like studio-processed electronic wizardry. The Concept 50 proved to be more than up to this task, re-presenting the space and kaleidoscopic sounds of Reticence with solid presence, dimension, and in full voice while completely disappearing as their maker. I'd say all of that work into the Concept 50's cabinet construction has paid off and then some.
Alex G's God Save The Animals, released on Domino Recordings in September, is so sumptuous and soothing it should be sold in pharmacies. Big, rich, ripe and wonderfully varied from track to track, my favorite song changes with the length of shadows. As someone who shares our home with three dogs—small, medium, and large—odes to animals are more than OK by me and this touching album and music was served up in full voice turning a passive activity, listening to music on the hifi, into an active emotional experience. The Concept 50 also deliver plenty of air and atmosphere in and around the notes conveying a convincing sense of place recreated in your space. Nice.
The Shedding Skin from Use Knife is also a September release from Belgium's VIERNULVIER Records. From the liner notes: "Stef Heeren, Kwinten Mordijck and Saif Al-Qaissy unleash their love for analog and modular electronic machinery, invoke fierce Arabic percussion grooves and sermon vocal energies." This record sounds HUGE in every way through the Concept 50, throwing out a rock solid sound image as large as the Barn could handle. This is another record filled with an amazing array of sounds coupled to driving beats and some deep bass and the Concept 50 proved completely up to the task. While they don't go sub-40Hz deep, frequency response is rated at 42 Hz – 30 kHz (-6dB), neither does most of the music I listen to so I'm happy to trade natural sounding bass for boom any day of the week. What's more, the Concept 50 sound balanced in a way that served any kind of music I sent their way.
I spend a fair amount of time off-axis but mostly convey my listening impressions formed when sitting in the red Eames chair. But with the Concept 50 its worth mentioning that they retain a lot of their appeal off-axis, even way off-axis making them suitable for more than one lonely listener (wink).
Downsides? Flaws? Nits to pick? Nothing that exists is perfect, not even Tom Hanks, but there's nothing I can point to in the Concept 50's performance that interferes with all of the things it does so well. I know, at $2999/pair that seems hard to swallow so sure—I've heard speakers that go deeper, that offer more body, color, and texture, that sound even bigger and more capable of imparting physical pound-your-chest force. But they all cost more. A lot more.
Modest in size and modest in price, the Q Acoustics Concept 50 offer shockingly good-to-great performance that had no problem filling the Barn (and me) with big, beautiful and bountiful music. It's not every day that my excitement meter gets pegged to the max, but the Concept 50 hit the mark early on in their Barn stay and kept it there for the duration. Color me bewitched, bothered, and bewildered in the best possible way.
Bravo!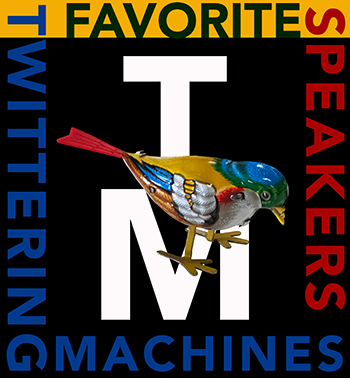 ---
Q Acoustics Concept 50 Floorstanding Speaker
Price: $2999/pair
Company Website: Q Acoustics
US Distributor Website: Fidelity Imports
Specifications
Bass unit: 2 x 125 mm (5.0 in)
Treble unit: 1 x 25 mm (0.9 in)
Frequency response (-6dB): 42 Hz – 30 kHz
Nominal impedance: 6 Ω
Minimum impedance: 3.6 Ω
Sensitivity (2.83V @ 1kHz): 90.5 dB/w/m
Recommended amplifier power: 25-150 W
Crossover frequency:  2.1 kHz
Distortion (120Hz – 20kHz, @2.83Vrms): <0.2%
Effective volume: 28.8 L
Dimensions (per loudspeaker / HxWxD) Inc spikes and stabiliser: 1025 x 418 x 319 mm (40.4 x 16.5 x 12.6 in), Cabinet width: 180 mm (7.1 in)
Weight (per loudspeaker): 22.9 kg (50.5 lbs)