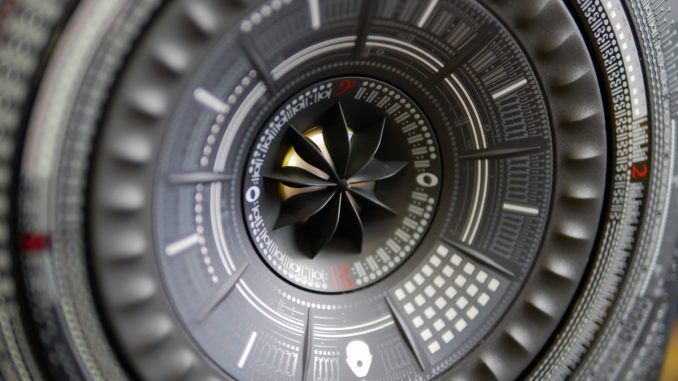 I know a guy who lives under a rock and he knows all about the KEF LS50.
The original passive KEF LS50 Mini Monitor Speakers arrived on the scene back in 2012 to much fanfare. The fans and the fare haven't stopped. Then, in 2016, KEF went and made the fully active wireless version, which was received with much fanfare. Both speakers have won numerous awards including "Best of 20XX" as have other speakers from the 58-year-old KEF (we were born in the same year). Hey, I've won some awards too, but unfortunately none that I share here.
Pedigree, beyond being a nice word, can mean quite a lot in hifi. With KEF it certainly does as they've been designing, building, and refining for decades. The beating heart of the LS50 speakers, wired or wireless, is their Uni-Q driver technology. This is what it looks like in pieces:
You may be thinking concentric like other concentric drivers which is like saying a steering wheel is like a bicycle wheel. From KEF:
In 1988, incorporating a new neodymium/iron/boron magnetic material, developed by NASA, with ten times the power of standard speaker magnets, the revolutionary KEF Uni-Q was born. This major innovation allowed KEF engineers to make a tweeter small enough to be mounted at the acoustic heart of the bass unit coil, providing for the first time a single point source of sound. In layman's terms, this considerably enlarged the optimum listening area in any room. Searching for that elusive acoustic 'sweet spot' was now a thing of the past and Uni-Q remains a key KEF differentiator today.
There you have one performance-related claim for the unique Uni-Q—a big sweet spot. We shall soon see! That unique Uni-Q driver is mounted in a 11.8 x 7.9 x 12.1in. constrained layer damped braced and precision engineered cabinet with a curved baffle. Inside, resides a quad of  24/192-capable DACs, two for each channel, and what KEF calls a "fast and clean" 230 Watts per channel in a bi-amp dual mono configuration. We shall soon see! A time correcting DSP crossover corrects for any crossover bumps, throw in just about any input you desire (2.4GHz/5GHz Dual-band Wi-Fi, Bluetooth 4.0 aptX, Asynchronous USB Type B, TOSLINK Optical, and RCA-type line-level analogue), and you have one complete package in two boxes.
Around back of the cabinet you'll find what you'd expect (inputs, ports, and such) as well as EQ Settings on the right speaker as shown. The LS50s are Roon-Ready endpoints (yay!), but you can also go direct with the Spotify Connect and Tidal streaming apps. The company offers their own free iOS and Android app so you can be up and running and streaming away without buying anything else. Nice.
You can also dig deeper into DSP settings through the KEF Control app:
Setting up the LS50s was a breeze as long as you follow the simple, short directions. Plug 'em in, connect them to each other, connect them to your WiFi, connect them your source(s), and your pretty much done outside of downloading the app and setting the DSP settings to your liking. We're talking minutes from unboxing to playing music. When you first power the LS50s on, they play a short ditty that had me singing the opening lyrics from "Here Comes The Sun" every time.
For most of my listening time, I sat the LS50s in my smaller speaker sweet spot, which is just a bit closer together and a tad closer to the back wall as compared to the bigger speaker sweet spot. A length of AudioQuest Diamond Ethernet cable connected the KEFs to my network and the world at large (the Internets), and I used AudioQuest Blizzard power cords plugged into the AudioQuest PowerQuest power line conditioner because these things make everything they power sound better than stock stuff. The LS50s sat on top of lead shot-filled Target stands.
As is my wont, I used Roon to control playback which, in this case, includes controlling volume levels via the Roon app. The right speaker has touch sensitive controls up top for power, volume, and source selection. The speakers connect to each other with the included 3m Cat-6 Inter-speaker cable. I asked to review the Nocturne Edition which were designed by Marcel Wanders for some visual excitement. I like visual excitement, especially when it comes to hifi which can be challenged in this regard.
Uni-Q, as advertised, works like a charm. The LS50s filled the Barn's listening area with speaker-free music. I'd imagine we've all experienced this—the music does not sound like it's coming from the speakers and even if we move around some, which is fairly inevitable if you're alive, the sound of the music remains the same. I love it when that happens. The KEFs are also finely delicate, fast, and smooth as all get-out. The company rates their frequency response as reaching down to the 40 – 60Hz range depending on placement and room and I found them full-enough bodied not to be bothered by wanting more. There's something to be said for balance and coherence as opposed to muscle.
As regular readers know, the Barn is a relatively big place at (roughly) 35 x 40 x 12′ so I wasn't expecting barn filling sound from the stand mount KEFs. That said, they did a great job of enlivening the listening area with pure, sweet seamless music. Point source indeed and to my ears perfectly balanced. I am very confident that the LS50s will make any small to medium-sized room dwellers perfectly pleased as punch.
Even though I've read so much about them, I also did not expect the LS50s to be so damn alluring. They are the kind of speaker that gets out of the way and stays out of the way of whatever music you care to play. I did find myself doing the "no" back and forth head wag when overwhelmed by how deeply engrossed I became in the music. As in, "Damn, that's so good."
I also did some additional head wagging when I considered that the KEF LS50s are essentially all you need in terms of hifi hardware. Nary a thought of "what if" tweak-think related to DAC, preamp, amp, or heaven forbid cables crossed my mind because there's no point! If you want something that the wireless fully active KEF LS50s do not offer, you'll have to replace them. Well, you could add an external DAC but I think that's plain silly. This may all sound, on first blush, like a negative but believe me, it's not. Armed with just a Tidal HiFi subscription at $19.99/month and the active LS50s, you can play new music every day for the rest of your life, never once hearing the same song. Think about that for a minute.
In terms of other inputs, I did give Bluetooth a spin (wink) and anyone who's read my Bluetooth speech knows that I'm a fan of the feature because it allows family & friends to quickly and easily play with the hifi. I had to wonder out loud, why anyone would go USB when the KEFs are network-ready devices but then it hit me! Why, the desktop of course!
Oh, my. While I do enjoy my ADAM A3X + AudioQuest DragonFly Red desktop setup,  the KEF LS50s were almost too good to be true (ask Freud) up close and personal. Better than any headphone I've heard, the KEFs filled my head with seamless finely nuanced performances. I have a real soft spot for John Prine and his most recent record The Tree Of Forgiveness so when he sang the refrain from "When I Get To Heaven":
And then I'm gonna get a cocktail: vodka and ginger ale
Yeah, I'm gonna smoke a cigarette that's nine miles long
I'm gonna kiss that pretty girl on the tilt-a-whirl
'Cause this old man is goin' to town
I smiled wider than usual because it felt like John Prine was talking to me. As if we were having a conversation, which I suppose were.
The KEF LS50 Wireless Music System costs $2199.99 for the gloss black, gloss white, and titanium gray versions, and $2499.99 for these Wanders'-designed wonders. I will say having the Nocturnes on my desktop all up close and personal allowed for a real appreciation of the finer details of the speakers sight and sound and there is plenty to look at and listen to and wonder at like stars in the sky.
All things considered, I'm putting the KEF LS50 Wireless Music System at the tippy top of my recommended active speakers list in and around their price range. These are the kind of speakers that I recommend even if you haven't heard them because they do what every speaker strives to do, which is get out of the way of the music by putting you, the listener, directly inside. Bravo!
---
KEF LS50 Wireless Nocturne Edition Active Speakers
Price: $2,499.99
Specifications
Company Information
KEF Direct
10 Timber Lane
Marlboro NJ, 07746
[email protected]
877-271-9355