Cathy and I have been enjoying HBO's series Sharp Objects. The acting is top notch, the creepy-level is high, and the suspense, while dragging a bit lately, is suspenseful. A regular whodunit and it's anyone's guess after Episode 5 of 8 who done it. I have one simple request for Sharp Objects: please don't let Camille Preaker, beautifully played by Amy Adams, find out her audiophile stepfather is a creep or heaven forbid, a killer.
Sharp Objects is full of music. Camille loves Led Zeppelin, and rocks herself into an alcohol-induced blackout, one of many, while listening to Zeppelin in her car. Each episode opens with a cartridge hitting the groove, and Alan Crellin, Camille's stepfather, owns a swank hifi which he uses in every episode (cool). Most times for escape (uh-oh) and sometimes for pleasure (yay!).
Alan's Rig:
VPI turntable
Ortofon Cartridge
Simaudio 650D CD Player
Simaudio A 430HAD Headphone Amp
Simaudio 810LP Phono Preamp
Simaudio 740P Preamp
Simaudio 880M Monobloc power amps
ULTRASONE Tribute 7 headphones
Dynaudio C4 Platinum speakers
Bret Easton Ellis'  American Psycho was an audiophile
I'm hoping Alan turns out to be a hero and not a creep because the audiophile image is in need of a hero and everyone knows we certainly don't need another creep.
"Blondy watched this proud, drum-tight personality fidget past him on the street and began projecting; he couldn't help it: an unfinished degree in journalism, concerned married sisters in New Jersey or Connecticut (but probably New Jersey), weights but no cardio, aggrieved blind dates,

Cigar Aficionado

and

Stereophile

, takeout menus, acres of porn." —from "

Lucky Alan

," by Jonathan Lethem;

The New Yorker

, March 19, 2007
[footnote 1]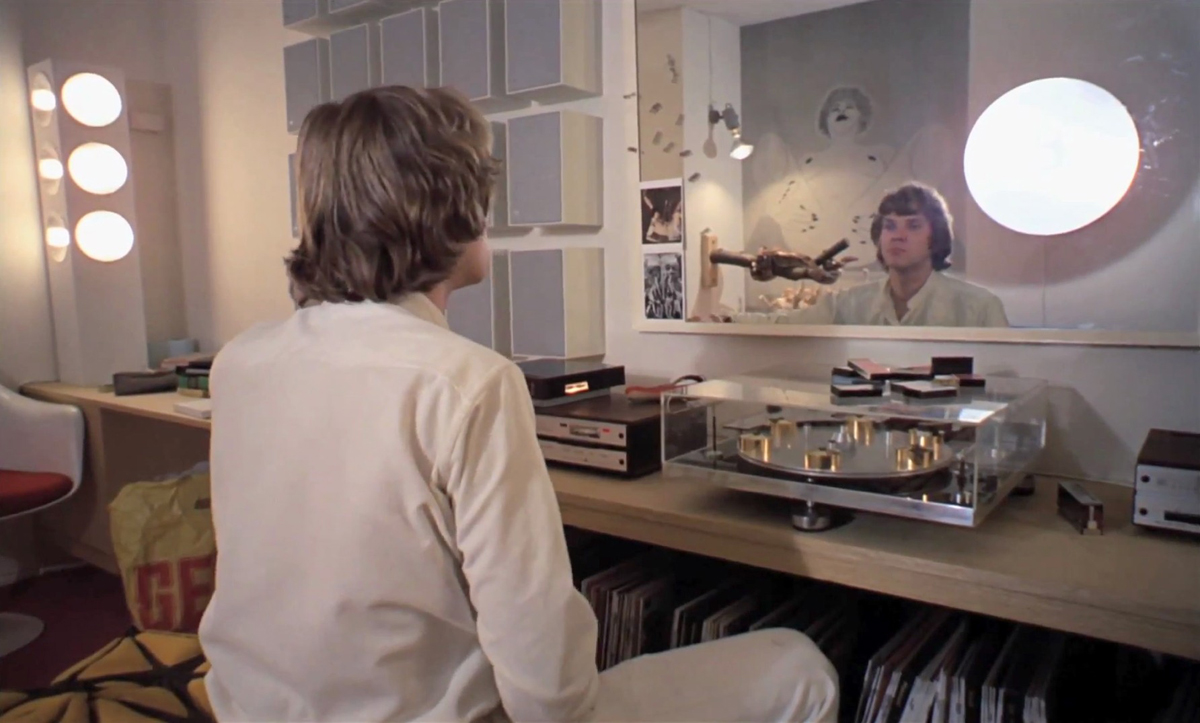 Alec from A Clockwork Orange, another legendary audiophile/creep
Dear Sharp Objects:
Please don't go there. Don't turn another audiophile into a creep or a killer. Instead, how about we let the love of music save the day. That would be a real surprise ending.
---
1. I was in the same class at Bennington College as Bret Ellis and Jonathan Lethem. I swear, it's not my fault.