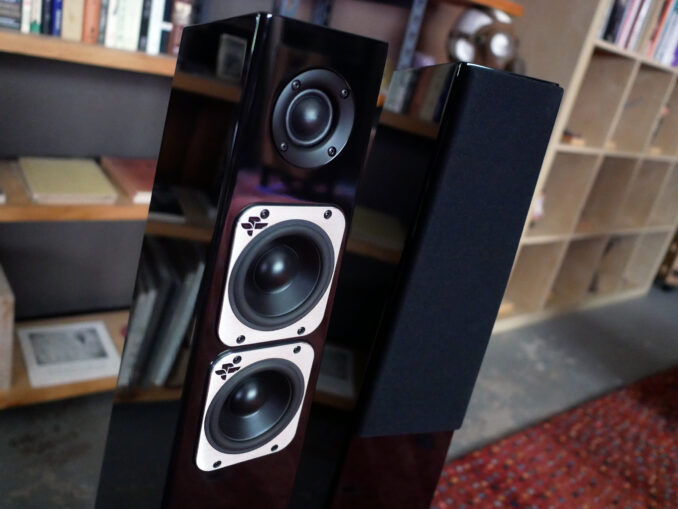 Rooms are funny things. Speakers can be funny, too. Add these together, and you can get funny results.
Totem says the Tribe Towers can be placed as close to 4" from the front wall (the wall behind the speakers) and still offer good sound while bass response will benefit from room reinforcement. Seeing as I always follow rules, I tried the Tribe Towers 4" from the front wall of the barn, moving the rest of the associated gear — Bluesound Node 2i and Marantz Model 30 Integrated Amplifier — along with them. Then I slid the red Eames chair closer, so I was sitting about as far from the speakers as they were from each other, and hit play.
4" quickly turned to 9", which quickly turned to 19" in an effort to make the music coming out of the Tribe Towers sound less stifled, less lean and less kinda shouty. Still not happy, I put them nearly exactly where every other speaker sounded its best in Barn, about 6' from that front wall and 8' apart, and all was right with the world and me.
The thing is, rooms can be funny things and speakers in rooms can be even funnier. They can be rebellious, they can break rules and expectations if you spend time getting things to sound right. Of course if I'd just left the Tribe Towers 4" from the front wall and went about listening and writing, I'd be telling a very different story.
The rather diminutive Totem Tribe Towers stand just over 37" tall from tip to footer and the front baffle tapers from a tad under 7" across at the bottom to 4.5" at the top. The side profile mimics this shape so that the Tribe Towers look kinda tiny in Barn. Add in their rather slender 30 lb weight, and you could say they are physically unassuming. Small of stature.
While the drivers also look small, the Laser Etched Textile Soft Dome Tweeter is actually a bit larger than normal, measuring 1.3″ and includes a 1/2″ thick metal faceplate. The two 4" mid/woofers are Totem's Torrent drivers, which are run full-range, i.e. there's no crossover on 'em, but there is a first order crossover for the tweeter.
Here's what Totem has to say about the Torrent driver construction:
This platform uses a compound magnet system of unique geometry, deploying seventeen 2.5" long neodymium magnets to completely encircle the voice coil. These magnets have a geometrical claw shape to further optimize magnetic efficiency and directionality. The creates an extraordinarily high magnetic flux throughout its enormous 1" throw so it accelerates blazingly fast and brakes instantly. It is a new level of speed and power, consider it the Ferrari of woofers.

No ordinary components would suffice in this application and all possess special modifications as innovative as the magnet structure.

A cradle was machined and fabricated from 3 alloys selected for their strength to hold the symmetrically arranged Neodymium magnets and contains and the monstrous magnetic field.

The voice coil is made of stainless steel and wound with square copper wire to eliminate air gaps to maximize the magnetic strength while minimizing distortion. The spider material is a specialized natural cotton hybrid to provide the required resilience. The cone is bolstered with multiple compounds and reinforced with an O-ring for enhanced linearity and edge diffraction attenuation. The natural rubber surrounds are micro-processed to the thinnest possible formulation for minimum resistance. Every part and material was painstakingly chosen not only for their individual benefits but for how they interact harmoniously together.
The company claims a 30Hz – 30kHz frequency response with an 89dB sensitivity and a 4 Ohm impedance. The Tribe Towers come in satin white or black, and a multi-coat polyester paint finish, finished in Dusk or Fire and Ice for a $400 upcharge. Around back, we find two round bass ports and two pair of bi-wireable binding posts that vary with the finish — the standard finishes get gold plated terminals, while the premium Dusk and Fire and Ice come with WBT connectors and annealed aluminum terminal plates. The speakers stand on solid aluminum Semi Spherical Decouplers and the cabinets are constructed from Variable Density Fiberboard with Borosilicate damping which manages dissipation, keeps the cabinet musically alive, and never deteriorates.
You could say a lot of thought, experience, and proprietary tech goes into the Totem Tribe Towers and I wouldn't argue the point. The company recommends 100 – 200 hours of break-in time and a minimum of 50W of power to drive 'em. I let the Tribe Towers play for over a week, 24/7, before beginning to cast a critical ear their way.
I find the Totems to be sleek and obelisk-like in appearance. With the grille cloths on, your friends might not even know they are looking at speakers, as opposed to some minimal modern art sculpture.
Burn-In, Rooms, & Power
Have you read a review of a small speaker where the writer says they sounded smaller than expected? Me neither. Small speakers that sound bigger, much bigger, surprisingly bigger, beyond expectations bigger than their size implies litter the pages of hifi reviews like airline bottles of Fireball and crumpled fast food bags on New Jersey's back roads. Just once, I'd like to drive by a patch of discarded bottles of Pappy Van Winkle and empty bags from Lady M. Come to think of it, since this is a fantasy, let's make that unused bottles and full bags.
For people who do not have extra space or more space than they need, the idea of a small speaker that sounds bigger, much bigger, than their size suggests is a dream come true. The traditional and typical go-to small speaker is book shelf sized, often perched atop a stand. I've often thought, if you have room for speaker and a stand, you have room for a floor standing speaker.
The Totem Tribe Towers are, as you can see, even smaller than a stand mount speaker. If you've read any other reviews, reviewers nearly universally praise the Tribe Towers' ability to sound big, much bigger in fact, than their dimensions. Hell, Totem says the diminutive Towers can be placed as far as 15' apart! That more than suggests their ability to live in a larger than small space.
The listening area of the Barn is roughly 18' wide and 35' deep, with 12' ceilings. This area is cordoned off from the rest of the space with 8' tall bookcases, with an overall Barn width of 40'. Big, with lots of volume.
While Totem suggests pairing the Tribe Towers with amplifiers ranging in power from 50W to 200W, when you have a Barn to fill, you'll want as much power as you've got on hand. This means that for the duration of the serious review-writing period, the diminutive Tribe Towers were leashed to the beautiful and brutish Parasound JC 5 Stereo Amp, which offers 200W of output power into 8 Ohms and 400W into the Totem's 4 Ohm load. I tried driving them with the Ayre EX-8's 100W (into 8 Ohms) and the Marantz Model 30's 100W (into 8 Ohms/400W into 4) but these combo's just couldn't fill the Barn's volume. I admit to having listened to both integrated amps with the Totems far longer than I should have, spending days thinking that this review was going to say the Totem Tribe Towers sound small.
There's also the matter of break in. Totem recommends 100 to 200 hours and I would add to that last number. The review pair arrived with time on 'em, I put in another week of 24/7 playing time, and they still asked for more. So I obliged.
Do you remember that guy from high school who was skinny yet incredibly strong? We called that wiry. My point being, small and wiry things that are also more powerful than their size implies, also tend to be wrapped real tight. While that may work wonders on the schoolyard, in a speaker you want to loosen things up and it took overtime on the Tribe Towers and their Torrent drivers, playing music 24/7 for more than a week, before they sounded more than rather anemic.
There now, that's better. With adequate power and ample driver massage time, it's time to talk about the Totem Tribe Towers.
Exterior Lux from Jac Berrocal, David Fenech, and Vincent Epplay sounds like the soundtrack to a sci-fi remake of Ascenseur pour l'échafaud directed by Jonathan Glazer. Barrocol's horn and vocals are joined by synths, guitars, computer processing, field recordings, and percussion to create an alternate take on reality. The Tribe Towers did a fine job of recreating the large, reverb drenched atmosphere, filling the space around the speakers with solid sound images. The Tribe Towers also sound very fit, fast, and muscular, having no problem keeping time with as crazy a rhythm as you care to throw at them.
To further test this impression, I went to percussionist (and professor, researcher/inventor, visual artist/sculptor, herbalist, and martial artist) Milford Graves' solo effort, Grand Unification, on John Zorn's Tzadik label. Here, the Totems really strutted their stuff, offering heart-pounding impact, thwack, and all of the varied percussive voices layered and delivered at super-human Milford pace. I had the great pleasure of seeing Milford perform a number of times, and while no recording can capture that experience, the Totem's are able to play very loud without issue, providing an engaging experience in their own right.
"Valentine", the new single from Snail Mail's upcoming album of the same name, is power pop plus. Lindsey Jordan's vocals start out soft only to explode along with synths, crunchy guitar, bass, and drums, sounding like the climax to a brutal revenge flic. Playing "Valentine" through the Tribe Towers at louder than normal volumes introduced an important distinction — while these speakers certainly sound bigger, even much bigger, than their size might suggest, they do not sound the same as big speakers. I suspect physics is to blame as there's no way a pair of 4.5" drivers can match the sound output coming out of a 10" woofer joined by a pair of 6" mid-range drivers in a cabinet standing nearly 4' tall like the recently reviewed EgglestonWorks Oso (review). Sure, the Oso are also more than twice the price of the Totems and they certainly don't fit as well into the small footprint category. I'm just using them to state the obvious — bigger speakers often sound bigger than smaller speakers.
To get to a more size-appropriate comparison, I enlisted the GoldenEar BRX stand-mount speakers ($1598/pair). The BRX house a 6" cast-basket bass/midrange driver, a folded ribbon tweeter, and a pair of 6.5" planar infrasonic radiators mounted on each side for a claimed frequency response of 40Hz to 35kHz. As you might expect, the BRX sound like more speaker compared to the Tribe Towers, releasing more energy into the barn. The BRX also convey a heavy helping of tone, texture, and dynamic snap-appeal, but I would give the Totems the upper hand when it comes to overall cohesiveness, sounding closer to a point source than the BRX. While their respective specs suggest otherwise, in the Barn the BRX sound as if they go lower than the Tribe Towers.
As habit would have it, I went through a number of my test tracks including Tom Waits' "I'm Still Here" from Alice, Nick Cave & the Bad Seed's "Love Letter" from No More Shall We Part, Harry Partch's "The Letter" from The Music of Harry Partch and more and the Totem's consistently supplied the goods for as deep a view into the music as I cared to go. I want to highlight the Tribe Tower's ability to make recorded music sound like it's coming from space rather than a pair of speakers. I refer to this quality as a kind of disappearing act, and the Totem's excel in this regard. I felt as if I was listening to Tom Waits' every breath joined by piano, violin, cello, and clarinet as opposed to a 1.3″ laser etched textile soft dome tweeter and two 4" mid/woofer Torrent drivers.
If you're wondering, Can the Totems do beauty?, Pro Pacem (For Peace) featuring La Capella Reial de Catalunya and Hespèrion XXI directed by Jordi Savall answer in the affirmative. This is achingly beautiful acoustic and vocal music, spanning 19 Centuries, and the Tribe Towers do a wonderful job of capturing each distinct voice and the various instruments in play. An essential ingredient in replay is delicacy, and this is another area where the Totem's excel, offering up a finely nuanced, detailed, and delicate sound if that's what your music demands.
Sometimes, Size Matters
While we should never judge a book by its cover or a speaker by its appearance, the Totem Tribe Tower's size and looks tell you some important things about them. Namely, they fit a search for a speaker that is physically unimposing yet one that doesn't sound small. The Tribe Towers also happen to offer a wonderfully cohesive, dynamically nimble, and delicate presentation capable of delivering your music's full voice.
---
Totem Tribe Tower Speakers
Price: $5500 (Satin White and Satin Black), $6000 (Dusk and Ice)
Specifications
| | |
| --- | --- |
| Frequency Response: | 30 Hz – 30 kHz |
| Recommended Power: | 50 W – 200 W |
| Woofer: | 2 x 4″ Torrent drivers |
| Tweeter: | 1.3″ / 3.3 cm Laser Etched Textile Soft Dome with 1/2″ thick metal faceplate |
| Impedance: | 4 ohms |
| Sensitivity: | 89dB |
| Dimensions (w x h x d): | 7.01 x 36.81 x 7.87″ / 17.8cm x 93.5 x 20 |
| Placement from rear wall: | 4″ / 10.16cms |
| Placement distance apart: | 2′-15' / 60.1- 457.2 |
| Break-in Time: | 100-200 hours |
| Crossover Frequency: | First order crossover on tweeter only |
| Speaker Terminals: | Bi-wireable, WBT connectors with Annealed aluminum plate on Dusk, Fire and Ice / gold plated bi-wire on satin finishes |
| Weight | 31.02lb / 14.1kg |
Company Website: Totem Acoustic