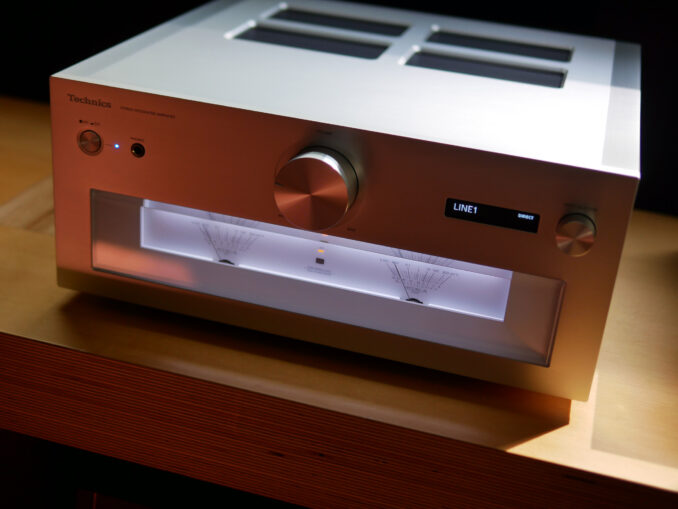 Technics and I could have known each other in high school seeing as the company was born in 1965 (if only the Japanese brand was also from New Jersey). It has been the job of the people behind the products at Technics to make things that make music coming up on sixty years, so you have to think there's more than a file draw full of intellectual capital, i.e. know-how, that informs each new product. Or so I imagine in a perfect world.
The SU-R1000 Integrated Amplifier tips its hat to this heritage with a front face wide pair of backlit meters that sit below a large centered volume control dial. The minimalist in me kinda wishes that was the end of the story for the SU-R1000's face but function intrudes with a power button, headphone jack, small LED display, and input selector. The included remote adds to these functions, providing access to many important settings and functions through the MENU and SETUP buttons including one you really don't want to ignore — LAPC:
LAPC (Load Adaptive Phase Calibration) for realising ideal impulse response and JENO (Jitter Elimination and Noise-Shaping Optimisation) Engine for achieving high-quality, high-precision PWM signal conversion with minimum jitter.
To paraphrase, LAPC makes your music sound better in room. I can say this with certainty because I forgot to re-calibrate the LAPC after a speaker swap and thought, "Hmm something doesn't sound quite right in the upper midrange." It was a head scratcher and made me question the overall performance of the SU-R1000. We're not talking about some huge, glaring difference before and after LAPC, but never underestimate the long term listening effects of subtle changes. LAPC can be defeated using the remote control.
Unlike many remotes, the included wand for the SU-R1000 is one you actually want to keep handy because it offers unique functions only available through its button. While we're on the unusual (for some), you also want to read the manual. And I mean really read the manual. Otherwise you might just miss the reason for the included Calibration Record, and I can say that with certainty because I nearly missed it but Bill Voss, the US Business Development Manager for Technics/Panasonic and my contact for this review, kindly pointed out my omission.
In essence, you can think of the cartridge calibration process for the phono inputs as being similar to LAPC, in that the SU-R1000 makes internal corrections to the phono output based on the way it handles the test tones contained on the Calibration Record, i.e. the input. This process is initiated and stepped through using the remote and takes all of about 15 minutes, give or take. You can save these custom settings for up to three different cartridges, initially named 1-3 but you can enter your own names using the remote. You can also turn these saved calibration settings on and off while listening to music using the. . .remote. If you do decide to turn the calibration off while listening to music, you'll more than likely hear why you want it on as the improvements in the phono output, which included significantly improved bass response and a more clearly defined sound image, were easy to hear. At least in my setup.
But wait, there's more. You can also adjust the gain for the phono input, apply the Crosstalk Cancellation filter, and select from a number of different EQ Curves (RIAA, Columbia, IEC, Decca/FFRR, AES, NAB, and RCA), which will come in handy for mono lovers. If you're thinking — "Wow! This SU-R1000 has a lot of unique tricks up its sleeve" — we would be on the same page. What's more is there's more and I recommend perusing the SU-R1000's manual if you want the complete story.
Technics generates the SU-R1000's 150 Watts of output power from a high-speed GaN (gallium nitride) FET driver output stage or in plain speak, we're talking about full-digital amplification according to Technics. I'm sure you've heard some buzz around GaN-based amps as they're making their way into the market and from what I hear, both through the Technics amp and word-of-mouth from some amp designers, this buzz is well deserved. I'm not going to pretend to be an authority on the benefits of gallium nitride field-effect transistors but I understand they are very fast while offering near-perfect square wave response, i.e. no distortion. This translates into a more natural sound, or so the word goes but we'll just have to see about that.
If you read the associated literature for the SU-R1000, you'll hear talk of the JENO Engine and Active Distortion Cancelling Technolgy (ADCT). Here's Technics on the JENO tech:
To eliminate the degradation of sound caused by jitter, Technics has developed an original jitter reduction circuit, comprising a clock generator in the noise-shaping system to reduce jitter in the low-frequency range and a high-precision sample rate converter for suppressing jitter in the high-frequency range. Thus it reduces jitter in an ideal way over the entire frequency range. This works with original high-precision PWM (Pulse Width Modulation) conversion circuit, optimising the noise-shaping speed, the degree and re-quantisation number, and the PWM gradation, in order to convert high-resolution signals to PWM without causing any damage to the dynamic range. These technologies enable Technics digital amplifier designs to reproduce the natural and delicate nuances of music.
And here's Technics on ADCT:
The Active Distortion Cancelling Technology accurately extracts distortion by determining the difference between the speaker terminal output and JENO output and then applies correction to the output digital signal, thus correcting the conventional digital amp system.
If you're thinking — "Wow! This SU-R1000 has a lot of unique tricks up its sleeve" — we would be on the same page, again.
As you can see, the SU-R1000 offers a boat load of digital, line level, and phono input options (see the Specs below for details) as well as the ability to use it as just a preamplifier (Pre Out) or just an amplifier (Main In) and two sets of speaker outputs, marked "A" and "B". I used "A" for this review and its worth noting that you can save different LAPC settings for speakers "A" and "B". It's also worth pointing out that there's no DAC, no digital to analog conversion, taking place inside the SU-R1000. Incoming digital signals are upsampled (to 32-bit/768kHz), sent through a 1-bit Delta-Sigma converter, followed by another stage, the PWM converter, which forms a so-called "ternary" (2-bit) signal out of the 1.5MHz 1-bit signal. So each transistor only has to handle a switching speed of 768kHz/1-bit which is easier to handle in terms of the natural response time of a GaN-FET. I include this information knowing full well that few people will really understand it, yours truly included, so let's just say that digital remains digital right up to the speaker binding posts.
In terms of build quality fit & finish, I give the Technics a 10+ out of 10 for its finely finished largeness.
I was fortunate to have a number of speakers on-hand during the Technics' Barn visit including the Perlisten S7t, totaldac d100, EgglestonWorks Osso, and resident DeVore Fidelity O/96, all seeing play time. My fortune continued to the analog world with a Technics SL-1500C turntable, which is in for review for Darko.Audio, and the HiFi Rose Streamer (review) / totaldac d1-tube combo and Auralic G1 Altair Streamer which took turns serving the SU-R1000's digital and analog inputs. All cabling was provided by AudioQuest.
Let's Be Frank
SU-R1000. Every time I tried to recall the name of the Technics integrated amp I mixed something up so I took to calling it "Frank". I had an "uncle" Frank growing up who fit his name to a T, being about as direct as you can be which can be a bit frightening as a child — You mean everything we do isn't cute? On that note, I found that I loved just about every photo I took of the SU-R1000, Frank, no matter the time of day or light. While I understand beauty is in the eye of the beholder, the thing responsible for that image plays an equal part in the equation, and I found the Technics to be a more than welcome presence on my Box Furniture rack, sitting like some super fit animal ready to pounce with muscular lightening speed, which added to my listening pleasure. Music should be imposing when called for.
The Technics SU-R1000 exhibited clean, clear, clarity with superb transient speed regardless of the attached speakers. This made music reproduction sound completely effortless, imbuing every song with a real-life-like energy as if the delivery system was much bigger than needed. "Midost" from Marc Ribot's Ceramic Dog album Party Intellectuals is among my favorite tracks for testing a system's ability to engage my adrenal gland and the Auralic G1 Streamer delivering the converted analog signal to the Technics driving the Perlisten S7t speakers offered real heart pounding performance at upper 80dB levels with ease and grace and growl. At some point, when things get real "Midost" hairy, I laughed out loud at the amount of pure pleasure this system offered while thinking how fortunate I am as this is one outcome of my chosen profession.
As one might expect, the Technics digital inputs and processing was bettered by the Auralic and HiFi Rose / totaldac combo so if you want to improve on the SU-R1000's overall digital performance, have at it with your favorite stand alone DAC. Feeding the Technics a digital stream from the Auralic's Coax output, music was just fine but it lacked the greater resolution and richness of these outboard options. That said, I would also say that if budget above the cost of the Technics is a real concern, you can easily live with its internal digital to digital conversion happily ever after.
Doubling down on blast furnace music, the Lounge Lizard's "Voice of Chunk" from the album of the same name explodes into all out full band frenzy, with John Laurie's sax screaming at the top of his lungs, brother Evan using his piano's keyboard to create waves of pure crescendo, and Marc Ribot ripping a lovely supreme guitar solo over the top. No matter how rich, dense, and textured the sonic mayhem, the Technics remained unwavering in its ability to deliver a full blooded sound through the Perlisten S7t speakers, rocking me and the Barn to dizzying heights. I imagined our sole neighbor Jim riding over on his ATV to see what the hell was going on as peaks reached into 90dB territory only to find me laughing out loud like a madman at the helm of a sailing ship who's just spotted the great white whale.
Of the speakers used for this review, I am most familiar with the DeVore O/96 as I've been living with them for some time in addition to any number of listening experiences out and about. Here the Technics brought along all of the positive traits I heard through the Perlisten S7t speakers with greater emphasis placed on tone saturation, delicacy, and nuance. I dialed things down to pure relatively simple and sweet acoustic music from Bridgette Fassbaender taking a whack at Schubert's Winterreise.
From a review in Gramophone:
Rarely in the history of this cycle has there been such a sense of freedom within the barline, such a subtle exploration of the fixed written note to re-create a heightened inflexion of natural speech, or a sudden fluctuation of hope, fear, regret or pain.
I've been listening to Fassbaender's Winterreise since its release in 1990 so we know each other well and the Technics driving the DeVore's with the Auralic G1 converting the ripped CD's bits to analog, I was treated with a rich and rewarding rendering. That said, I have heard more saturation from the Line Magnetic Audio LM-845iA Integrated Amplifier (review) making for a greater emotional connection to this emotional music but at the expense of the Technic's cooler control and greater sense of clarity. While not a fair comparison in any way, I'll share that the much more expensive Constellation Inspiration Integrated 1.0 amplifier that's also here for review, unraveled more of this music's subtlety, space, and nuance.
I was waiting for a good excuse to slice open my copy of the Jamaican mix version of Bob Marley & The Wailers Catch A Fire, which was recently pressed to vinyl for the first time, available through Light In The Attic Records with the original working Zippo cover!! If you haven't heard these original mixes, before Chris Blackwell (of Island Records) added (white) audience appeal overdubs and heavy handed remixing, I recommend you do as the original voices offer subtler and deeper joys. With the Technics SL-1500C turntable and its Ortofon Red Cartridge riding the grooves with the SU-R1000's calibrated and corrected signal turned On, I felt bathed in the smoky seductive warm groove of Bob Marley & The Wailers, who delivered smoky seductive warm grooves like no other. Ever.
While I did not try the SU-R1000's Moving Coil input, or mess around with the various EQ curves, I can say that if you own a MM cartridge mounted to a good 'table, the SU-R1000 will serve you very well with its internal phono stage, especially after you enjoy the benefits of calibration. No need to 'upgrade' or look elsewhere. Since I already own the double "Deluxe" Catch A Fire CD, which includes the complete Jamaican mix on its own disc along with the better known Blackwell version, I could compare digital to analog but what the hell would be the point of that? To my mind, these kind of apples to elephant comparisons are perfect if you want to be completely distracted from the point of listening to music on the hifi, whose ultimate goal is a deep(er) connection to the music, not to the delivery mechanism. This kind of physical media fetishization only leads to one place, and that place is dissatisfaction alley.
With Technics taking care of source and amplification and Bob Marley & the Wailers in charge, I was moved to warmer climes, adrift in the beauty, magic, and humanity of this gem of a record. I did not want for more. While I was in Jamaica, I plugged in the AudioQuest NightOwl earspeakers for a closer listen and was delighted by what I heard —namely the same crystal direct clarity and drive on display through loudspeakers coupled with excellent resolution and texture.
The Technics' big, bold, yet incisive sound was conveyed through every speaker I paired it with and it positively lit up the wonderful EgglestonWorks Osso speakers (review) in a very engaging manner. While the Parasound JC 5 / Ayre EX-8 as preamp combination did dig a bit deeper into bass delivery and silky sweet resolution, we're again talking about spending much more money. The Ayre EX-8 on its own offers a more price appropriate comparison, and here I found the Ayre offered a bit more timbral richness with a silky smooth sound. On the other hand, the Technics delivered more effortless snappy power with bigger and better bass response. To my mind, the choice between the two comes down to you and your system in terms of sound quality, but if you listen to records, the Technics wins by default as the Ayre does not offer phono inputs. And if we take a moment to really digest everything the SU-R1000 has to offer, I'm not at all sure there is another integrated amplifier that can provide an apples to apples comparison.
My favorite partner for the Technics SU-R1000 were the Perlisten S7t speakers, which are pretty special music makers in their own right (more on that in the upcoming Perlisten review). I spent a few weeks lost in this combination's way with music which was at once rich, powerful, and nimble regardless of my mood and choice of music. Add in the ability to surprise, startle, and delight with all of music's force when called for and I was living the dream of listening through a system that acted as an expressway to the heart of music.
All That And Handsome Too
The SU-R1000 was a pleasure to live with, listen through, and look at for as much time as time allowed. But don't let its retro good looks for you — Technics has filled this integrated amplifier with intellectual capital in the service of music in a manner I'm not so sure is available elsewhere regardless of budget. If effortless power, startling dynamics, and unwavering clarity from digital and analog sources, especially records!, are high on your want list, the SU-R1000 should be very high on that list as well.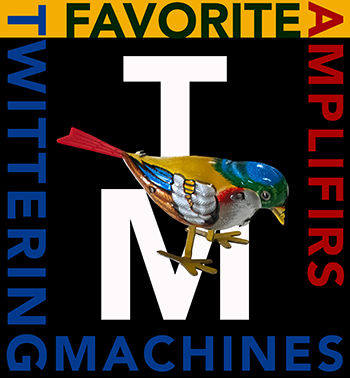 ---
Technics Stereo Integrated Amplifier SU-R1000
Price: $9,499.99
Specifications
Accurate Digital Technology
JENO Engine (Jitter Elimination and Noise-shaping Optimisation)
LAPC (Load Adaptive Phase Calibration)
Advanced Speed Silent Power Supply
Battery Driven Clock Generator
Noiseless Signal Technology
Advanced Speed Silent Power Supply
Advancement of Power Supply
Technics Definitive Design
High-rigidity Cabinet
Three-section Configuration
FTC Output Power
150W + 150W ( 1kHz, T.H.D. 0.5 %, 8Ω, 20kHz LPF ),
300W + 300W ( 1kHz, T.H.D. 0.5 %, 4Ω, 20kHz LPF)
Input Sensitivity / Input Impedance
LINE 200 mV / 22 kΩ, PHONO (MM) 2.5 mV / 47 kΩ, PHONO(MC) 300uV /100Ω
Frequency Response
LINE 5 Hz-80 kHz (-3 dB, 8 Ω),
PHONO (MM) 20 Hz – 20 kHz (RIAA DEVIATION ±1 dB, 8 Ω)
DIGITAL 5 Hz – 80 kHz (-3 dB, 8 Ω)
Load Impedance
4 Ω-16 Ω
Analogue Input Terminal
LINE x 2 (LINE 1, LINE2), LINE XLR BALANCED x1, PHONO (MM/MC) x1, PHONO XLR BALANCED(MC) x1, MAIN IN x1, REC IN x1
Digital Input Terminal
Optical digital x2 (OPT 1, OPT 2) , Coaxial digital x2(COAX 1, COAX 2), USB-B x2 (PC 1, PC 2)
Analogue Output Terminal
PRE OUTx1, REC OUT x1
Headphone Output
Yes, Stereo Φ6.3mm
support Codec
USB 2.0 high-speed, USB Audio Class 2.0, Asynchronous mode
Support Codec
PCM: Yes (32, 44.1, 48, 88.2, 96, 176.4, 192, 352.8, 384 kHz / 16, 24, 32 bit)
DSD: Yes (2.8 MHz, 5.6 MHz, 11.2 MHz, 22.4 MHz* *ASIO Native mode only)
Power Supply
AC 120 V ,60 Hz
Power Consumption
220 W
Dimensions (W x H x D)
430 mm x 191 mm x 459 mm
16-15/16 x 7-17/32 x 18-3/32 inch
Weight
Approx. 22.8 kg
Approx. 50.3lbs
Accessories
Remote Control, Calibration Record, AC Cord, Owner's Manual
Company Website: Technics