I hate to contradict myself, but it happens so often I've learned to love it — take one look at the HiFi Rose RS150b Reference Network Streamer, and you may think: I need that.
Sure, looks may be deceiving but when it comes to a piece of hifi kit whose front face is mostly monitor, and a 14.9-inch-Wide HD IPS Touch Screen LCD to boot, we clearly have a case of superb curb appeal. The HiFi Rose RS150b also happens to be superbly put together, feeling like a real luxury good and the embossed Rose logo, carved into the top of the unit's thick case, milled from a solid block of high-purity aluminum, available in silver or black, whispers pride of ownership about as sweetly as I've heard.
But the HiFi Rose RS150b is so much more. You can think of it as offering a window, a nice big picture window, onto your stored and streamed music. The Roon Ready/DLNA-equipped RS150b offers WiFi, Bluetooth, Airplay, Ethernet (10/100/1000 BASE-T), Optical, Coax, AES, ARC, and USB inputs, coupled with a bevy of outputs including single-ended RCA and balanced XLR pairs, or if you prefer to roll your own outboard DAC, Optical, Coax, USB, AES/EBU, and I2S (over RJ45 or DVI) output. What's more, you can send video out via HDMI 2.0x (up to 3840 x 2160 / 60Hz ), send its analog output to an external preamp via the Pre-Out (Balanced x 1, Unbalanced x 1), hang external storage off the back (2x USB3.0, MicroSD), or load it up with an internal SSD (USB storage devices are compatible up to 10TB, Micro SD up to 400GB, and SATA storage devices up to 4TB).
Digital to analog conversion is handled by the ESS SABRE ES9038PRO chip that's fed reclocked data courtesy of the highly precise Femto clock inside. The RS150b can handle PCM data rates up to 32-bit/384kHz, DSD256, while also offering full MQA decoding for those so inclined. In case you're curious, the Rose houses a Hexa Core CPU, using a Dual-core Cortex-A72 processor up to 1.8GHz and Quad-core Cortex-A53 processor up to 1.4GHz. Yes, it's a computer too.
While we're talking DAC, the RS150b offers a number, OK a lot!, of options accessed through the touch screen. These include PCM Resampling, DSD Mode and the ability to increase the output gain for DSD files to match PCM levels, different I2S pinout configurations to match your DAC's input, seven digital output filter options, output level adjustment, and more. I recommend a long look at the RS150b User Manual for a nearly complete rundown of features and functions.
HiFi Rose has also included streaming support for Tidal, Qobuz, Spotify Connect, Internet Radio / Podcasts, and commercial-free YouTube access with the videos playing on that 14.9" screen so you can use any or all of these services without the need for an external device. Just tap on the RS150b's screen and play. Wait! There's more. You can play and/or rip CDs using an external USB CD drive (not included), watch your own locally stored videos, and play music from attached storage (USB and Micro SD).
The RS150b also includes a digital volume control (defeatable), an old-fashioned remote, and the free ROSE Connect Remote Application for iOS, Android, and PCs that allows users to conveniently control and smartly manage their ROSE device. Of course Roon users can roll with Roon as control. I was very surprised to find the RS150b scooting around the floor of the barn one morning, vacuuming up the bugs (OK, I made that last part up).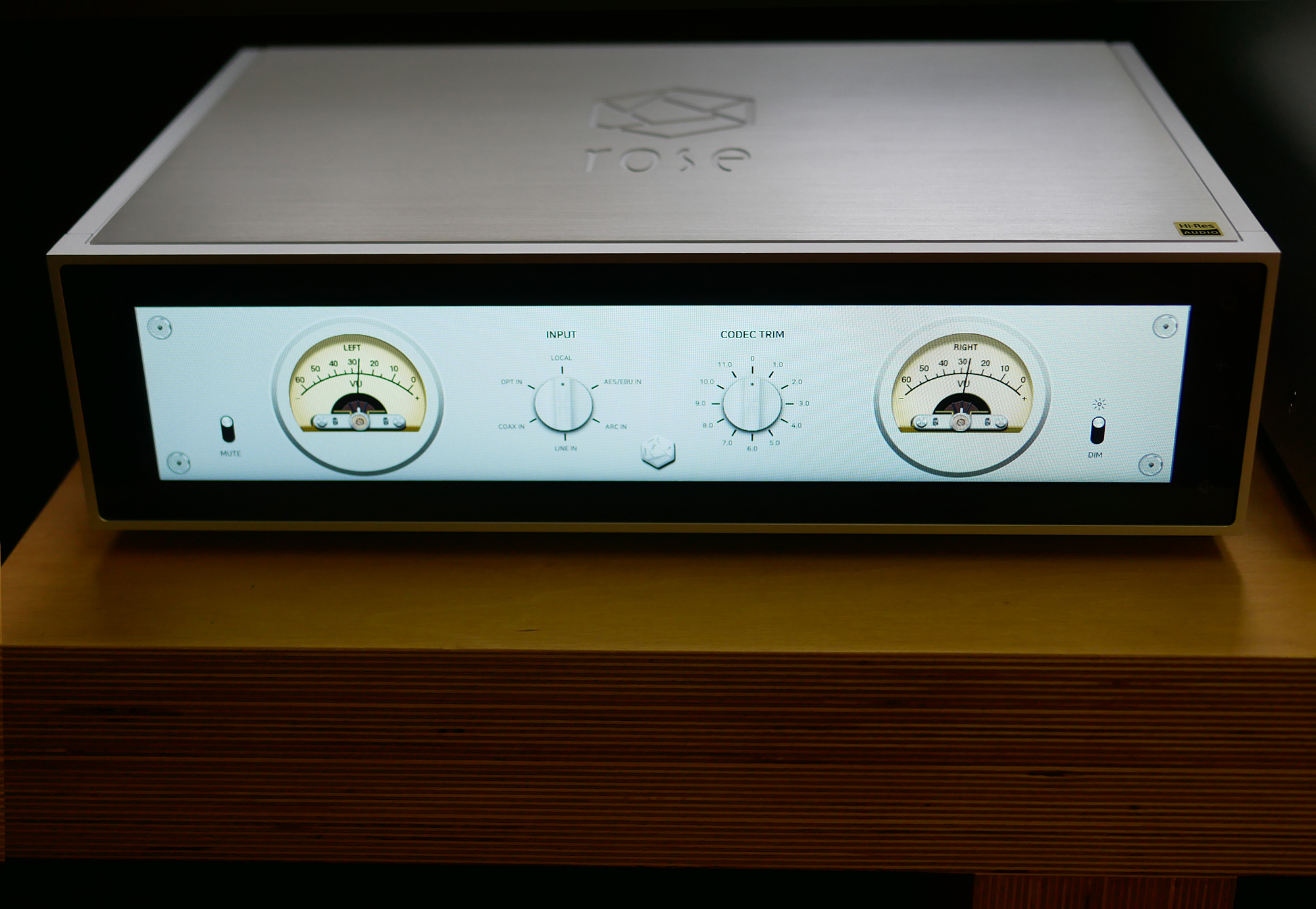 I think we can agree that the HiFi Rose RS150b is a streamer of a different color, offering more features and options than most, with a big touch screen delivering a moving treat for the eyes. All that's left to talk about is – how does it sound?
I used the HiFi Rose RS150b Reference Network Streamer as a streamer and DAC and as a streamer-only feeding the totaldac d1-tube DAC/Streamer feeding the Technics SU-R1000 Integrated Amplifier, which drove the DeVore Fidelity O/96 and review Perlisten S7t Tower Speakers. I hard-wired the RS150b with an Ethernet cable run to my router.
"A rose by any other name"
My custom Box Furniture hifi rack sits on the right wall when looking at the speakers. Off to the side and at a distance so I need to wear my glasses if I want to see the details of things on the rack. I typically don't have any interest in doing so because, let's face it, most hifi gear is fairly static. Silent, visually. While I do enjoy looking at a nice set of meters, like those bouncing on the front face of the Technics integrated amp, they do not hold my attention for long.
The HiFi Rose RS150b on the other hand, displays the album cover art of the music being played when using Roon or streaming from Qobuz, Tidal, or Spotfiy, both in full and in zoomed in detail as background for album/artist/track/data rate information. I can remember, like it was yesterday, how important album art used to be. My friends and I would look at it together, talk about it, in some cases try to read into it, and pass an album around so we could all have a close up view. We also listened to albums, taking them in whole, which is something I do to this day. Album cover art functioned the same way a book cover does, in that it offered a visual entry into a world devoid of visuals. All to say I loved, loved, seeing album cover art on display on that beautiful 14.9" HiFi Rose screen. It added to my enjoyment in a measurable way (if you measured my pleasure levels).
Using the HiFi Rose RS150b was also a pleasure, and I found the touch screen to be very user friendly, tapping my way around most options without the assistance of the helpful manual. I prefer to learn by doing, not reading, and the RS150b accommodated this preference perfectly.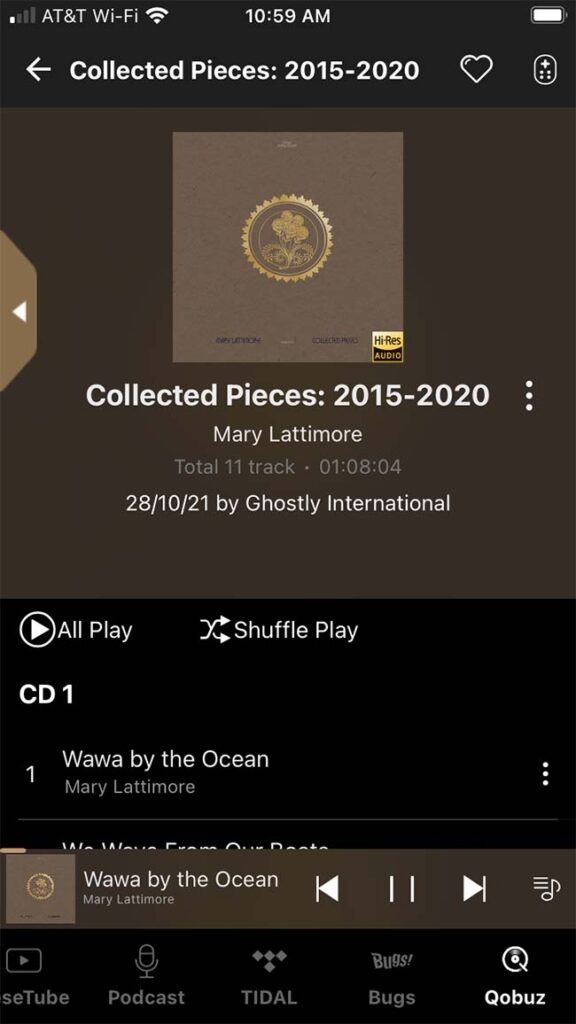 The majority of my listening time was spent using Roon to control playback. That said, I logged into and used Qobuz straight from the RS150b's touch screen and iPhone app and I could easily live with this if Qobuz was my sole source of music. The same goes for Tidal and Spotify Connect. The thing is, I've gotten so used to having Roon merge Tidal, Qobuz, and my local files into one seamless interface I find it annoying to live without. But if you are more of one-streaming service user and don't mind having your locally stored files accessible through a different interface, my bet is the HiFi Rose app and touch screen, and maybe even the plastic remote, will suit your needs to a T.
Using my beater external LG CD/Blu Ray drive, I played one of my favoritest records, Bob Dylan's World Gone Wrong featuring just Bob, and the Rose CD Player had no issues retrieving the meta data and the sound was just fine, if a bit muddy. While I can see using the RS150b for ripping CDs, I can't imagine playing CDs as a regular occurrence since the entire point of a streamer is to. . .stream. I also plugged in a USB flash drive and was treated to all of the meta data contained in SQÜRL's (with Jozef van Wissem) soundtrack to Jim Jarmusch's sexy Only Lovers Left Alive (you definitely want this meta data). Sound quality playing from the flash drive was about on par with playing music from my NAS and streaming and I could certainly see hanging a larger USB drive off of the HiFi Rose if you want to skip the NAS route.
As far playing YouTube videos, as I said my rack, and everything on it, are off to the right of my speakers putting the HiFi Rose roughly 9′ away. For me, that's too far for watching videos even with my glasses on. But, sitting on the floor right up front (like when I was a kid in front of the TV and its seven channels), I enjoyed watching Eartheater's latest video, "Scripture", which has some similarities to those old Hammer horror films I watched as a boy. Of course sound quality will be dependent on the video in question, and you can connect an external and larger monitor to the RS150b, but I have to wonder if this is as convenient as simply using your smart TV's YouTube app.
And if you choose to let YouTube keep playing, as I did, you'll be treated to other videos. In my case, this meant more Eartheater, never a bad thing, and I was introduced to her live solo performance video from MoMA PS1. Nice!
I have to pause to highlight the abundance we have on offer, with nearly unlimited access to the world's music library and seemingly endless music-related video library for pennies a day (or less). Sometimes I think dealing with so much can make us fall back into the familiar for fear of becoming overwhelmed with options. To my mind, spreading a high definition touch screen across the front of the RS150b may just provide the ease of access for people who are not comfortable with computers, smart phones, and apps. Especially crappy apps that were par for the course back in the bad old days of DLNA. To put it another way, I find the RS150b inviting and fun, yea fun, to explore. And if you miss seeing album cover art, HiFi Rose has got you covered.
I spent a few weeks using the Rose as streamer and DAC and was very pleased with the results on a sound quality level. Music through the system of RS150b / Technics / SU-R1000 and Perlisten S7t was big, bold, and involving. There was plenty of resolution without things sounding artificially lit, a nicely developed timbral richness, and a fairly big and stable sound image. My preference here was to run the RS150b's output in fixed mode, using the Technics volume control as this seemed to offer a richer, fuller presentation overall.
To further test the RS150b as streamer/DAC/preamp, I leashed it to the beauty of a beast Parasound JC 5 Stereo Amplifier via XLRs and let her rip. As is the case with most the DACs I've reviewed, I prefer the HiFi Rose with a preamp or integrated amp in the system. Going direct into the Parasound, the sound image was a bit condensed, not as free of the speakers, dynamics felt a bit damped, and voices didn't feel as fully fleshed out. My favorite DAC for going amp direct in recent memory is the very fine Sonnet Digital Audio Morpheus (review) but that's just a DAC, no streaming, without a flat screen TV mounted to its face.
To remove the RS150b's DAC from the sonic picture, I used its AES output to send the totaldac d1-tube DAC/Streamer (7,550euro review) its bits, while the totaldac's analog output went to the same Technics integrated amp. Within a few notes of Waxahatchee's "Streets of Philadelphia" cover from Saint Cloud + 3, Katie Crutchfield and the band sounded more fully formed in Barn. The sound image extended well beyond the speakers in every dimension, and voices and instruments sounded richer and riper. I would call these changes a more natural sounding presentation as compared to the RS150b's that came across a bit flatter and faded by comparison. To clarify, these differences are not night and day with things being blown away, but if you enjoy listening for hours on end, day after day, even seemingly subtle improvements often translate into more moving experiences. Sure, if you're doing quick A/Bs, you can easily erase even dramatic differences, and be convinced that everything sounds the same, you know, like The Doors sound a lot like John Denver in rapid fire A/B "tests".
Back in the HiFi Rose / Technics / Perlisten system, I settled in for a few weeks of music time. I ran through a number of tracks from my test track playlist looking to zoom into subtleties of reproduction and the HiFI Rose did not disappoint. From Antony and the Johnson's searingly beautiful "One Dove" from The Crying Light, to PJ Harvey's cover of Nick Cave's "Red Right Hand" from the Soundtrack to Peaky Blinders, Aretha Franklin's soul stirring "Mary Don't You Weep" from Amazing Grace, to Canned Heat's "On The Road Again" from Boogie With Canned Heat (and I did), I had no problem falling under music's spell. The more time I spent listening, the less my thoughts were concerned with comparative differences.
One evening, as the dinner hour approached, I found myself so deep into my 12 hour test track playlist, I ended up putting in overtime, basking in the glow of the HiFi Rose's screen, watching the album cover art change with each new tune, completely lost in the unique riches only music has to offer. If we take into account the RS150b's very engaging sound quality as a streamer/DAC, add in the visually delicious touch screen plus all of the functionality available through it, we are looking at, and I was listening to, a very special piece of kit. I'm still trying to wrap my head around the fact that HiFi Rose delivers all of this goodness in such a handsome and well built package for under $5 grand. I can easily imagine a few more thousands added to that price if some other logo was carved into its top and I doubt anyone would blink an eye or bat an eyelash.
"Rose is rose is rose is a rose"
If you looked at the HiFi Rose RS150b and thought — I need that — you may want to go with your first instincts this time around.
The HiFi Rose RS150b Reference Network Streamer is very easy to recommend as a digital hub and DAC, as it offers a broad range of access to streaming and file-based music, while turning digital sources into analog riches. What's more, if we open our eyes and invite them to the party, I know of no other DAC/Streamer that also provides as rich and inviting an experience — like front row seats to a world of wonder. Whether you decide to run the Rose solo or add your own external DAC, the RS150b has the goods and then some to tickle your eyes, ears, and imagination.
---
HiFi Rose RS150b Reference Network Streamer
Price: $4,995.00
Specifications
OS
Rose OS Ver 1.22.4 (based on Customized Android 7.1)
Design
Size
430(W) x 316(D) x 123(H) mm
Weight
13 kg
Body
Milled from Solid Block of High Purity Aluminum, Minimizing Vibrations and Noise.
Display
14.9-inch-Wide HD IPS Touch Screen LCD
CPU

Hexa Core CPU


Dual-core Cortex-A72 up to 1.8GHz
Quad-core Cortex-A53 up to 1.4GHz
GPU
Mali-T864 GPU, OpenGL ES 1.1/2.0/3.0/3.1, OenVG1.1, OpenCL, DX11
MEMORY
LPDDR3 4GByte
DAC Chip
ESS Technology, SABRE ES9038PRO
Output level
6.5Vrms (Balanced),
2.2Vrms (Unbalanced)
THD
0.0002%(Balanced,1KHz 6.5Vrms),
0.0003%(Unbalanced,1KHz 2.2Vrms)
THD + N
0.0003%(Balanced, 1KHz 6.5Vrms),
0.0004%(Unbalanced,1KHz 2.2Vrms)
IMD
-103dB (Balanced), -103dB (Unbalanced),
SMPTE 4:1, 60Hz:7kHz
Signal to Noise Ratio
121dB (Balanced),118dB (Unbalanced),
A-wt
Dynamic Range
Max 132 dB (CCITT filter)
Stereo Crosstalk
Max -138dB, 20-20kHz
Output Frequency Response
20Hz to 20,000(+/-0.5dB)
Output Impedance
50Ω
Network connection
Network
Wired : Ethernet 10/100/1000 BASE-T
Wireless : External USB type WiFi Dongle supported
Bluetooth
BT : External USB type BT WiFi Dongle supported. ( A2DP Sink, AVRCP v1.3 )
* A few types of WiFi, BT dongle is not supported.
Audio service
Streaming
Airplay / DLNA / Roon Ready / MQA Full Decoder
Music service
TIDAL / Internet Radio / Podcast
Input, Output
Audio input
Optical x 1, COAX x 1, Line-IN x 1, AES/EBU x 1, HDMI ARC x 1, USB DAC x 1
Audio output
Optical x 1, COAX x 1, Pre-OUT (Balanced x 1, Unbalanced x 1), I2S-DVI x 1,I2S-RJ45 x 1, AES/EBU x 1
Video output
HDMI 2.0x 1 ( up to 3840 x 2160 / 60Hz )
Media connection
File system : SMBv1, SMBv2 /FTP / WebDav / NTFS / eXfat / FAT32
Storage interface : USB3.0 x 2, MicroSD x 1, SSD x 1
Supported codec
Audio
WAV, FLAC, AIFF, WMA, MP3, OGG, APE, DFF, DSF, AAC, CDA, AMR, APE, EC3, E-EC3, MID, MPL, MP2, MPC, MPGA, M4A
PCM : 8KHz~384KHz(8/16/24/32bit per Sample)
Native DSD: DSD64(2.8MHz)/DSD128(5.6MHz)/DSD256(11.2MHz)/ DSD512(22.5792Mhz)
Video
ASF, AVI, MKV, MP4, WMV, MPEG-1, MPEG-2, MPEG-4 H.263, H.264, H.265, VC-1, VP9, VP8, MVC
H.264/AVC, Base/Main/High/High10 [email protected] up to [email protected]
H.265/HEVC, Main/Main10 [email protected] level 5.1 High-tier up to [email protected]
Power
Input Voltage : AC100-230V 50/60Hz
Input Power : 55W Fuse : T3.0AL/250V
Update
SW update via internet, USB OTA, ROSE Store
Remote control
Remote controller
Bluetooth Remote controller
Remote App
ROSE Connect (Android, iOS) / Google PlayStore, App Store
Accessory
Power cord x 1, Bluetooth Remote controller x 1 (AAA battery x 2), Simple Guide x 1,
SSD screw x 4, Bluetooth/WiFi dongle x 1 (sold separately)
Company Website: HiFi Rose
US Distributor's Website: MoFi Distribuution