"You're the best!" When you hear that being said, you know it's typically meant to come with a pinch of sarcasm. If not, it implies the bestower of said gift is in a position to know what's best. For everyone.
Experience is a funny thing. You'd think a shared experience would result in a shared experience but it often doesn't, which is why experience is a funny thing. Once we get beyond the surface, "That was a great concert," we find that we enjoyed different songs more or less and even different parts of songs more or less. The devil is in the details taking on a different skew if we're looking for a one-size-fits-all opinion.
I am a big fan of favorites. With favorites, I'm telling you about me, instead of me telling you about what you should like. It also allows for the necessary wiggle room for any shared experience—difference. Here are a few of my favorite things from Axpona 2019.
---
I can remember walking into Jonathan Tinn's room at T.H.E. Show in Vegas in 2008 and enjoying myself, a lot. The combination of system and music was a smile and in-seat boogie machine. Walking into Jonathan Tinn's room at Axpona 2019 proved that not much has changed in the intervening 11 years.
The system in use during my visit: Maestoso loudspeakers ($18,900/pair), darTZeel NHB-108 Model Two power amplifier ($44,000), darTZeel NHB-18NS Mk.II ($44,000), Merging Technologies MERGING+CLOCK ($36,000), MERGING+NADAC ($10,000), MERGING+POWER ($6000), and a reel-to-reel tape deck which I failed to photograph or note.
Jonathan usually introduces each track, something I really like, and he played a nice mixed bag first through the Merging Stack then tape. In my opinion, playing tape should come with some sort of handicap. Maybe the speakers should be covered in fabric making them less revealing because tape, when its good, and it usually is at shows, is so very good. My foot, then feet, then legs, hips, and full mind and body were fully activated by one-off recordings on tape of Johnny Hodges and Co. playing music that reached way past my ears and into my heart. Bravo!
---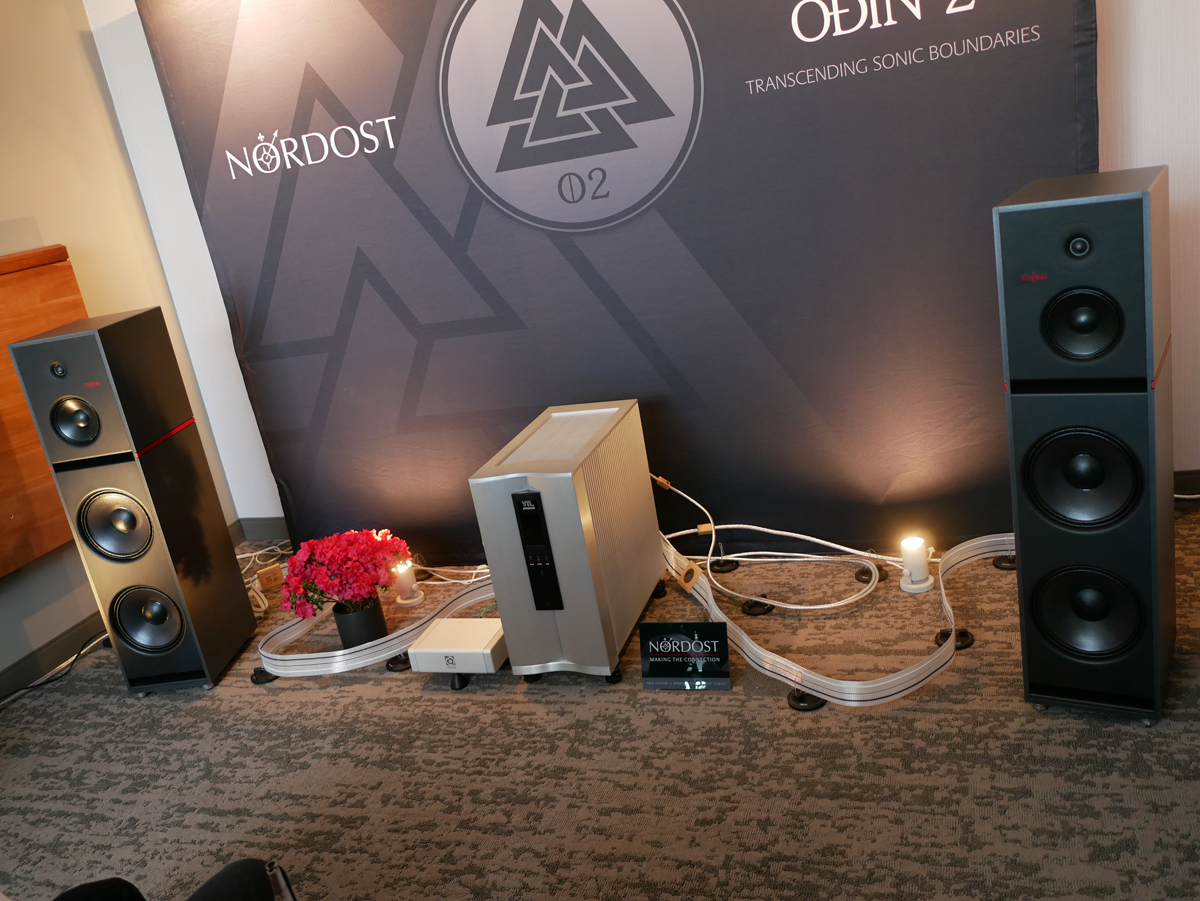 Luke Manley and Bea Lam of VTL know at least two things: they know how to set up a room, and they know music. Every time I leave one of their rooms at a hifi show, I have a few new must-have records. The longer I stay, the longer the list.
The system in use during my visit: Stenheim Alumine FIVE ($58,000), VTL S-400 Series II Reference Stereo Amplifier ($33,500), VTL TP-6.5 Series II Signature Phonostage ($12,500), VPI Avenger Reference Turntable with 12″ 3-D Tonearm ($19,999.99 that's a lot of nines!),  and a Lyra Etna Cartridge Cartridge ($8,995).
Bea queued up these two records, she also introduces each track (have I mentioned I really like that?), and it took me a few long minutes after leaving the room before my feet once again touched the ground. Lovely.
---
I've been drooling over Jadis for decades and the more I hear GamuT gear, the more I like GamuT gear.
The system in use during my visit which included Kyomi Audio as co-exhibitor: GamuT RS7i Loudspeakers ($41,990), Jadis JA200 MkII monoblocks ($35,900/pair), Jadis JP200MC 4 dual-mono preamplifier w/phono ($36,900), Pear Audio Blue Kid Thomas turntable with Cornet 2 tonearm ($7995 + external power supply $1995), and My Sonic Lab Hyper Eminent MC phono cartridge ($5500).
While listening to Ella Fitzgerald from Let No Man Write My Epitaph (1960) two thoughts crossed my mind—I can probably guess her age and weight, and listening to Ella on a system that delivers all of Ella is like riding a roller coaster designed by an angel. Beautiful.
---
Big room, big system, big sound. Makes sense, no? Philip O'Hanlon of On A Higher Note knows how to get great sound and he also introduces each track he plays (like). But…during my visit, it was Rune Skov from Gryphon making the musical selections and he, oddly enough, introduced each track before play (like). Rune also offered his opinion of some recordings along the lines of "I think this her best recording" and before I left, I asked Rune for his top 10 classical list. Sometimes when people say "best" I don't mind if it becomes a favorite. A simple translation is all that's needed.
The all Gryphon system: Trident II loudspeakers ($150,000/pair), Mephisto Stereo Amplifier ($61,000), Pandora Preamp ($32,500), and Ethos CD Player/DAC ($39,900).
Sometimes big systems can sound, well, too big. Overwhelming in a—You are listening to GIANT HiFi— way. Fifty foot long piano keyboards, classical guitars with strings a mile long, with Attack of the 50 Ft. Woman singers. Not so with this Gryphon kit. Music was pure, pristine, powerful, and properly proportioned just like in real life. Physically and emotionally moving to boot.
---
I've been keeping a close ear and eye on Christopher Hildebrand's Fern & Roby since I first laid eyes on their stuff. The company's products are the best…I mean I really, really like the company's approach to industrial design. The turntables, in particular, with their cast-iron plinths and brass platters sing a siren's song to my aesthetic sensibilities.
The system in use during my visit: Fern & Roby The Ravens speakers ($9500/pair), Linear Tube Audio Z10e Electrostatic Headphone Amp ($6950) which drove the Ravens because it can, ModWright Instruments Ph 9.0 MM / MC Tube Phono Pre-amplifier ($2900), the Tredegar Turntable w/Schröder SQ Reference tonearm ($21,500), and Soundsmith Zephyr MM/MC Start Cartridge ($1999).
You know I have a thing for single-driver speakers, right? When they do what they can do well, a single driver speaker can sing like no one's business. They also allow you to buy a sensible amplifier, like the Linear Tube Audio Z10e, instead of some beast that requires a fork lift and its own nuclear power plant to run. Christopher has The Ravens singing like songbirds. Ease, comfort (yea comfort because a well done single driver system never sounds like it's trying too hard), and coherence make music that eases into the soul like honey. Sweet!
---
Did you know GamuT now owns Raidho? Word around the show was that Benno Baun Meldgaard of GamuT has started tweaking the Raidho speakers and the new TD1.2 have been Benno'd. People refer to Benno the way people referred to the John Abercrombie album Gateway when it came out in 1976 with that lovely smokey mixture of mystery and reverence. Benno.
The system which included Kyomi Audio as co-exhibitor: Raidho TD1.2 speakers ($27,000/pair), Jadis NEC 845 monoblocks ($29,990/pair), Jadis JPS2 preamp ($15,500), Jadis JPS3 phono preamplifier ($14,900), Pear Audio Blue Kid Thomas turntable with Comet 2 tonearm ($7995), and an Ortofon Cadenza Black cartridge ($1995).
Michael Vamos, President of Audio Skies that imports all of the gear here, not only introduces each track, he tells a story. For example, I requested some Nick Cave because a) this was my last room of the show and I wanted to hear non-show music, b) I know Michael likes Nick Cave, and c) I like Nick Cave. Michael shared that at one Nick Cave concert Nick leaned over so far off the stage that Michael's right hand placed over Nick's heart was the only thing keeping Nick upright as he sang, "Can you feel my heart beat" over and over. That, my friends, is a story.
Nick Cave from the live and lovely Distant Sky EP, a very special rendition of The Rolling Stones Satisfaction by The Rolling Stones (I don't know about you, but when exhibitors play great music re-done with flute and lute I want to cry), and David Bowie from Blackstar, his last record. Granted it was the end of the show, I was a tad tired, but hearing Bowie sing…:
Look up here, I'm in heaven
I've got scars that can't be seen
…from "Lazarus" made me feel more than I wanted to feel in a public place. That's one of my favorite things.
---
There is nothing that sounds like an MBL system other than an MBL system. When an MBL system is hitting its stride, as it so often does at hifi shows because Jeremy Bryan, the President and CEO of MBL North America, is fastidious about everything, you are in for a treat second to none.
The system which included Kyomi Audio as co-exhibitor: 101E Mk.2 loudspeakers ($70,500/pair), 4x N15 monoblock amplifiers ($35,600/pair), N11 preamplifier ($14,600), and the Noble Line N31 CD player/DAC ($15,400).
Someone in attendance asked Jürgen Reis, the guy who designs everything, a question about the 101E Mk.2 loudspeaker, Jürgen went about taking off some cosmetic pieces of the speaker to help illustrate his explanation. I love when that happens.
All enveloping, all consuming, nearly overwhelming, this MBL system grabbed every bit of me and didn't let go. I looked over at Jürgen who was controlling the iPad remote as he was about to change tracks and he had a devilish grin, the kind of grin I imagine Tesla grinned as he demonstrated his latest mind-blowing invention.
Music-induced amazement, delight, and near-delirium are a few more of my favorite things. Thanks Jürgen, thanks MBL.