"If you're not having fun, you're doing something wrong." ― Groucho Marx
The Klipsch Cornwall IV are among the most fun inducing speakers I've had the pleasure to host in Barn. Not only do they look the part, dressed in a very handsome mid-century modern book-matched attire with grills reminiscent of old Fender guitar amps and standing proud the size of stout curio cabinets, the Cornwall IV sound the part as well. As was the case with two recently reviewed integrated amplifiers from Kinki Studio (review) and LSA (review), you would be forgiven for thinking the Cornwall IV came with "1" in front of their $6,598 asking price (per pair).
Part of the fun can be found in the Cornwall IV's 15" woofer, a fiber-composite cone that sounds born to boogie. Add in the 1.75" horn-loaded Polyimide (a high temperature engineering polymer) diaphragm compression mid-range driver, horn-loaded 1" Titanium diaphragm compression tweeter, and trio of front-firing ports and you've got enough woof! and roll to make every listening session feel like a front row center seat to your concert of choice. Think liquid energy.
The original Klipsch Cornwall speaker dates from 1959, which is a newish model considering the company was founded in 1945 by Paul W. Klipsch when he launched the legendary Klischorn Speakers into the wild. I still remember my father telling the pre-teen me, with real excitement in his voice, about the first time he heard a pair of Klischorn's and how they did things no other speaker did. The only caveat being you had to have the room for them.
A room of one's own is one way to house a hifi and we bought our current home in part because of the Barn—1400 square feet of room that would serve as my place of work. The Klipsch Cornwall IV look right at home in the listening end of the Barn with my Eames Red chair (LCW) and Eames Leg Splint, designs that date from 1946 and 1941 respectively. My equipment rack, the Fallen "A", which I designed with the help of Box Furniture who made it, follows suit with more than a nod to Walter Gropius' Bauhuas designs. Where we live, how we live, and what we choose to live with inform our hifi buying as much as any other consideration.
While the Cornwall IV offer dual binding posts, I chose to drive them with three different integrated amplifiers, one at a time. These included the review samples LSA VT-70 Integrated Tube Amplifier (review), Feliks Audio Arioso 300B Integrated Amplifier (more info), and the ModWright KWH 225i Hybrid Integrated Amplifier (more info). The totaldac d1-tube DAC/Streamer took care of the source, with AudioQuest cables in use throughout.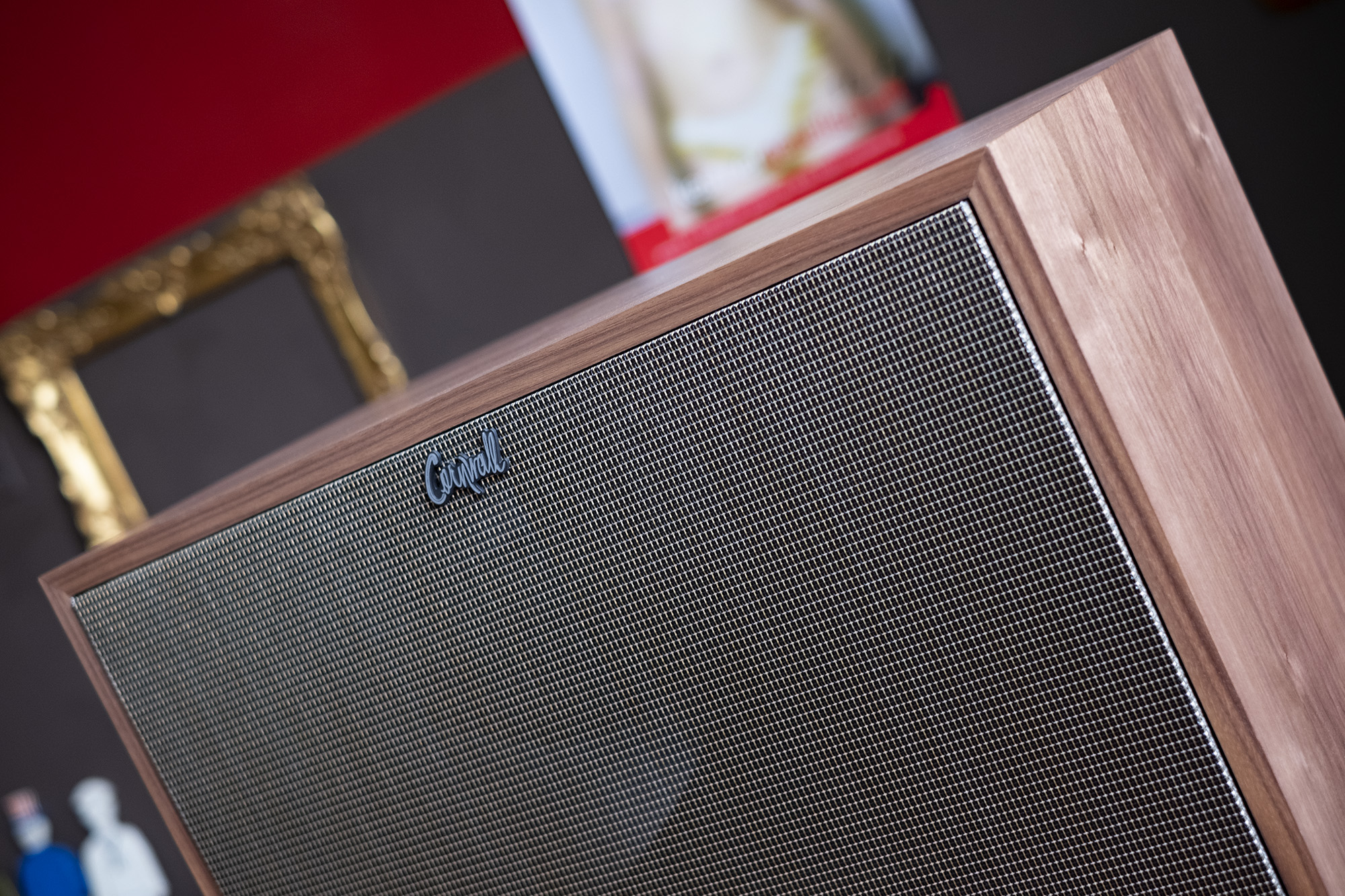 The Klipsch Cornwall IV have character. They are not neutral sounding, what is in real life?, but I find their character makes listening to music on the hifi an adventure. A fun house ride with thrills and chills, where music fills the room and soul as if a waterfall suddenly poured through the roof. Splash!
As is the case with speakers in general, you can tweak this character with the associated amplification. The HiFi bargain LSA VT-70 brought out the Cornwall IV's rougher side, making music sound burly and a tad hard, with lots of force and drive. The lovely and more lush Feliks Arioso 300B Integrated Amplifier ranked as one of my two favorite partners for the Cornwall IV's as it remained very much in control, there's nothing mushy about the sound this pair makes, while filling out music's body and tone for a richer presentation.
I spent the majority of my Klipsch listening time with the Feliks amp in control and its 8 Watts per channel moved the Cornwall IV's to Barn-filling heights with no sign of running out of steam. This is one of the things I love about high and higher sensitivity speakers—they open up the entire world of amplification options, from a few Watts to as many as you like. The Feliks Arioso gave the Cornwall IV's a richer sound as compared to the LSA, filling in a fuller voice for every player. Another thing I love about high sensitivity speakers is they can startle with pistonic slam, and the Cornwall IV are standouts in this regard.
You may have read about Z.O.A. and Boris' stunner of an EP Refrain (wink) and this blistering beauty was made for the Cornwall IV. With the Feliks in charge, this guitar-driven music was big, bold, rich, and fat practically begging for more volume at every turn. The Cornwall IV handle this kind of music with ease and I found myself wondering what some of the music from my teen years would sound like through them—like Led Zeppelin and The Jimi Hendrix Experience—and the answer was crazy big fun. Are you experienced?
When moving to more intricate and intimate music, the Cornwall / Feliks combo did not fare as well. I would not call the Klipsch highly refined speakers and I found upper frequencies to be a bit recessed, where the subtle violin on the opening of Tom Waits' "I'm Still Here" from Alice was nearly imperceptible. I did spend real time positioning the Klipsch speakers to get the most from them in Barn, but this somewhat shy upper frequency response remained regardless of position, toe-in, and associated amplification.
I would say the Cornwall IV are not the most resolving speakers I've heard and their overall presentation is rather more forward than many of the speakers that have come through the Barn of late. By forward, I mean music sounds as if it's being pushed out into the room, with relatively shallow front-to-back depth. That said, I would attribute a large measure of the Cornwall IV's excitement factor to this forward presentation so, depending on taste and mood, it can be heard as a good thing. Once I settled into the Cornwall IV's way with music, leaving comparisons and expectations behind, it was a cruise control of pure pleasure ride.
The ModWright KWH 225i Hybrid Integrated Amplifier arrived some time into my Cornwall IV time but I had a hunch they would make beautiful music together. And I was right. While it may seem like a given to mate a speaker like the Cornwall IV with its 102 dB sensitivity with lower power amps, experience suggests that more power can equal more better. One benefit bestowed on the systems' sound with the ModWright's 225 Watts was, you guessed it, more control throughout the frequency range. With the ModWright driving the Klipsch, the overall presentation was more balanced, more put together compared to either of the tube amp partners while tone and texture felt very nearly as full as it did with the Feliks 300B. What's more, the system's ability to reproduce subtlety also improved along with greater dynamic slam. A win, win, win in my book.
Regular readers know of my fondness for Nick Cave & The Bad Seeds but I also enjoy, sometimes more, his earlier incarnation as The Birthday Party as well as the later grouping Grinderman with both bands offering a rougher than Bad Seeds ride. It's safe to say that much of The Birthday Party's music is not audiophile fare, and it can sound rough due to its less than stellar recorded quality. With The Birthday Party's Hits, the Klipsch brought out the rhythm section's manic energy and propulsive drive like nobody's business, but the jangly sometimes over-driven guitars could sound thin, thinner than I've heard from other speakers like the (much more expensive) DeVore Fidelity O/96.
On the other hand, Grinderman's thrill ride of a song "When My Baby Comes" from 2010's Grinderman 2, which does not suffer from poor recorded quality, was as thrilling as I've heard in Barn. This song offers a slow build to mayhem, and when the spottily hirsute boys in the band let loose about half way through, the Cornwall IV / ModWright combo kicked things into overdrive with as much energy, controlled force, and pure joyous abandon as I could handle. Big, bold and thrilling. Encore!
Sharon Van Etten's latest, We've Been Going About This All Wrong, puts Van Etten out front (where she belongs) and the Cornwall IV offered up a stirring rendition of this heart-wrenching record. Van Etten's sound image was rock solid and fittingly large in Barn, offering up the kind of presentation that does not necessarily tempt with a desire for deeper inspection but rather delights with sheer presence. If you enjoy getting bowled over by music that feels like a wave of pure energy, think Klipsch.
I spent about a month with the Cornwall IV locked and loaded in my system so they got the full music workout— the cool, sparse mostly acoustic genre-defying sounds of the Tara Clerkin Trio's In Spring, Maurizio Pollini's wondrous take on Chopin's late piano works, Terry Riley's Archangels with Julian Wachner, the Trinity Choir, and Novus Cellos, a whole host of heavy hitters like BIG|BRAVE's Vital, as well as a long stroll through many a test track and I constantly found myself listening with great pleasure, a kind of delight aroused by the Cornwall IV's forthright physicality.
There is a distinct difference between listen to music and listening for aspects of reproduction and the Klipsch are a standout when it comes time to let comparisons fall by the wayside. If you're not having fun when listening to the Klipsch Cornwall IV, you're doing something wrong.
In some ways, I've been hypercritical of the Cornwall IV—because they can handle it. The Klipsch Cornwall IV have the ability to delight, excite, and astound more than most speakers I've had the pleasure of spending time with. If you're looking for a speaker that can deliver music with a huge fun factor that overwhelms the desire to dissect sounds into lifeless parts pinned to a chart, sit yourself in front of these lovely beasts.
---
Klipsch Cornwall IV
Price: $3299/each, $6598/pair
Company Website: Klipsch
Specifications
Frequency Response (+/- 4 dB): 34Hz – 20kHz
Sensitivity: 102dB @ 2.83V / 1m
Power Handling (Cont/Peak): 100W/400W
Maximum SPL: 119dB Continuous
Nominal Impedance: 8 ohms Compatible
Crossover Frequency
HF: 5000Hz
MF: 700Hz
High Frequency Driver: K-107-TI 1" (2.54cm) Titanium diaphragm compression driver
Midrange: K-702 1.75" (4.45cm) Polyimide diaphragm compression driver
Low Frequency Driver: K-33-E 15" (38.1cm) Fiber-composite cone woofer
Enclosure Material: MDF with fine veneers
Inputs: Dual binding posts / bi-wire / bi-amp
Height 38" (96.52cm)
Width: 25.3" (64.3cm)
Depth: 15.5" (39.4cm)
Weight: 95.76 lbs (43.43kg)
Finish: Satin Black Ash, American Walnut, Natural Cherry