200/380/700 Watts into 8/4/2 Ohms from the Audia Flight FLS 10's class A transimpedance/current-feedback circuitry.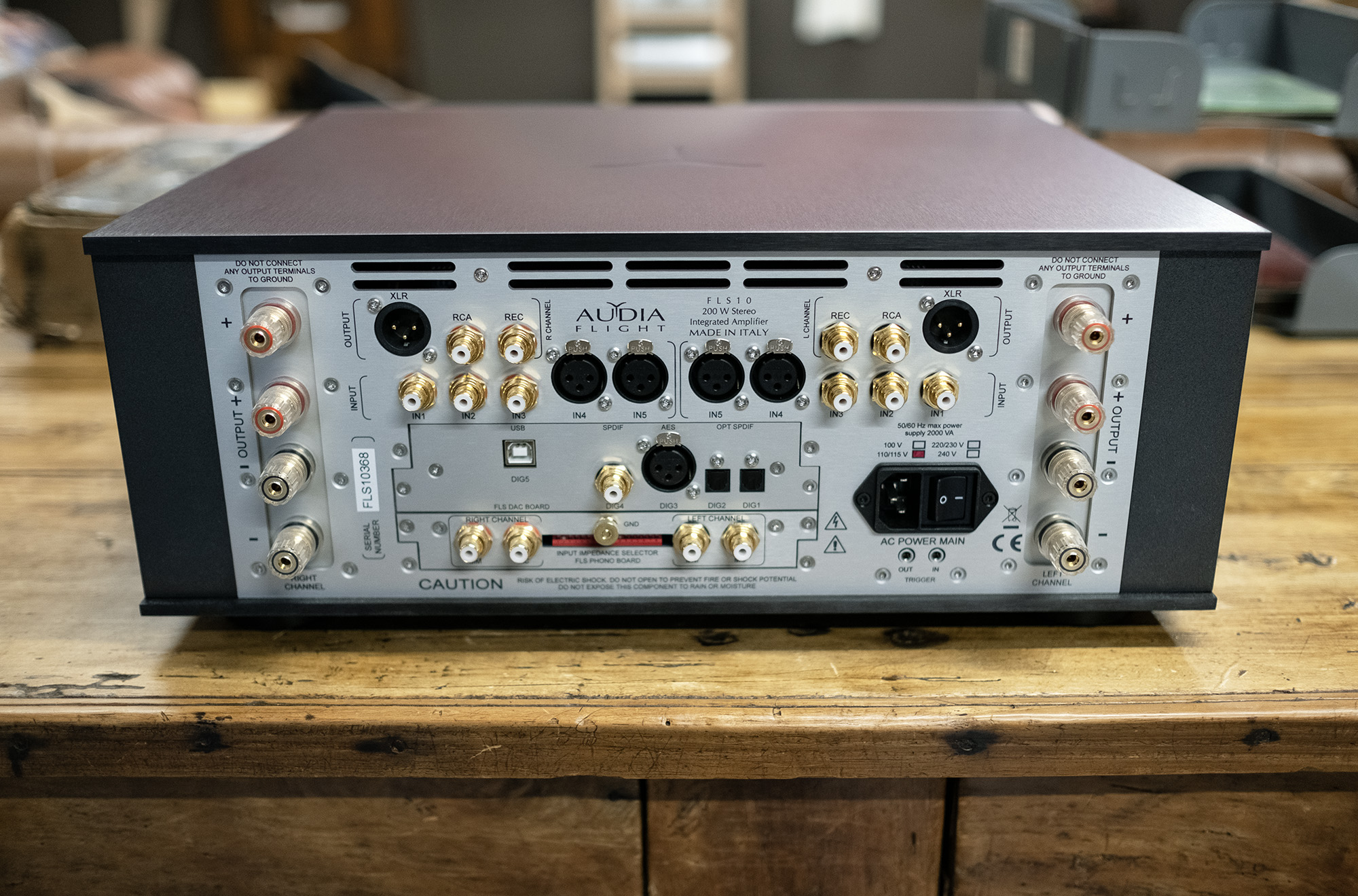 The FLS10 essentially houses Audia Flight's FLS4 power amplifier. From the company:
…a fully balanced circuitry, highly selected components, 32 high grade power devices, and power supply built with low impedance capacitors (288.000µF alone on the main power suppliers). The FLS4's gain stage is once again the exclusive Audia Flight design consisting of an entirely class A current-feedback circuitry.

And to further isolate this critical part of the amplification process from interference and grant thermal stabilization for all of its discrete components, the gain stage is enclosed within an aluminum box and encapsulated in an epoxy resin. Add to this that the main power supply is made by n.16 18.000µF 50V low impedance capacitors and is then composed of two super high current power supplies per channel, as well as four stabilized independent stages per each channel: two for the input stages and two for the Audia Flight current feedback stage! And, of course, as is our philosophy, one 15VA toroidal transformer is used for the logic control and protection circuit in order to completely isolate it from the audio circuit. With a total then of 12 power supplies, custom printed circuit boards with an extra high-grade surface copper, a 2000VA toroidal audio transformer enclosed within two ferromagnetic shields and encapsulated by epoxy resin powering the output stage, no fuses in the main power supply for the output stage (we find fuses are like a "resistors" and can negatively impact the sound) as a current sensor read by microprocessor is employed, and 200 Watts RMS @ 8 Ohms output power one can see numerous "Strumento-esque" elements have gone into making the FLS 4 Stereo Power Amplifier capable of providing the listener with the best performance and emotional musical experience.
Civitavecchia, Italy's Audia Flight was founded in 1996 by Massimiliano Marzi and Andrea Nardini, who I had the pleasure of meeting at the recent Capital Audiofest in one of the Fidelity Distribution rooms (there were six).
The FLS 10's heavily sculpted and curvaceous thick aluminum front panel houses a blue OLED display.
One last note—36kg. I look forward to placing the Audia Flight FLS 10 on my Box rack once and giving it a good, long listen. Stay tuned.
---
Audia Flight FLS 10 Integrated Amplifier
Price: $12,999 | DAC Board: $1999 | Phono Board: $1299
Company Website: Audia Flight
US Importer Website: Fidelity Imports
Technical Data
Output power per channel Wrms: 200/380/700 (8/4/2 ohm)
Inputs: 3 unbalanced (RCA), 2 balanced (XLR)
Outputs: 1 unbalanced (RCA), 1 balanced (XLR), 1 REC unbalanced (RCA)
Gain range: -90dB / +10dB
Gain resolution: 0,5dB
Frequency response (-3dB): 0,3 Hz ÷ 500 KHz
THD: < 0,05 % S/N Ratio: 110 dB
Input impedance: 47 Kohm Damping factor (on 8 ohm): > 650
Main voltage AC (50-60Hz): 100, 110-115, 220-230, 240 V
Stand-by power consumption: less than 1 W
Power consumption (200W RMS @ 8 Ohm both channels): 840W
Dimensions and weight: 450 x 180 x 440mm (W x H x D) – 36kg
Shipping dimensions and weight: 575 x 310 x 545mm (W x H x D) – 46kg