If you are looking for a plug and play Roon server solution that's nicely made, good looking, and price falls in line after these considerations, a Roon Nucleus is for you.
That's pretty much my review of the Roon Nucleus Plus. There are less expensive solutions out there, as well as more costly ones, but if you want the shortest route between you and playing stored and streamed music from Roon, I recommend buying a Nucleus.
The Nucleus runs on an optimized for Roon by Roon Linux platform and is built on Intl NUC bones.
There are two basic options (taken from the Roon website):
NUCLEUS
Price (MSRP): $1,459 (includes one year Roon subscription)
Intel Core i3 processor and 4GB of RAM
Library capacity: Up to 10,000 albums (100,000 tracks)
Multi-room streaming: Up to 6 simultaneous zones
DSP capability: All DSP functions available in the PCM domain, certain combinations of functions using DSD, upsampling, or multichannel processing may not be possible
NUCLEUS PLUS
Price (MSRP): $2,559 (includes one year Roon subscription)
Intel Core i7 processor with 8GB RAM
Library capacity: Over 10,000 albums (100,000 tracks)
Multi-room streaming: Over 6 simultaneous zones
DSP capability: All DSP functions available
The choice between these two options should be easy. Library size is self evident as are the number of zones you intend to play to, and if you are interested in digging deep into Roon's DSP options, or in using HQPlayer ($265) with Roon, the Plus is the logical choice among Nuclei. Roon offers 2TB (+$400) or 4TB ($800) of internal SSD storage, or you can install your own drive into its 2.5-inch SATA SSD bay (which will also fit a max 7mm high HDD but why even go there). I have my music stored in a Synology NAS.
If these prices seem steep, I won't argue the point and there are certainly less costly options out there. Hell, you can run Roon Core on any network connected computer. If you don't have many stored music files and you're not interested in DSP or ultimate sound quality, you really don't need a dedicated Roon server.
But if you do have a digital music library, or are interested in DSP and/or better sound quality but don't want to spend the somewhat spendy spend for a Nucleus, here's a Roon recommended Intel NUC that's spec'd to Plus standards that'll run around $900 all in. You'll also need to download, install, and configure Roon's free ROCK OS (Roon Optimized Core Kit — yes, Roon gives away a DIY solution for free) and Roon Core:
If you're looking for something in between, something you don't have to put together and configure that costs less than a Roon Nucleus, note this is not a Nucleus Plus replacement, I recommend the Small Green Computer sonicTransporter i5 (Gen 3) for $999.00. I've been running with an older sonicTransporter i5 for years with not as much as a hiccup.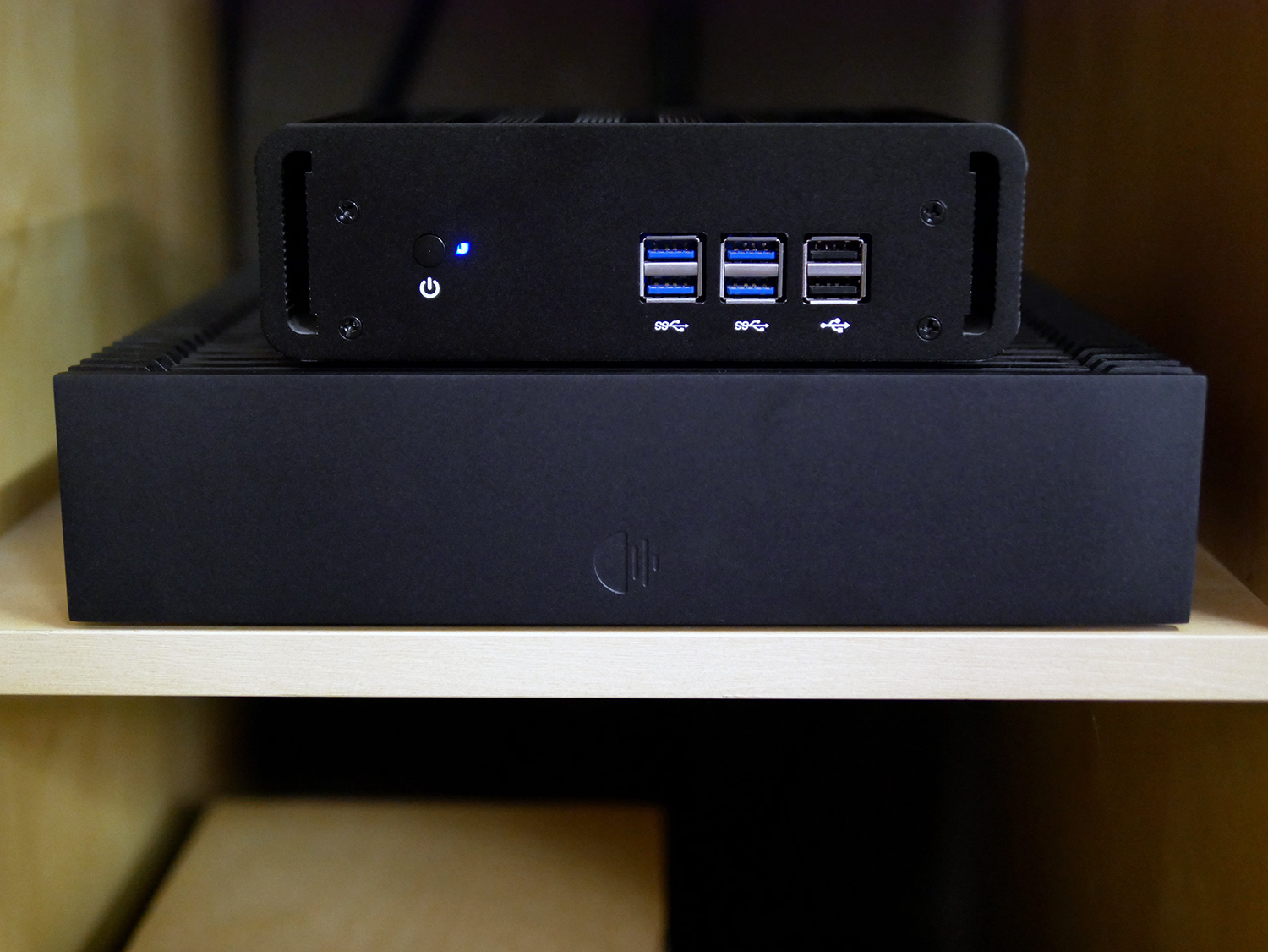 During the course of my time with the Nucleus Plus, I switched back to the sonicTransporter i5 and back to the Nucleus Plus and can report that I heard no appreciable difference in the sound quality of my system between the two servers. The Nucleus Plus was a bit more responsive, making for a more enjoyable experience but you could have figured that out from looking at the respective spec sheets. As the Grease Rat said in Mad Max, "speed's just a question of money. How fast you wanna go?" Is the Plus worth the extra scratch? When it comes to playing music, I hate to wait so I'm willing to spend for speed.  And if I wanted to fiddle more with DSP in the future, the Plus' greater processing power would come in handy.
As I said in my review of the Denafrips IRIS USB Digital to Digital converter, I suggest thinking about digital to digital converters, servers, and network players/streamers, as being more akin to infrastructure or plumbing, than hifi proper. Which means we should spend the majority of our hifi budget on things like DACs, amplifiers, and speakers because these things will have a much greater impact on the sound of our music. Throwing out some  numbers, I'd say it makes sense to spend about 10% of our total hifi budget on things like servers, digital to digital converters, and streamers. The rest goes to the hifi proper.
There's part of me that would very much like to end this review right here. And that part of me is the person who wants to get to the listening to music part, asap. If that feels familiar and appealing, feel free to exit now. You've got a small (NUC), medium (sonicTransporter), and large (Nucleus), even an extra large (Nucleus Plus), to choose from and any of these options will let you enjoy Roon and your music. After all, we rarely, if ever, calculate our time into the hifi buying equation.
Why Roon Is An Audiophile Essential: Protons and Neutrons In A Nutshell

For people who have a library of stored music, or are planning to build one, who also stream music from Tidal and/or Qobuz, Roon is one solution along with a number of other so-called media players. These others include Amarra, J River, and Audirvana Studio to name a few. People, not me mind you, but people spend real time listening to and comparing media players to see which one sounds best. I used to do this when I was the Editor of AudioStream because this was my meat and potatoes.
I have since retired from a focus on bits and pieces, having taken up residence in the bigger picture which includes other considerations like ease of use, the user experience, and enjoyment (not to mention things like speakers and amplifiers). That being said, I recently, and briefly, spent some time using the new Audirvana Studio ($9.99/mo) on my desktop (iMac > AudioQuest DragonFly Cobalt > ADAM A3X) and was very impressed. To my eyes, Audirvana always had a very nice interface and it still does, and to my ears, Audirvana seemed to sound a bit more refined as compared to Roon. Old habits die hard.
I am an admitted new and old but new to me music junky. I thrive on the new and want a daily fix. While I still love radio, and most of all getting music recommendations from people, Roon Radio provides this daily fix. Roon Radio, a feature that essentially takes over music selection based on one's history and preferences, has introduced me to more new music, both new and old but new to me, than any other thing in all of my life. For my preferences and tastes, Roon's interface and Roon Radio are worth the price of admission ($9.99/month annually, $12.99 monthly, $699.99 lifetime). But there's more to this story.
Since Roon is an embedded software solution, when it comes to network audio playback devices like streamers, streaming DACs, streaming integrated amplifiers, and streaming powered speakers, and includes the company's own network protocol — Roon RAT — we're looking at a true plug and play network audio solution that works across multiple manufacturer's products as long as they are Roon Ready (see Roon Partners). Once you have Roon set up on your network, which means you have Roon Core software running on a network-attached computer like a Nucleus, when you add a new Roon Ready piece of hifi gear to your system and network, Roon finds it and makes it available to play through all on its own.
A new Roon Ready audio device simply appears in the Roon app (Settings > Audio > Voila!). All you need to do is tell Roon to play music through it. You can also play the same music through multiple devices, or different music through multiple devices, and use a desktop, tablet, and/or phone to control playback. I use an iMac, iPad, and iPhone but that's just I. Roon also supports Apple's AirPlay and Google Chromecast so such-endowed devices will also automatically show up in the Audio settings.
Roon offers a number of DSP options which include sample rate conversion to send your DAC only those resolutions it can handle, EQ, volume leveling, and room correction. As mentioned, Roon also works with HQPlayer for anyone interested in fine tuning, and I mean Fine Tuning, the bits being sent to your DAC to get the best sound out of it. To my mind, between Roon's room correction and HQPlayer, you can improve the sound of your hifi in a very meaningful way. Much more meaningful than any perceived differences between media player software.
Based on experience [footnote 1], I will also suggest that this one/two DSP punch makes the notion of spending thousands of dollars on a music server seem a bit, well, much. I'm not saying that more costly servers can't sound better than Roon on a NUC or a sonicTransporter or a Nucleus, what I am saying is that with some time and attention given to the tools at hand, and taking the bigger picture into account, I'd be very hard pressed to find real value in any 5-figure server solution. Granted, it's not always about value, but sometimes it is.
Like any face, the beauty of an interface to your stored and streamed music is in the eye of the beholder. I find Roon's interface to be marrying quality. Not only is it good looking, its smart. Through embedding hyperlinks, Roon users can discover connections between music in their libraries and from Tidal and Qobuz, that were previously only available through research (do you remember research?). Want to know what other versions of "My Funny Valentine" are available in your library and Tidal and Qobuz? Just click the link. Want to know what other albums the producer, bass player, singer, songwriter, etc. was involved with? Just click the link. Of course, metadata isn't perfect so some of Roon's metadata isn't always accurate, but complaining about some inaccurate metadata in a galaxy of accurate metadata is like complaining about finding a fly in a forest.
There are a ton of additional features and functions in Roon that are there for the taking, that I'm not going to get into here. Truth be told, I am not a Roon Features power user. The company fleshes things out on their Features page which is worth the read if you are unfamiliar with all that Roon can do.
At present, I stream from Tidal and Qobuz because their libraries are not the same. Roon seamlessly integrates with my stored music and allows me to add a Tidal or Qobuz album to my library with a few clicks. I know this music isn't really part of my library, in the sense that if Tidal goes away these albums will too, but I'm also a live for today kinda audiophile. After all, records can get wet or burn, but I don't buy two copies of every LP I own so I can store one off site.
While we're here, I will note that to my ears, streaming music from Qobuz sounds better than streaming music from Tidal. I don't know why, but I have perceived this difference consistently over time to the point where I'll select the Qobuz version when its an option, and it mostly is an option.
Mass
Here's a secret — there's no real secret in deciding what to buy when it comes to finding a home for Roon Core. You really don't need to fuss over this choice. If you want a plug and play solution in a very nice package, get a Nucleus. If you want to spend less, spend less. If you want to spend more, spend more. In the end, I suggest factoring your time into this purchase decision using the following equation:
time x cost = budget
---
During my 6+ years as Editor of AudioStream, I reviewed a number of music server solutions ranging in price from hundreds of dollars to north of $15k. I mention this here because AudioStream content is not currently available.
---
Company Website: Roon Labs