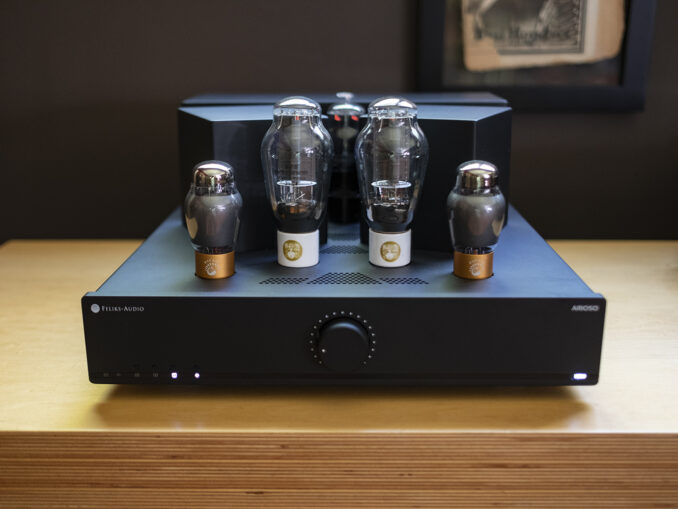 Few amplifier topologies in and of themselves conjure blissful thoughts and of those rare birds that do, perhaps none bring to mind more vivid imaginings than the single-ended 300B. It is the stuff of audio legend.
I spent a number of my formative audio reviewing years focused on lower-ish power mostly tube-based gear and had done my fair share of exploration before that. 300Bs, 2A3s, 45s, 50s, 421A (you only need one for stereo), 6V6s, EL34s, EL84s, 845s, 212es and more. An entire garden of lovely glowing sound.
Feliks Audio is based in Lubliniec, Poland which is where they design and hand assemble their suite of five headphone amplifiers and the point-to-point wired single-ended 8 Watt Class A Arioso 300B "Speaker Amplifier". While the Feliks website is short on details relating to the Arioso, US Distributor Upscale Audio provided a bit more. The power and output transformers are also manufactured in Poland by Leszek Ogonowski, the remote controllable volume is from Alps, with other high quality parts sprinkled around including Red Jantzen coupling capacitors and Caddock film resistors. One look, and especially one lift of the near 70lb. Feliks Arioso 300B, and you know it means business.
The tube compliment is comprised of a 5U4G equivalent NOS 5C3S rectifier and a pair of CV 181-TII ("Golden" PSVANE 6SN7s) driving a pair of glistening Electro-Harmonix Gold 300Bs.
The Arioso's back side offers 3 single-ended RCA inputs, 4 and 8 Ohm speaker taps, along with a power switch, and IEC receptacle.
The Output tubes are self-biasing so the spartan front panel houses just two small buttons for input selection and power with a centered volume knob completing the picture. A nice wood remote mimics these same functions. Simple and straight forward, just an integrated amp. As much as I appreciate the all-in-oneness of an app-driven streaming integrated amp with built-in room correction and more processing power than a Cray-1 supercomputer, sometimes less is more fun.
Some people believe that every 300B—or 2A3 or 845, etc.—amp will sound the same, more or less. I suppose we like to believe these things so we can skip the time it takes to actually listen to different amplifiers and speak with authority on all 'em. This behavior isn't restricted to tube-based gear and we can find people using similar shorthand when it comes to switching amps, DACs, and speakers that sport a particular driver.
"Would you like to try some of my steak tartare?"
"No thanks, I've eaten meatloaf before."
The Feliks Audio Arioso 300B only gets romantic and mushy if the music you're playing is romantic and mushy. The Feliks 300B is all about firm grip and control coupled with an expansive, as big as music gets, sound that is as dense and lovely as a botanical garden. We're talking a rich, muscular sound that rings and sings and swings without ever crossing the line into excess.
I paired the Feliks 300B with the review Klipsch Cornwall IV and DeVore Fidelity O/96, two pair of speakers that are rated at 102dB and 96dB sensitivity respectively. The totaldac d1-tube DAC/Streamer (review) and review sample LUMIN U2 Mini Digital Transport/Streamer (more info) completed these relatively simple systems, with cables from AudioQuest in use from end to end. You can read about the Klipsch pairing in that review but in short, I enjoyed the Feliks / Cornwall IV combination for its rich, controlled sound that delivered Barn-sized fun. But I loved, loved, the Feliks with the DeVore Fidelity O/96.
The DeVore Fidelity O/96 are among the most generous speakers I've had the pleasure to live with. They can sound just lovely with affordable integrated amplifiers of any topological stripe, while the better the accompanying gear illustrates that these Orangutans can sound better, and even better still, when you feed them with better. With the Feliks 300B pushing them around, music danced, sang, swayed and boogied as if each was designed with the other in mind.
Wet Silk's single "Colored Tongues" from their upcoming self-titled debut album is a big slice of psychedelic fun. The band takes their name from a psychotropic sunscreen found in a Philip K Dick novel and there's certainly a sci-fi air to this single. Played through the Feliks / DeVore combo, the sounds of Wet Silk exploded into the Barn from everywhere but the speakers—way the heck left, way the heck right and every which way while feeling so fully formed it was spooky. Have you had the experience of listening, very closely, to some complex music and mistaking an actual sound from somewhere in your room as being part of the music? With the Feliks/DeVore pumping "Colored Tongues'" many colors into the Barn, every other sound from inside or out became part of the mix because the music sounded damn near as real as damn real. Whoa.
This is the kind of symbiotic relationship that makes listening to music feel vital. This is the kind of reproduction that makes you forget about the "re" and ushers you directly into the production. Welcome to your music.
I've been more than enjoying the garden of earthly delights that is Estática (review) from Mexico City-based sound artist Concepción Huerta and Guatemalan born multi-instrumentalist and cellist Mabe Fratti. There's a lovely mix of elements and styles at play, a combination of acoustic and electronic elements punctuated at times by voice or as the label tells us, "effortlessly transposes between light and dark, electronic and biotic sounds." The sound of Estática in Barn with the Feliks 300B driving the O/96 felt all enveloping and spatially vast, turning the Barn into a cavern of pure sonic delight. I could nearly see the dew dripping down the red then brown Barn walls and if I wanted to fully explore the space of Estática, I'd have to run right through the back wall out into the woods beyond.
The Feliks Arioso 300B reproduced the space of this recording with stunning clarity and Barn-defying dimension while portraying light and dark, electronic and biotic sounds with full spectrum color and energy. Stunning.
Sticking with a kind of secret garden of delights theme, Sofie Birch's Holotropica also mixes electronic and biotic sounds. From guest Nana Pi's saxophone to synths to found sounds, the distinct voice of each element is what gives this music its force, its meaning, its pulsing life, and according to my ears the Feliks 300B is more than capable of reproducing even the subtlest of shifts in tone variation and texture unraveling in a space created by the recording, Barn be damned. There is real magic happening when music takes on form, with distinct players or sounds existing in specific locations within a wider sound image that feels as fully formed as the trees in the woods outside.
Moving back to the city, Nothing To Declare from 700 Bliss, a collaborative experimental club project of Philadelphia artists DJ Haram and Moor Mother, is all big bass drive, rhythm, and brute force fierce. Every sound here has been through the lab processed, distended, and distorted to varying degrees mixed into an assault of spoken-word confrontation. This music comes at you in fits and starts, blasts and booms, and the Feliks proved as nimble and quick as 700 Bliss demands. What's more, this music's layer after layer of scorched sounds bump, grind, and unfold in real space with enough air to avoid suffocating on its boldness. Once again I welcomed the Feliks' ability to present even the densest passages of this challenging music into a dimensional sound world breathing with real life.
Beethoven's Late Piano Sonatas as performed by Alfred Brendel are studies in awe. I find a real mix of wonder and fear here in the form of just how exceptional some people are or have become. Nearly superhuman. Solo piano music is often used in reviews of hifi gear to talk about a systems' ability—and it's never a single component we're talking about when reviewing anything as part of a system (not to mention the room)—to capture the entire range of left and right hand and the world of sounds they can coerce from the keyboard as one fluid whole. No lumps or crevasses. Within moments of hitting "Play" in Roon, I was lost in Brendel/Beethoven, drowning in the force, delicacy, and sea-sized fluid movements of piano as conjuror of magisterial delight. The Feliks/DeVore pairing doing an exceptional job of placing me in a tiny boat amid this storm.
Perhaps more than most, this review is singing the praises of a system at play. The Feliks 300B Integrated Amplifier and its 8 Watts of power need a speaker that can run, without limit, on a few Watts. I happened, well planned is really the word, to have two such examples in the Klipsch Cornwall IV and DeVore O/96. With the Klipsch, music was convincingly rich and bold. With the DeVore's, music was pure magic.
I spent week after week in this system's embrace, moving from old favorites to the new with a level of excitement that music can inspire. The Feliks Arioso 300B Integrated Amplifier is capable of driving the right speaker with real authority, richness, and subtlety to heights whose only limit is the music at play and our ability to pay it the attention it deserves. Bravo!
---
Feliks Audio Arioso 300B Integrated Amplifier
Price: $6699
Manufacturer's Website: Felix Audio
US Distributor's Website: Upscale Audio
Specifications
Output power: 2 x 8 W
Frequency range: 15 Hz – 32 KHz +/- 3 dB
Inputs: 3 x RCA line
Input sensitivity: 1 V RMS
Input impedance: 100 kOhm
Loudspeaker outputs: 4 and 8 ohm
Dimensions (incl. tubes): 16.1″ x 13″ x 8.3″
Weight: 68 lb