Engineering first. When some people look at a speaker from Vivid Audio, they don't see engineering first, they see design. Which makes sense seeing as Vivid speakers don't look like other speakers.
But when we learn about Vivid Audio, the opposite is actually the case. Engineering comes first, design follows on.
If we dig into history, we learn that Vivid Audio's designer, Lawrence Dickie, has been perfecting his approach to speaker design and construction for decades. Prior to founding Vivid with Philip Guttentag in 2001, Dickie had more than a hand in the design of a number of speakers from Bowers & Wilkins including the Matrix Series and perhaps most famously the B&W Nautilus.
The story goes: Back when Dickie was working for B&W, he was and sitting in the company tea room one fine day and a wine box caught his attention (that's my kind of tea room), specifically the 3 x 2 pieces of interlocking cardboard inside. And he thought—Why not make that out of plywood with holes cut through to lighten up the weight. This would provide the required stiffness in each of the three orthogonal directions to properly brace a speaker cabinet. A prototype was built which passed the tap and listen test and became the beginning of the B&W Matrix Series.
Lack of coloration is one guiding principle for all of Dickie's designs. Vivid loudspeakers employ the company's own drivers that are manufactured in-house in their South Africa-based facility along with the cabinets that house them. In my experience this is kind of unusual for a relatively small company and I'd hazard to guess this decision was not profit-motivated. Engineering first. I highly recommend a trip to the Technologies page on the company website to learn about how every aspect of design, inside and out, is in the service of performance.
The Kaya K45 under review in Barn is a 3 way 4 driver system, housing the company's D26 26mm Tapered Tube loaded alloy dome high frequency driver, a single C100se 100mm Tapered Tube loaded alloy dome midrange driver, and a pair of side firing C125L 125mm alloy cone unit low frequency drivers. The K45 cabinets are made from a vacuum-infused glass-reinforced composite, as are all of the Vivid speakers, which translates into a rigid yet lightweight structure. My back approves. The K45 weigh a mere 55lbs. a piece and stand over 3 and half feet tall. Frequency response is a claimed 37 – 25,000 Hz (-6dB).
The K45 are one of 4 speakers in the Kaya line along with a center channel. The company also offers the Oval B1 stand mount, a descendent of the first Vivid Audio speaker, as well as the higher end Giya line comprised of 4 larger floorstanders. One thing I learned from my Road Trip to GTT Audio, Vivid's US Distributor, is every Vivid speaker sounds like a member of the same family. One practical reason for this resemblance is due to the fact that every model employs the same tweeter.
From Vivid:
The KAYA 45 is a direct descendant of our GIYA loudspeakers, and shares much of the same technology. This includes our Super Flux Magnets in the driver units. These radial magnets, still very unusual in commercial loudspeakers, naturally have a large hole in the centre, which allows the sound to flow naturally from the diaphragm into the absorber, free from resonances and reflections. On GIYA models, we use these magnets in the bass drivers: for KAYA, we've fitted them to the mind-range driver, too. Here, they reduce distortion and improve performance in the higher frequencies. And prove that you really can make a good thing even better.
As the saying goes, beauty is in the ear of the beholder, I think I have that right, and the Kaya K45 look right at home in the Barn to my eyes. Their curvy curves and high gloss finish make them visually unobtrusive while offering lovely trippy reflections of their surroundings. In my experience, people tend to anthropomorphize Vivid speakers, turning them into some kind of beings which I can see but one thing that took me a bit of time to get used to was their lack of character, audibly speaking. While any thing that diverges from the visually common will necessarily divide onlookers, the sound the Kaya K45 produce works in the opposite direction, or so my experience living with and listening to them suggests as their way with music in Barn was simply stunning. Stunning.
And the Kaya K45s were stunning with each of the three amplification devices I used to drive them that included the Thrax Enyo integrated amp (more info), Cambridge Edge stack (review), and the Barn resident Leben CS600 integrated amp. If I had to pick a favorite, a pairing that appealed to my particular tastes the mostest, I'd go with the Thrax Enyo, followed by the Cambridge Edge stack, followed by the Leben. In that order. While they all drove the K45s nicely, I enjoyed the Enyo's wallop and richness. The following listening notes reflect that favorite pairing but the differences between the bunch were on the subtle(r) side, not Earth shackingly dramatic.
The Vivid's arrived just over a month ago and I typically like to spend more time with gear, especially speakers, to make sure I get their sound. And by "get" I don't mean like. I mean understand their particular sound, their particular way with music so I can describe that sound as best I can. How much, or how little, I like that sound is secondary because liking is a matter of personal preference, taste, and I prefer to put the gear first and my taste second when writing a review. If I was shopping for speakers my taste is all I need and to my mind this distinction is what differentiates a review from a shopping spree.
The Kaya K45 took a bit of time to get because their sound is so devoid of coloration. At first this aspect of their presentation was nearly off-putting like being served a cold glass of spring water during a blind wine tasting. Wait, what? But once I heard through my expectations, the Vivid's sound came into sharp focus, especially so when that voice remained consistent regardless of the amplification in use. All of these things made for a very fast getting acquainted period and the reason I feel completely confident writing this review after about a month of time.
To put a finer point on it, some speakers like the original Quad 57s or the Klipsch Cornwall IV I reviewed last summer, have gobs of character and can sound like completely different speakers depending on the amp in play. While this is not an issue for an owner, as long as you find The Amp that makes them sing for you, as a reviewer this means more time, care, and feeding choices are needed to get their sound. Put a low powered tube amp on the Cornwall IV and you might come away thinking they are grey, flabby, and dull. Up the power output of the associated amp and you get light, tight, slam-O-licious fun!
Getting back to the Vivid Kaya K45, their way with music is shockingly transparent yet as rich, warm, and inviting as the music in play. They also disappear as completely as any speaker I've heard, throwing out a finely sculpted sound image that's ripe for exploration. Stunning.
Miss Grit's Follow the Cyborg is the debut album from Queens-based musician Margaret Sohn, a sci-fi drama in 10 tracks. Chugging, churning alt indie pop bubbles with energy while struggling with self, Sohn's vocals and occasional guitar lead the way over synth clouds and finely defined earthy bass sounding like an offspring of St. Vincent and the Cocteau Twins. This is rich, layered music that spreads out in space and the Kaya K45 acted as transparent portal to every nook and cranny with driving, powerful force. Big, soft, billowy, bold, and physical.
Feeble Little Horse's Girl With Fish is the Pittsburgh noise-pop group's second record and it's a scorcher. Intricate six-string interplay boils over into overdriven noise on "Tin Man" only to simmer back down with Lydia Slocum's vocals hanging on like a rodeo rider. Thrilling. Not a single track on Girl With Fish runs longer than 3:25 so these are quick hits, little power pops of energy that shine so bright and the Vivid/Thrax combo, with the Thrax handling the Roon-controlled stream with its built-in streamer/DAC, exploded these short shots into the Barn in all their ragged glory. Volume up and up again, the Kaya K45 filled the Barn with ease while sounding like a nearly neutral pass-through device delivering every bit of sound and energy contained on Girl With Fish into the Barn.
This kind of clarity throughout the frequency range makes listening to music on the hifi feel as natural and effortless as breathing while offering a direct connection to the workings of what ever music you choose. While I would not recommend driving the Kaya K45 with flea power, they sound in many ways like high efficiency speakers due to their lightning speed and effortless grace even at low listening levels.
In some ways, listening to Bach's keyboard works acts like a super sonic brain cleanse. As if all those wild thoughts curling around one's head get the full spa treatment—cleaned, cut, and coifed to mathematically ordered perfection. Ahh, Bach. I sat down with Igor Levit's take on Bach's Partitas with the Kaya K45/Thrax Enyo combo and positively delighted in the rich, detailed, delicate, and finely nuanced playing (and sound). No matter the level of scrutiny, from ultra-micro to macro-movement, from lightest touch to chord cluster force, I hung on every note as the sound of Levit's piano rang out in Barn with crystal clarity and crystalline structure only to fade into silence.
I cannot imagine anyone who would find this level of performance, and I'm talking about the hifi not Levit per se, as anything but completely captivating in its ability to make recorded music feel vitally present.
I've listened to Shannon Lay's Covers Vol. 1 almost too many times since its release in April earlier this year. Almost too much because I want to keep this simple, lovely music fresh and resist the temptation to play it to death. Covers can be a double-edged sword in the best possible way, being at once a beautiful thing in and of themselves while calling to mind, like a welcome ghost, the original performance. This is the case for me when listening to Covers Vol. 1 especially Lay's cover of Nick Drake's "From the Morning" using just her voice and guitar (and Drake's friendly ghost). Clear, crisp, and stunningly present, the Kaya K45 filled the Barn's space with the hovering delicate fragile beauty of Shannon Lay. Stunning.
It's a tall order, to my mind, covering Nick Drake's music in a convincing manner with just acoustic guitar and voice, something I feel Lay achieves, and it's an even taller order to make this music feel alive and achingly present through a hifi. As if the hardware completely steps aside leaving the exquisite sounds of music in its stead. The Vivid Kaya K45 proved to be among the most skillful sonic magicians I've had the pleasure to live with.
While beauty is in the ear of the beholder, I recommend the Vivid Kaya K45 to anyone looking to get as close to music as their time and attention allows with essentially no interference from the associated speaker. Nary even the slightest smudge. The Kaya K45's combined strengths come together to honor the delicate powerful forces captured on record as convincingly as I've heard.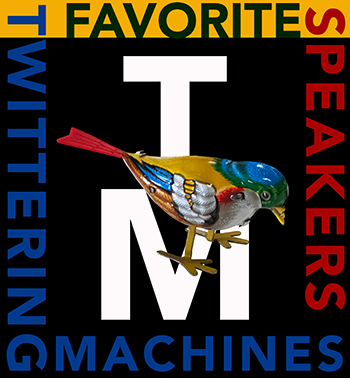 ---
Vivid Audio Kaya K45 Loudspeakers
Price: $19,000/pair
Company Website: Vivid Audio
US Distributor Website: GTT Audio
Specifications
Specifications
Vivid Audio KAYA 45
Configuration
3 way 4 driver system
Cabinet material
Glass reinforced Soric-cored sandwich composite
Cabinet colour
Piano Black, Lexus Pearl White, Oyster Matte
Bespoke colour
Any PPG automotive colour available on request
Drive units
HF: D26 – 26mm Tapered Tube loaded alloy dome
MF: C100se – 100mm Tapered Tube loaded alloy dome
LF: C125L – 2 x 125mm alloy cone unit
Bass loading
Exponentially Tapered Tube enhanced bass reflex
Sensitivity
89dB @ 2.83VRMS at 1m on axis
Nominal impedacnce (Ω)
4Ω (2.8Ω Min)
Frequency range (Hz)
37 – 25,000 Hz (-6dB)
First D26 Break Up mode:
44,000 Hz
Harmonic distortion
(2nd and 3rd harmonics)
< 0.5% over frequency range at 1W
Cross over frequencies (Hz)
300 – 3,000
Recommended amplifier power
25W – 500W
Loudspeaker dimensions
1,153mm (H) x 298mm (W) x 385mm (D)
Net weight
25kg
Shipping dimensions
1,245mm (H) x 680mm (W) x 450mm (D)
Shipping weight
60kg (pair)