Power. Sweet, sweet power. I suppose there's such a thing as too much power when it comes to hifi, but I think it's actually bad sounding power we're talking about as opposed to too much.
Think of the ModWright KWH 225i as a power plant for your speakers, one that's got the goods to drive an array of different sounding speakers with superb control as low as your transducers go with dead quiet operation, extreme separation, and a sweetness that makes music sound rich and ripe and delicious.
I paired the ModWright KWH 225i with the high efficiency horn loaded Klipsch Cornwall IV (review), the rich and easy to drive DeVore Fidelity O/96, and the largish floorstanding 2.5 way Marten Parker Trio (more info). And in each case, the ModWright made the attached speaker shine, bringing out their best qualities from tippy top to big-ass bottom. If you are familiar with these speakers, you know that they are very different from one another in approach, sound, and character so the fact that the ModWright works really well, really well, with all of 'em speaks volumes. The totaldac d1-tube DAC (review) combined with the LUMIN U2 Mini Digital Transport/Streamer (more info) took care of delivering the tunes via Roon. AudioQuest cables were in use throughout.
With the 102dB (@2.83V / 1m) efficient Klipsch Cornwall IV, the ModWright 255i, which offers 225 Watts per channel into 8 Ohms and 400 into 4, figured to be my favorite partner for the bruisers from Hope, Arkansas imbuing them with a fuller, clearer, and more controlled voice that the other integrated amps I had on hand. The 225i also has that kiss of sweetness that's part of its powerful signature sound, that kept the Klipsch from sounding hard or kinda abrupt, qualities that I heard from the Cornwall IV with other amplification.
When paired with the DeVore O/96, these same qualities—operation room clean quiet control, a sound image as precise and finely delineated as a 3D rendering, with a cherry on top—had music energizing the Barn as if the musicians themselves were responsible for the music that had me singing and swaying to the beat, with the hifi pulling a disappearing act replaced by music, a feat that is one of the supreme goals of reproduction.
The Marten Parker Trio, which the ModWright controlled with ease for the last few weeks of this review period, sounded rich and powerful, very full range, and as finely sculpted as Gian Lorenzo Bernini's Apollo and Daphne while offering a similar kind of alchemical transformation—marble into life, sound pressure into music. Sweet, sweet music.
It would be nice and easy, tidy even, to suggest that the ModWright's sweetness comes from the pair of JJ 6922 dual triodes that sit in the preamp stage. We could also assume that the lack of global negative feedback contributes to its smooth sonic signature and how the first 25 Watts of output power operate in Class A imparts an extra dose of smooth sonic sweetness.
A group of blind men heard that a strange animal, called an elephant, had been brought to the town, but none of them were aware of its shape and form. Out of curiosity, they said: "We must inspect and know it by touch, of which we are capable". So, they sought it out, and when they found it they groped about it. The first person, whose hand landed on the trunk, said, "This being is like a thick snake". For another one whose hand reached its ear, it seemed like a kind of fan. As for another person, whose hand was upon its leg, said, the elephant is a pillar like a tree-trunk. The blind man who placed his hand upon its side said the elephant, "is a wall". Another who felt its tail, described it as a rope. The last felt its tusk, stating the elephant is that which is hard, smooth and like a spear.
See what I mean? When we dissect a piece of hifi gear and choose to focus on a few parts to describe the whole, we're missing the bigger picture. Without having a hand, and ear, in the design process and the experience of how every design and parts choice can effect the output, we're only making silly guesses at best when attempting to attribute what we hear to a few prominent parts.
The ModWright KWH 225i is a lovely beast for the eyes, at least to mine, sitting on my Box Furniture rack like a classic muscle car ready to rev. Blue, all kinds, happens to be a favorite color so the ModWright's Yves Klein Blue, at least that's the way I see it, heat sinks and tube well are a welcome contrast to its otherwise cool silver brushed aluminum chassis. The two front panel displays, also in a wonderful shade of my favorite hue, tell us the active input from among the four line level inputs (3x RCA, 1x XLR), while the other displays the volume level. Sitting in between, the ModWright logo has been cut out and back lit with a soft azure glow. Weighing a stout, lift with your legs!, 64 lbs., the 225i feels as solid as it sounds.
Samuel Kerridge's Kick To Kill is all angle's and abrupt stops and starts, with a killer sound and prominent wiry bass line pulling things together throughout. With the ModWright/Marten combo in play, Kick To Kill filled the Barn with its sly, badass goodness as if the speakers were instead 3D renderers projecting music completely apart from themselves with a cavernous clarity, force, and focus akin to the real thing. And the louder I played Kick To Kill, the better it sounded until the Barn's looser parts rattled with delight.
This music is meant to sound menacing and the ModWright/Marten combo made it so and the bass response was super rich refined and controlled to an exquisite degree. Stunning.
Each of Lana Del Ray's albums are my favorites but I've been on a big Blue Banisters kick for some time, pretty much since it was released in October of last year. It is one of my favorite driving records for longer stretches when I want to forget about miles remaining. In Barn, with the ModWright/Marten combo at the wheel, Lana Del Ray and Co. took up temporary residence making the system and room dissolve into pure sound. This is the kind of reproduction, the kind of quality in reproduction, that is so convincing it might take years, or more, before coming out of its grip to ponder how to get things even better. Lana Del Ray's many vocal inflections, and she's got more than most, are so precisely rendered the act of listening morphs into pure human connection.
Kali Malone's latest, Living Torch (review), finds her accompanied by trombone, bass clarinet, sine wave generators, Éliane Radigue's own ARP 2500 modular synthesizer(!), and the Boîte à bourdons (bumblebee box), a custom-made motor-powered drone instrument inspired by the hurdy-gurdy and the Indian shruti box. This record, more than many, is an exploration in sound in space that becomes all encompassing with its slow drone and dirge pace. Once again, when I couldn't resist the appeal for more volume, Living Torch rattled the Barn and me with its full range power that was portrayed without even the slightest sense of instability by the ModWright 225i driving the Marten Parker Trio. Stunning.
Alt-J's The Dream from February of this year is a grand near operatic classic rock record with a host of extra musicians on strings and things and the Highgate School Choir joining the trio (lead vocalist and guitarist Joe Newman, keyboardist Gus Unger-Hamilton, and drummer Thom Sonny Green) for big boisterous beautiful fun. A few minutes into the opening track "Bane" and you know you're in deep, deep into music that mixes electronics, acoustic instruments, voices and vocals into a hook-filled fantasy. Once again, the ModWright integrated proved more than up to the task of delivering every last ounce of The Dream's musical goodness through the Marten Parker Trio speakers, with this meaty smorgasbord of sound filling the Barn with music's powerful tasty presence.
I've been listening to and writing about percussionist Fritz Hauser's Solo Drumming for decades. This double album was recorded live in the Martin-Gropius-Bau in Berlin for a site specific work that explores the correlation between architecture and music (I would add time and space into the equation as well). For 1 hour and 15 minutes, Hauser explores the expansive space of the Martin-Gropius-Bau with near super-human skill, building and tearing down the distinction between time and space, impact and reverberation, using a kaleidoscopic array of tones and textures coaxed from his kit. In all my years of delighting in this record, the ModWright / Parker Trio pairing reconstructed this sonic wonder of space and time as convincingly as I've heard.
Not once throughout the review period did the ModWright display even a hint of weakness, the kind of crack that makes you question the believability of the music-induced experience. To my mind, this level of reproduction can reach a magical kind of engagement as it did with the ModWright driving the Parker Trio. Bravo.
If it isn't painfully obvious, I more than enjoyed my time with the ModWright 225i integrated amplifier. It proved to be the perfect partner for a number of very different sounding speakers, making each pair sound simply stunning, transforming the listening experience into a communion with music and the people who make it. What more can you ask for?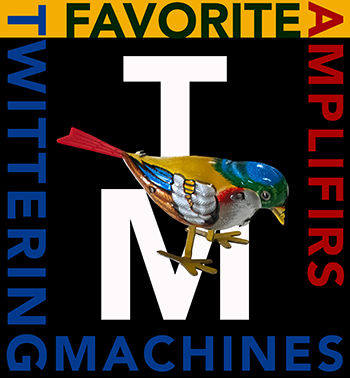 ---
ModWright KWH 225i Hybrid Integrated
Price: $9750, Phono Upgrade: +$350
Company Website: ModWright Instruments
Specifications
Inputs
(3) pairs of RCA inputs
(1) pair of XLR inputs
(1) pair of Home Theater Bypass Input
(1) pair RCA Preamp-ouputs
(2) pairs 5-way binding posts
Gain: 30dB
Frequency Response: 20Hz-100Khz (+/-0dB)
Input Impedance: 20K
Input Sensitivity: 2V rms
Max input level: 6 Vrms (18V pk-pk)
Front panel controls: Input select, power, volume and HTBP
Tubes: (2) 6922/6dj8/7308
Class A/B Operation
First 25W in Class A
Zero Global Negative Feedback
Dims: 17W x 17D x 6.5H
Product Weight: 64 lbs
Shipped Weight: 70 lbs
Remote Functions: Power, volume, mute, input select, dim/turn off displays